Dalhousie Postdoctoral Fellow Lisa Glithero received the 2021 Mitacs Award for Outstanding Innovation—Postdoctoral during the organization's ceremony at the National Arts Centre in Ottawa Tuesday night (November 23).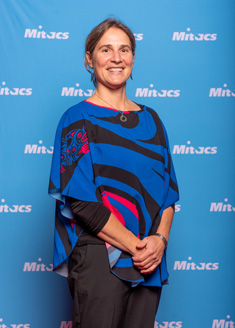 Dr. Glithero was recognized for spearheading an innovative research collaboration to develop the world's first national ocean literacy strategy, positioning Canada as a global leader in the effort to promote and sustain ocean health.

She is one of eight Mitacs award winners from across the country, chosen from thousands of researchers who take part in Mitacs programs aimed at fostering growth with aid of research solutions from academic intuitions. Other awards were provided for outstanding innovation, commercialization, and exceptional leadership in research.

"Lisa's work to increase awareness about the importance of our oceans is having a ripple effect with the potential to influence positive action around the globe," said Alice Aiken, Dalhousie's vice president of research and innovation. "It's wonderful to see her research recognized with an Outstanding Innovation award by Mitacs."
A landmark study


Dr. Glithero is a researcher in the lab of Professor Boris Worm at the Faculty of Science's Department of Biology. Working with a team of postdocs and research assistants from Dalhousie and institutions including Trent University, Simon Fraser University, and the University of Ottawa, she led the development of a landmark marine social sciences study to measure people's understanding of the ocean's influence in their lives and how their actions impact the ocean.
More than 3,000 Canadians and 400 organizations participated. The resulting data led to the launch of "Land, Water, Ocean, Us: A Canadian Ocean Literacy Strategy," now viewed by the international community as a model to follow.

"Canada has the longest coastline in the world and yet Canadians rarely pause to think about why a healthy ocean matters," said Dr. Glithero. "There are more than 30 million Canadians living inland who don't get to see the ocean, yet we all need to realize that more than 50 per cent of the oxygen we breathe comes from it, that it regulates climate, stores carbon, provides food, medicine, jobs, and more."
The ocean as a mechanism for change

Despite challenges due to the pandemic, Dr. Glithero's project team engaged people from coast to coast to coast, and gained a better understanding of ocean knowledge, perceptions, and values. They found that, even though 90 per cent of Canadians agree that the ocean plays an important role in the country's economy, only one-third feel it directly influences their day-to-day lives. That's a problem, says Dr. Glithero.

"Ocean literacy is about much more than teaching kids ocean facts in schools. It is a mechanism for change, empowering people and communities — all of us — to be engaged civic actors ensuring ocean health. Taking action to eliminate single-use plastics, helping to establish 'blue spaces' such as public swimming piers, and learning more about Indigenous-led conservation work being done in Canada are a few examples."
 
The national strategy, which outlines nine action areas based on the study's findings, is now being implemented by the Canadian Ocean Literacy Coalition and partner organizations, with Dr. Glithero serving as national lead. Objectives include launching a nationally coordinated Ocean Week Canada celebration every June, strengthening ocean-climate education in classrooms, establishing a micro-grant program to support ocean literacy work at the community level, increasing engagement and diversity in youth training, and leadership opportunities in ocean conservation and the blue economy, and co-developing international ocean literacy research collaborations.

Learn more about Dr. Glithero and her work.