From more than 6,000 applicants, and among 72 finalists, Dalhousie student Toni Agbaje-Ojo was selected as one of the 30 recipients from across Canada to become a 2021 Loran Scholar, receiving Canada's largest and most comprehensive undergraduate merit-based award.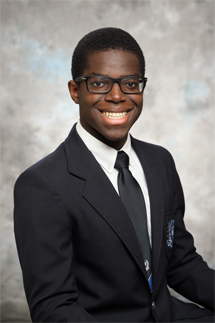 Out of 25 partner universities across the country, Toni chose to attend Dalhousie University and will be pursuing his Bachelor of Science in the Medical Sciences Program.
"Getting the call that I was the recipient of the Loran scholarship was definitely one of the best moments of my life," says Toni, who is from Toronto. "It was a true testament to my sacrifice and hard work up to this point and was only possible due the support of my family — my mom especially."
Loran Scholars receive a renewable four-year award valued at up to $100,000 comprising an annual $10,000 living stipend, a matching tuition waiver up to $10,000, and up to $14,000 in funding for tri-sectoral summer work experiences in Canada and abroad. Scholars also get one-on-one mentorship and the opportunity to connect with other high-potential youth through scholar gatherings.
What it takes

The Loran Scholars Foundation is committed to identifying and supporting exceptional young Canadians to realize their full potential. To find these students, the foundation administers the most thorough scholarship selection process in the country. The foundation looks for qualities in scholars that a transcript alone cannot show — integrity, courage, compassion, determination, spirit, and a high level of personal autonomy — and invests in these students to study to realize their potential on Canadian university campuses. Selection supersedes grades and is based on strength of character, a deep commitment to service, evidence of courage, compassion, and an entrepreneurial spirit.
"I knew that being a Loran Scholar meant being a strong leader who brings their community together" says Toni. "During my upbringing, this was one of my biggest passions."
There is no denying that Toni embodies character, commitment to service, and potential for leadership. While at the Upper Canada College, Toni was president of Horizons, a mentoring and tutoring partnership with elementary public schools in Toronto. He founded and led a pluralism council to support the development of his school's anti-oppression strategy. He organized book drives, ran fitness programs for youth, and educated his peers on sexual consent. He also designed a student-led mental health conference and volunteered at a dental clinic.
Of the 733 past and present Loran Scholars, 24 have chosen to attend Dalhousie University over the past three decades.
"We are proud to have Toni joining four other Loran Scholars currently pursuing their undergraduate studies at Dalhousie University," says Chuck Macdonald, dean of the Faculty of Science. "We look forward to seeing what Toni can accomplish and know his future as a leader in science is bright."
Future plans

Toni says the small medical science program in the Faculty of Science was appealing to him and he sees the value in being a part of an institution that truly values community, education, and teaching.

When asked about his future plans, Toni says in the long term, he'd love to eventually pursue medicine and get into pediatrics. As for the short term: "My focus right now is eight hours of sleep."
The four other Loran Scholars currently pursuing their undergraduate studies with Dalhousie University: Katarzyna Farrell (Loran Scholar '20), Kailyn Hanke (McCall MacBain Loran Scholar '19), Campbell Hart (Loran Scholar '18), and Jessica Telizyn (Dobson Loran Scholar '18). One former Dalhousie Loran Scholar, Sarah Burns ('11) went on to become a Rhodes Scholar in 2016.
About the Loran Scholars Foundation

The Loran Scholars Foundation, established in 1988, is a national charity that works in partnership with universities, donors, and volunteers throughout the country to find and nurture young people who demonstrate strength of character, commitment to service, and leadership potential.