Sciographies is a radio show and podcast about the people who make science happen, presented by The Faculty of Science and campus-community radio station CKDU 88.1 FM. This is the fifth article in a weekly series that features excerpts from each new episode released this fall.
After leaving his home in Nigeria to attend university in Canada, Dozie Okoye chose to pursue economics because he felt the skills that he'd develop in the discipline could be applied to "human problems" back home.
His desire to stay connected to his roots in Nigeria has shaped his entire research program to date. He's an associate professor in the Department of Economics who studies human capital and economic development with a particular focus on the African continent. His research is interdisciplinary, involving collaboration with other academics specializing in geography, history, political science, and sociology.
In this week's episode of Sciographies, host David Barclay sits down with Dr. Okoye to discuss his childhood in Nigeria, his path to a career in economics, and how his current research examines what motivates educational demand in different parts of Nigeria.
Listen to a preview of Dr. Okoye's episode [Embed codes found below]
Here are some excerpts from the episode (edited for clarity and length).
On experiencing Canada's weather…
Barclay:  I have to ask. When you came to Canada, what was that first winter like?
Okoye: It was exciting, that first snowfall. We went outside and played in the snow like kids. It was November. But then by January, it became quite painful because walking to Tim Hortons was a journey. We knew we were in trouble when we were walking to Tim Hortons and our runny noses froze [laughs]. That's when we knew it was a different level of cold. You know, the coldest you get in Nigeria is from air conditioners. So, when we were told it was going to be cold, we said, 'Okay, yes, we've seen air conditioners. It's 16 degrees.' But now I tell people [back home] it's actually like being inside of a freezer.
On developing a research path…
Barclay: So how did you choose your particular research path into graduate school?
Okoye: I was at the gym with a group of guys and we were all Africans who'd left Ghana, Nigeria and Kenya to come to Canada. We were debating on the long-term effects of that on the countries we came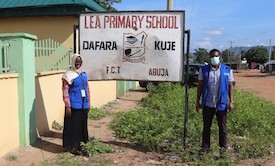 from. Everyone had great points, and I thought that it was a topic I can actually address with economics. I chose to write my first research paper in grad school on the brain drain and its effects on the source country… Something that always troubled me from early on is why some people and countries are poor while others are rich… So, I decided to focus my research on human capital and economic growth, which is what my PhD thesis was largely about.
On the breadth of economics…
Barclay: [Your research] sounds fascinating, but also very interdisciplinary. You're really going outside the realm of strictly economics.
Okoye: Yes! Economics is very interdisciplinary in a way. Economists study all sorts of topics — from families, education, climate change, childhood diseases, etc. Anything you can think of that has to do with how people use resources, well, economics has something to say about it.
Listen to the entire 30-minute episode of Sciographies at 6 PM Thursday October 14 on CKDU 88.1 FM in Halifax. Or, stream on Apple Podcasts, Spotify, Google and other popular podcasting platforms. You can also listen to previous Sciographies episodes on the same platforms or at soundcloud.ca/sciographies and dal.ca/sciographies.