Sciographies is a radio show and podcast about the people who make science happen, presented by The Faculty of Science and campus-community radio station CKDU 88.1 FM. This article is the first in a series that will feature excerpts from each new episode released this fall.
Chris Moore's scientific career path started at Cambridge University. Back then, he thought he would study biochemistry and someday contribute to The Human Genome Project, an international scientific endeavor to discover fundamental knowledge about human DNA. But, like many students in university often do, he instead discovered another discipline that ignited more passion: psychology. His research interests landed in the area of social development and behaviour in early childhood and he's been busy designing creative play-like lab experiments that engage babies and kids between the ages of 6 months and 12 years ever since.
Outside of his research, he spent the last 12 years as Dalhousie's dean in the Faculty of Science. Now that his period as dean has come to an end, he's exploring a new phase of his career with a Master of Fine Arts in Creative Nonfiction at the University of King's College. With that, he plans to write books about psychology for the general public.
In this week's episode of Sciographies, host David Barclay sits down with Dr. Moore to talk about his career path, how he studies children's behaviour in the lab, and his new direction as science communication author.
Listen to a preview of Dr. Moore's episode
Here are some excerpts from the episode, edited for clarity and length.
On switching majors in university…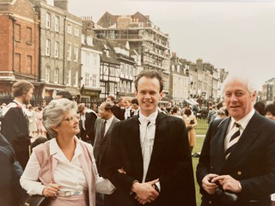 Barclay: You realized biochemistry wasn't for you. I can understand that. It's a lot of systematic lab work. But you must run into that in psychology as well, right?
Moore: Of course you do. It's really a matter of fit and finding what's best for you; finding your own passion. In my second year I was able to take classes in experimental psychology and the history and philosophy of science. I became very interested in how scientists come up with the questions they ask. What is it about your psychological makeup that makes someone ask the kinds of questions that they do? The combination of psychology and philosophy completely turned me in another direction.
On examining his own life as it relates to research…
Barclay: One of your main areas of research is in early childhood development. Do you wonder about your own childhood and certain things your mother did, and think to yourself, that's why I'm so successful?
Moore: [laughs] Well, I wouldn't go that far. But certainly, I think you always think about the work that you're doing in your own personal context and how your history has influenced the things that you do. And being a developmental psychologist, my core premise is that everything that we do has a developmental history. There is a reason for the way we are now, and that comes from our past.
On working with children in research studies…
Barclay: Just to be clear, your lab is sometimes full of children. How do you get children to participate constructively in the studies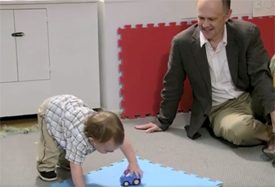 that you carry out?
Moore: Part of the challenge, and really the creativity, of doing developmental research is coming up with the methods that allow you to study children in a way that gives you precise answers to the kinds of questions you want to ask. You have to come up with tasks that get at what you want the kids to do but are engaging enough that they want to participate. In one example of work that we've done more recently, we looked at children's understanding of fairness and when they're motivated to make things fair between people. We offered children in the lab choices between two sticker allocations. They could choose one sticker for themselves and one for a friend, or they could choose to take both stickers and their friend would get nothing.
On becoming a science communication author…
Barclay: Let's talk about what you're up to now in the present day. Tell me about your MFA studies at King's and what topics you're going to cover in your upcoming book.
Moore: I want to make sure I spent time in this last phase of my career writing things that more people will read. As scientists, we spend a lot of time writing reports on our research for a very small audience. I believe very passionately that we have the responsibility to communicate our science to the wider world. But I'm not trained to write for a general audience. The MFA at King's is a program for which the slogan is Have you got a book in you? And I thought, yes, I have a book in me. The book I'm now working on [in the program] is about guilt and trying to explain to a general audience what guilt is, what it's for, and how it manifests in various ways in our lives. This comes from my long-standing interest in human psychology as being intimately tied in with social relationships.
Listen to the entire episode of Sciographies at 6 PM today on CKDU 88.1 FM in Halifax or find it on Apple Podcasts, Spotify, Google and other popular podcasting platforms. You can also listen to previous Sciographies episodes on the same platforms or at soundcloud.ca/sciographies and dal.ca/sciographies.