Until last year, Dalhousie's classes had been predominantly offered in person throughout its long history. That was suddenly turned upside down when the pandemic sent the world online, requiring faculty to quickly rework curriculum and learn a new teaching format.
It was an incredible amount of work. And, in many cases, those efforts have opened the door to new possibilities. That's why, even though instructors and students are now settling back into in-person classes, the Centre for Teaching and Learning (CLT) is working diligently to hold on to the positive that came out of this online experience.
Dal News spoke with Susan Joudrey, Jill McSweeney and Kate Thompson from the CLT to learn more about the skills, resources and opportunities that came out of the past year and how instructors are making the most of them this year.
In your opinion, what are some of the key discoveries from last year's transition to online that will contribute to teaching and learning moving forward?
Dr. McSweeney (shown left): I like to share this anecdote: I've been teaching our graduate-level course in university teaching and learning for quite a few years now. And in every iteration, we always ask students, "Okay, do you think that your course could go online?" and usually people say, 'No, it can't.' I think this last year really showed that any course in any discipline can be transitioned online, maybe not as effectively or maybe it has to be adapted, but there is that possibility. It can be done. I think we have all proven to ourselves that we can work to make it successful.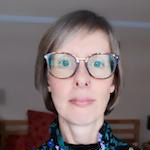 Dr. Joudrey (shown left): I think what's been interesting, too, about this year of online is that people really started to think differently about their teaching and about what was happening in their classes. In the faculty certificate offered by the CLT this year, we offered a course in blended teaching and learning that Jill and I taught — each of those faculty members came out on the other side with a plan for their fall course or their winter course. And that was awesome. A lot of those faculty had labs, and many of them decided to try to "flip" the time with their labs, so the students might watch a demonstration ahead of time, answer some questions and start to think about what their lab report will look like, so when they come into the physical lab, they can get right into the lab work. That's really exciting because now those faculty members can use more of the in-person lab time demonstrating and responding to questions.
Blended learning is a term that's getting a lot of attention this year. Can you explain the concept and how it's being adopted at Dalhousie?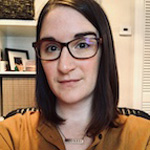 Dr. Thompson (shown left): There's quite a variety in the kind of blended course designs. The type of blended class that I think is going to be easiest for most faculty is a blended class that combines an in-person synchronous component with online content that's either synchronous or asynchronous. The CLT has really been trying to increase understanding of blended learning and help with creating blended learning courses. Over the past year, instructors have developed all these great skills and resources like recorded lecture videos and online assignments, and now that they're going back face to face, it's a great opportunity to transition to blended.
Dr. Joudrey: Also, it's a very adaptable model. So, if there was a disruption for some reason, whether it happens to be because of pandemic or weather related, or anything, it's very easy to keep pace with the course so that the students can continue their learning and faculty can continue to be engaging the students online, without it having to be in person and face to face all the time.
Dr. McSweeney: In the course, we really stressed the importance of thinking about the contextual factors within the course to create an intentional design and make sure the student is at the center of the experience. It needs to be aligned in terms of the learning objectives, how it fits within the instructor's workload and what brings them joy in teaching. Blended learning really falls on a spectrum, and we want to encourage the idea that blended isn't a prescribed situation that it really is adaptable to fit. It's been great to see how excited people are to get back in person, but also that they're really excited to explore how blended can support what they're doing in in person. I think it's going to be an exciting new experience this fall.
Explore resources specific to blended learning on the CLT website.

With so many different approaches to blended learning, how is that being communicated to students and managed in the classroom?
Dr. Joudrey: It's very important to be clear with the students and not just at the beginning, but throughout the course. One of the things that's come out of the work of the CLT is the university has created a syllabus template specifically for blended. Where we once just had the one syllabus template for face to face, now we've got one for face to face, one for online and one specific to blended. When it comes to students registering, the Registrar's Office is working on ensuring that blended is a designation moving forward. I think there will be three or four different possibilities for blended that outline different options in terms of actual face-to-face time so that it's clear the whole way through.
Dr. Thompson: In the classroom, I do believe that any course could be blended because the definition of blended is so flexible and varied. For example, I've been working with a lot of faculty around the difference between blended and HyFlex. HyFlex connects students in, from a distance, to an in-person class through streaming so they're able to interact with the class. That requires a lot more classroom technology infrastructure, and it requires a lot more human resources support. That's not what we're recommending.
Dr. McSweeney: No, instead, working blended into a class goes back to what we're talking about with intentionality and thinking about how you're using that time with your students. If you're lecturing, could that be done through recorded videos online?
Dr. Thompson: If there's an instructor who's thinking, 'Oh, I don't know how I could blend my course," they should reach out to the CLT. One of the best things we do is one-on-one consultations with instructors when we meet and chat about their syllabus and troubleshoot and talk through how blended is going to work for their particular course.
Contact CLT for a one-on-one consultation on blended course design and development.
Dr. Joudrey: The other piece that we've been trying to hold on to from our online year is the idea of accessibility. We've been really trying to get people to think about a blended model where people can access any sort of video content or readings, or discussion at their own pace asynchronously so it doesn't matter if they're in a different time zone, or if they don't have a strong Internet connection or great tools. Not everybody has access to a laptop.
What makes this year ideal for introducing blended learning concepts into courses?
Dr. McSweeney: People did a substantial amount of work transitioning their courses to online last year. So then, how can we help relieve some of that work by using what has already been created and then really focusing on the time spent with students? There are a lot of wonderful faculty and instructors out there really looking to capture that adaptability of blended in their courses and really thinking about the student experience and how they can create something that's meaningful this fall, but also able to be flexible enough to meet the students' different demands.
Dr. Joudrey: And not only have the faculty had this great opportunity to try something in a new modality, but the students have had a whole year to get used to what it means to go to Brightspace to look for their course materials. And first-year students had experience with online learning in their high schools last year. So, the students have been prepared for this type of blended model as well.