Over the last year, thousands of Temporary Foreign Workers (TFWs) have travelled from their homes in Mexico, the Philippines, the Caribbean and Central America to take on jobs that are integral to Canada's national food supply, but which can come with distinct risks — particularly during a pandemic.

Hundreds of these workers arrived in Prince Edward Island after COVID-19 was declared a pandemic early in 2020 to fill positions in the agricultural and seafood-processing sectors, forming what business owners and government agencies have described as an essential part of the workforce.

But little is known about how well protected these workers were from the novel coronavirus and whether adequate safeguards were put in place to shield them from the communicable disease, which killed dozens of TFWs around the world from Singapore to meat-packing plants in the U.S. and Canada.

Researchers at Dalhousie University, St. Thomas University in New Brunswick and Cooper Institute in Prince Edward Island have shed some light on those questions in a new report that includes workers' claims of extreme overcrowding, workplace safety violations, long workdays with no overtime pay, lack of paid sick days, separation from community and a reluctance to complain for fear of being fired.

"We discovered that the pandemic exacerbated workers' precarious working and living conditions. Overcrowding was an issue before, yet it persisted in a time when social distancing was thoroughly emphasized by public health protocols," says Raluca Bejan, an assistant professor of Social Work at Dalhousie and lead author of the report.

"When we talk about overcrowding, we are talking about 17 people for example living in a single-family home, with about 10 people on average sharing one washroom or one kitchen in many cases. Participants were joking that they had to 'win' the stove to be able to cook."
Capturing the TFW experience

Dr. Bejan is leading the team that is asking migrant workers directly about their experiences in the agri-food sector in the Maritimes, and how the pandemic has affected their health and safety. This is the first report in a series of research projects by the Migrant Workers in the Canadian Maritimes partnership, with another report out of New Brunswick expected in the fall. Funding for the project has been provided by the Social Sciences and Humanities Research Council.

The team interviewed 15 migrant workers who were approved through the federal TFW program for work in P.E.I, a province that relies heavily on foreign labour for its agricultural and seafood processing needs. They were asked about the work conditions under COVID-19, such as social distancing measures, self-isolation and quarantine periods.

Almost every worker mentioned overcrowding and inadequate bathroom and kitchen facilities. Workers' stories mirrored data from the province's Department of Health and Wellness, which found code violations in half of the inspected employer-provided housing facilities for agricultural workers, the report states.

"It was supposed to be four people for one stove and refrigerator, and (when) we arrived there were about 15 people and there were only two stoves, two refrigerators, one bathroom," said one worker.

"(You) cannot live in a healthy way. In all the senses, both hygiene and stress, they are houses that do not provide any comfort," said another. Overcrowding made it difficult for workers to respect sanitary guidelines. Water shortages and low-water pressure were common issues at peak hours, when people were cooking, bathing or washing clothes.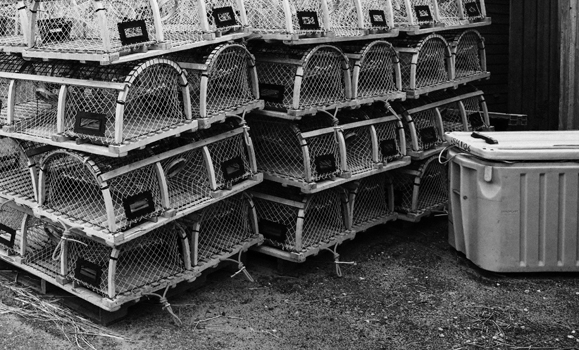 Photo: Ioan Cocan
Need for more protection

Fish plant workers said they paid much higher rents than those in the agriculture sector, which is a much more regulated stream in the Temporary Foreign Worker Program.

Some workers also described their jobs as "tiring, repetitive and dangerous," citing long hours, a lack of training and the tedium of doing the same thing for hours.

"People felt overworked, working days were long, and wages were stagnant and low. They would work between 10 and 18 hours a day, many working seven days per week," the report says, adding that this generally occurred during the peak lobster season. That work involved cleaning and sorting live lobster; packing lobster meat; and, cleaning and re-assembling the processing machines.

The researchers found workers felt their employers took COVID-19 protocols seriously at their workplace and felt safe from the disease. Workers also said they received instructions about what to do if they became ill and were given adequate protective equipment at work. None of the participants contracted COVID-19.

Dr. Bejan said workers reported two instances of employers withholding their passports.  

The team included recommendations to improve the working conditions for this vulnerable population, including granting them permanent residency on arrival in Canada, requiring union representation, ending employer-specific work permits, providing provincial health cards on arrival, conducting workplace inspections and ensuring that migrant workers have access to safe, affordable and dignified housing. The results of this research also aim to ground the advocacy work conducted by Cooper Institute in support of the adoption and implementation of the proposed Temporary Foreign Worker Protection Act in P.E.I.