Fifty years ago this month, Dalhousie's Killam Memorial Library opened its doors for the first time, creating much-needed space for a rapidly growing student population and signaling the start of a new architectural era on campus.

The Killam's design took many cues from Brutalism, an architectural style that had emerged in Europe after World War Two. You'll find generous amounts of concrete, an underlying geometric structure and a sculptural form "tightly integrated" with the landscape.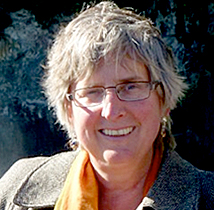 "It could be described as a fortress, a bunker, a power plant maybe or a warehouse, yet it's been a central part of the campus landscape for 50 years," said Christine Macy (shown left), a professor and former dean in Dalhousie's Faculty of Architecture and Planning, during a virtual lecture last week marking the Killam's 50th anniversary.

"It's one of the first of Dalhousie's modern buildings, and it's Dal's oldest example of mid 20th-century modern design."

Walk around Dal's Halifax campuses today, and you can see the Brutalist style reflected in a number of buildings from the same time period. These "fellow travellers," as Dr. Macy calls them, include the Sir Charles Tupper Medical Building, the Weldon Law Building, the Student Union Building, the Life Sciences Centre, the Dalhousie Arts Centre, and the Physical Plant. including the Dalhousie Arts Centre and the Life Science Centre.
The rise of Brutalism

Dr. Macy's lecture, which doubled as a virtual architectural tour, gave extensive background on the post-war emergence of Brutalist architecture. She explained how post-war Europe saw a need for architecture to serve a civic and social purpose, which resulted in an experimental phase with new styles of architecture.

Concrete buildings in the Brutalist style had become more popular on the continent because they required fewer resources and represented a new model for urban life. Millions of people had lost their homes to conflict, so huge parts of cities were being rebuilt and concrete high-rise buildings were seen as optimal for meeting housing needs.

In North America, by contrast, concrete was more often used in institutional buildings — buildings such as the Killam.
A growing university

Around the same time as this architectural style became popular, more people were attending university. University campuses were expanded to meet the growing enrolment.

"In many cities, student numbers doubled," said Dr. Macy. "At Dalhousie, it quadrupled. The campus had to expand and quickly."

In 1963, Henry Hicks became the university's president. He added seven buildings to the school's campus and expansions on residential buildings. The cost of the operation was the equivalent of up to $65 million in today's value. He sought out partnerships and government assistance to help fund these projects.
Fortunately, recently widowed businesswoman Dorothy Johnson Killam decided to donate a large sum of money to Dal to build the library in her husband's name.

And, thus, the Killam project got underway in 1966.
A different kind of design

When the Killam finally opened in March 1971, some elements of the original design — such as a fountain on the main floor and an outdoor terrace — were left out.

But the fundamental design by architect Ojar Biskaps and Leslie R. Fairns, the owner of the firm he worked for, remained. The library was centred around an atrium with floors of stacks and study space surrounding. This approach was deemed the best option for the building as it would allow natural sunlight to pour in from above and fill the spaces. And although the atrium was originally open to the elements, a roof was later added in the 1990s to allow for more year-round study space.

Dr. Macy says it was a structural design in keeping with the belief at the time that "libraries could and should keep with technical and social change."
Watch Dr. Macy's lecture in full below