Universities routinely name buildings, campuses and scholarships after important figures in their history, but a full-scale holiday?
For 140 years, Dalhousie students, faculty and staff have enjoyed the luxury of Munro Day — a university-wide day off during the bustle of the busy winter term. And this year, as the global pandemic continues to drag on, the Dal community may appreciate the break from classes and regular business — happening tomorrow, February 5 — more than ever.
While it might seem unorthodox for a university to have its very own holiday, so, too, is it unusual for one individual to play such a pivotal role in a university's story at such a critical time.

A noble rescue

Pictou County, N.S.-born George Munro, for whom the holiday is named, has been called Dalhousie's greatest benefactor and was even described in the pages of the Dalhousie Gazette as the university's "second founder."
"The heart of Dalhousie throbs with gratitude to him for his noble work," reads a short notice on the cover page of the January 31, 1889 edition of the student-run newspaper.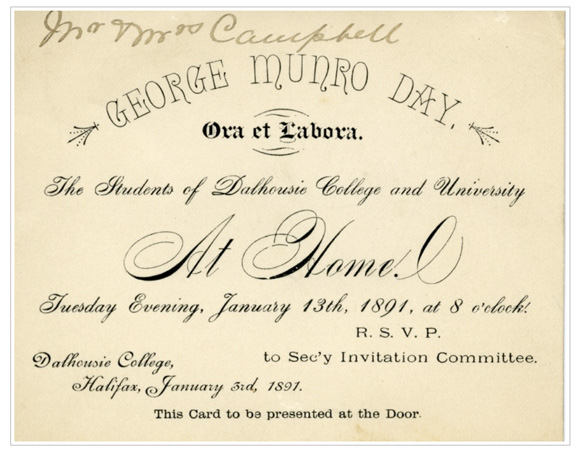 Shown right, an invitation to an 1891 George Munro Day celebration.
Dig a bit into Munro's story, and it quickly becomes clear just how integral his financial contributions in the 1870s and 1880s — drawn from a fortune he'd made as a publisher in New York — were to helping Dalhousie weather a particularly stormy period.
As historian P.B. Waite once wrote of that period, "Desperate is not too strong a word for Dalhousie's financial condition. Talk of closing Dalhousie down was heard on every side."
"Without parallel"

Munro's annual gifts — including money to fund still-existing chairs in Physics, History, English Literature and Rhetoric, Law and Philosophy, as well as bursaries that supported some of Dal's first female students — were considered monumental and described by the university's Board of Governors as "without parallel in the educational history not of Nova Scotia alone but of the Dominion of Canada."
Taken together, Munro's donations to Dalhousie amounted to roughly $330,000 — or about $10 million in today's dollars.
With Munro to thank for so much, read on below to learn a bit more about the holiday named in his honour:
It was created by students In July 1881, students demanded via petition to the Board of Governors of Dalhousie that a holiday be created in honour of Munro and his generosity and their wish was granted.
 
Different days The holiday wasn't always celebrated on the first Friday of February as it is now. When it was first established, The George Munro Memorial Day took place each year on the third Wednesday of January. And, later, in the 1920s, the holidays was shifted to the second Tuesday in March "so that students might better enjoy it."
 
Celebratory traditions When it was first created, Munro Day featured a wintry sleigh ride to an elegant dinner party in Bedford. It also used to feature a university lecture open to all members of the Dal community, but that was discontinued in 1928. Following that, the holiday began to develop a decidely more social flavour, with musicals, dramas, pie-throwing contests, sports games, a day-long radio show, beauty contests, and dances, according to the March 1960s issue of the Gazette. The paper described it as the "spring swan song of organized student activities at Dalhousie." In more recent decades, the day has become an opportunity for students to get outdoors, enjoying a day on the slopes through a Dalhousie Student Union organzied ski trip or volunteering in the community.