Dalhousie is tapping into the spirit of the times for African Heritage Month this February with a variety of events and programming focused on health and well-being.

A virtual event and flag raising Monday served to kick off the month of celebration, reflection and action, with Dal President Deep Saini and others offering words of comfort and recognition amid challenging circumstances.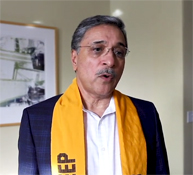 "As we reflect on Black health and wellness, I want to acknowledge what an incredibly difficult time in our history this has been as we respond to the unjust racial tragedies experienced by Black people in North America and on a global scale like health inequities, police brutality and environmental racism and the impact these injustices have within our own community," said Dr. Saini, shown left.

Drawing inspiration from this year's theme, Black Health Matters: Listen, Learn, Share, and Act, President Saini encouraged viewers to join him in using the month as an opportunity to learn and take action to combat anti-Black racism.

Members of the Dal community have many avenues for doing so in the days and weeks ahead, including panel discussions on health, wellness and race, workouts for the body and mind, and inspiring arts exhibitions, performances and film screenings.
Praising leadership, finding balance

Those who tuned in for the pre-recorded launch event on YouTube also heard from Madeleine Stinson, president of the Dalhousie Student Union; Theresa Rajack-Talley, Dal's vice-provost of equity and inclusion; and Joy Chiekwe, a first year Masters of Kinesiology student.

Stinson heralded the month as a chance to recognize the leadership, courage and endless dedication of Black community members, including faculty and senior administration (who have "made Dalhousie a safer place for the next generation of Black scholars, leaders and innovators") as well as students (who "have time and time again been leaders and change makers on and off our campuses").

She spoke about the continued challenges Black students face on campus, especially those who hold intersectional identities and those from African Nova Scotian and Mi'kmaq communities.

"These students are the reason we do what we do," she said. "Their mental, physical, social, spiritual, emotional and intellectual health must continue to be our priority."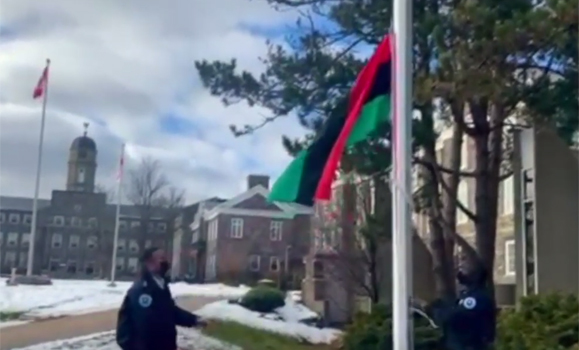 Members of Dal's Security Services team raise the pan-African flag.

Chiekwe told viewers about her experience as a student and how she uses exercise as a way to maintain health and balance in her life. "As a student now, there are so many stressors that come with it. Your assignments, your readings, your presentations, you name it," she said. "So for me, now that I'm older, I know that I need to prioritize physical activity and exercise."

As someone who studies the use of exercise as a form of medicine to improve quality of life, Chiekwe emphasized that no one approach fits all when it comes to being active.  

"That's the beauty of health and wellness and fitness is that it's a spectrum. For one person, it might be running a marathon every day and for another person it might just mean getting up from their seat. And that's okay," she said.

"The main point . . . is getting your body moving and showing it the love it deserves, so you can perform at the level your body is supposed to perform for as long as it can."
Celebrating culture, honouring commitment

In addition to commentary and the raising of the pan-African flag at the end, Monday's event also featured musical performances by Drummers from Home, Catherine Martin (Dal's director of Indigenous community relations), and Zamani Bernard Millar and Amariah Bernard Washington, as well as a libation ceremony with Bernadette Hamilton-Reid.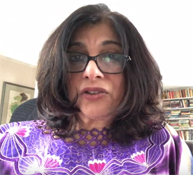 Dr. Rajack-Talley (shown right) concluded the event with the presentation of African Heritage awards to five organizations for their service to the community, now an annual tradition at Dal's launch. This year's recipients were the Health Association of African Canadians, Gamechangers 902, ACE, Black Wellness Co-operative of Nova Scotia and, finally, staff of African descent working at Northwood, a not-for-profit long-term care home with two locations in Halifax.

"It is important to recognize health-care workers on the front lines of the COVID-19 crisis because we know that their work isn't often celebrated as it should be," she said.

As with the launch, Dal's African Heritage Month events and programming in the days and weeks ahead will follow mostly a virtual format — something Dr. Saini says shouldn't deter people from getting involved.

"While I wish we were able to mark this occasion in person as we normally would, it is more important than ever to reaffirm Dalhousie's commitment to supporting our people of African descent in our community."
Visit the Human Rights & Equity Services website for more on the month and upcoming events.