Kim Brooks would like to believe that every member of society has equal access to post-secondary education, but she knows that's not true. She also knows many individuals struggle to be given equal opportunities even once admitted.

"It is a myth that we're all on an even playing field," says Brooks, dean in the Faculty of Management.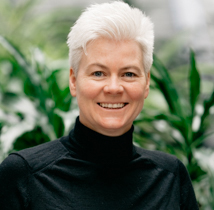 The truth of this hit home for Brooks when she was reviewing applications for a research assistant position. To a question about hobbies, many applicants responded with "travel," but only one, a racially diverse person, answered with "childcare." For Brooks, pictured left, what constituted a hobby for students really underscored the differences in their experiences, perspectives and opportunities. It reaffirmed her commitment to enhancing diversity and inclusion on campus and in her own Faculty.

Brooks isn't alone in seeing both the imperative and benefits of breaking down the systemic barriers to diversity. Momentum has been growing at Dal in recent years to build on the success of long-standing programs such as the Transition Year Program (founded in 1970) and the Black Student Advising Centre (founded in 1990). In 2019, the university welcomed Dr. Theresa Rajack-Talley, its first vice-provost of equity and inclusion, who oversees development and implementation of the university's Diversity and Inclusiveness Strategy and leads Human Rights and Equity Services.

To explore the potential for diversity in both the faculty and its professional community, the Faculty of Management is hosting an interactive online panel discussion The Promise of Diversity in Management on Thursday, Jan. 28, 2020, from 8:30-9:30 a.m.
Bringing business and community leaders together

Brooks will moderate a four-person panel of thought, business and community leaders in diversity and inclusion.

Matthew Martel (BMgmt'14) is chief operating officer at the Black Business Initiative.

He started in Dal's Transition Year Program, which he says set him up for success, but was one of few diverse students at the Rowe School of Business and, he believes, one of only two African Nova Scotians in his graduating class. He'd like that to change. "For Black students to have other people around who look like them and have shared experiences is so important," Martel said. "It's never fun to be the only person of colour."

Higher education has long-term benefits, says Martel, leading to stronger inter-generational wealth and stronger economies. "Building that foundation is so important."

Fiona Kirkpatrick Parsons is Deloitte Canada's national advisor on Indigenous issues.

"Organizations that are diverse and inclusive are more successful financially. If they don't pay attention, they will do so at their peril," says Kirkpatrick Parsons.
A member of Lac La Ronge First Nation in Saskatchewan now living in Halifax, she helped create Deloitte's reconciliation action plan, released in June. The plan both responds to the Truth and Reconciliation Commission's call to action for the business community and acknowledges the United Nations Declaration on the Rights of Indigenous Peoples. It's built on four pillars: inclusion, education, employment and economic empowerment, recognizing that greater diversity is more than a moral imperative — it's also a cornerstone for sustainable economic growth.

Rodney Small (BMgmt'15) is a social justice advocate and acting director of the One North End Community Economic Development Society.

"Blackness is being pushed outside of the peninsula," he told The Globe and Mail in November 2020. His drive to slow or reverse this trend is fueled by belief that innovation and entrepreneurship create economic prosperity and sustainability from within.

His advocacy work earned him a meeting with Prime Minister Justin Trudeau in March 2020 before the federal government announced $492 million to boost youth employment. In introducing the funding, Trudeau spoke of Small's "rough start," his hard work to get a degree and how his job now helps other young people.

Angeline Gillis (BA'05, LLB'09) is associate executive director of the Confederacy of Mainland Mi'kmaq, and a member of the Eskasoni First Nation. She also sits on Dalhousie's Board of Governors, Faculty of Management's External Advisory Board and Faculty of Agriculture External Advisory Committee.

She's been a practicing lawyer working with the Confederacy of Mainland Mi'kmaq (CMM) since 2011, proactively promoting and assisting Mi'kmaw communities' initiatives toward self-determination and community enhancement. Gillis oversees files, projects and services for seven Mi'kmaw communities.

Gillis is also a member of The Eastern Door, a group of Indigenous lawyers in Atlantic Canada, which believes Indigenous fishing rights should be negotiated, not litigated.

To attend The Promise of Diversity in Management panel event, featuring a Q&A with these diverse community and business leaders, register here.

Brooks says she's looking forward to it in the way she anticipates attending a dinner party with a curated group of interesting guests. "I can have a good conversation with people who have had the same life experiences as me, but do I leave the table with new ideas and ways of thinking? Not usually," says Brooks.

"There is something magical, and not always easy, that can happen when we bring an openness of spirit, an enthusiasm for listening, and a willingness to have your opinions challenged. Talking about the promise of diversity demands those things of us as active participants in a conversation about how to make the world a better place. I know the audience will get a lot out of joining this meal."