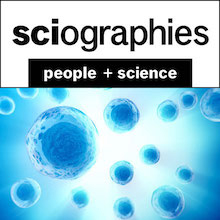 Sciographies is a podcast and radio show that offers listeners a glimpse into the lives of those who've built careers as professors and scientific researchers.
The program started as a Faculty of Science storytelling project to celebrate Dal's Bicentennial Anniversary and now it's returning for a third season with eight new episodes coming this fall.
Season three kicks off with a profile of Natalie Rosen, a sex therapist and associate professor of psychology on Thursday September 17.
Listen: Sciographies Trailer



Sciographies host David Barclay, an associate professor of oceanography, has now interviewed 20 different Dalhousie scientists for the program since it began in 2018. The podcast recently picked up its first award, too: the 2020 Prix D'Excellence Silver Medal for Best Use of Multi-Media from the Canadian Council for the Advancement of Education (CCAE).  
Barclay interviews Sciographies guests about their early lives, undergraduate and graduate school experiences, and career tracks. Since Sciographies guests are all working at the forefront of new discoveries, methods, technologies, and knowledge mobilization in Canada, they also talk about what they're researching now and its importance to society.

Sciographies host David Barclay, right, chats with marine biologist Hal Whitehead.
"Every guest is a data point for the show, which tries to discover the how and why of becoming a scientist and a professor," says Barclay, an underwater acoustics specialist and Canadian Research Chair (Tier II) in Ocean Technology Systems. "Now that we're on Season 3, you'd think the answers would be clear, but most stories continue to surprise."
This year, Barclay will host the first live episode of Sciographies in partnership with Dal's Open Dialogue Series. Dal alumna Kathryn Sullivan (PhD'78), a former NASA astronaut and NOAA administrator, will be his guest. The episode will stream live at 3:30 PM ADT Wednesday, October 7 on the Open Dialogue platform.
And to wrap up season three, the tables will turn: Barclay will sit in the guest's seat for the season finale on November 5. He'll share his own story about becoming a scientist, with neuroscience student Gracious Kasheke takes over hosting duties.
"Hosting was a great and memorable experience. I really appreciated getting to know a professor in a more conversational setting," says Kasheke, who's starting his master's degree this year. "One of the coolest parts of the chat was hearing Dr. Barclay talk about how he has found ways to integrate his many diverse interests into his career."
When and how to listen
Check out season three of Sciographies this fall. New episodes will air on CKDU 88.1 FM in HRM every Thursday from September 17 - November 5, 2020 (with the exception of the live episode on Wednesday, October 7). Every episode will be available for streaming on Soundcloud, Apple Podcasts and other podcasting apps the same day. Seasons one and two are also available on the same platforms.
Season Three Lineup
Natalie Rosen – September 17
The psychologist and sexual health researcher behind the Post-Baby Hanky Panky knowledge mobilization project.
Hal Whitehead – September 24
A marine biologist whose career is marked by fascinating discoveries about the cultural lives of whales.
Tim Bardouille – October 1
A physicist working at the nexus of neuroscience, computer science, and medicine.
Kathy Sullivan – October 7 (live with Open Dialogue)
The decorated oceanographer and former astronaut who got her start with a doctorate in geology from Dal.
Mark Stradiotto – October 15
A chemist, inventor, and the latest Arthur B. McDonald Research Chair who is passionate about fundamental and applied research.
Tess Cyrus – October 27
An economist and self-proclaimed bookworm who studies international trade and bilateral trade flows.
Sophia Stone – October 29
A biologist who studies how plants cope with changes in their environment and is passionate about increasing diversity in STEM.  
David Barclay – November 5
An oceanographer who listens to underwater noise and also happens to moonlight as a podcast host.