This article is part of a series focusing on the grads of the Dalhousie Class of 2020. Visit our Class of 2020 virtual space to share in the excitement with our newest graduates.

Like many Dalhousie alumni before her, Farzana Karim made her time at Dal a family affair. Farzana earned her Master of Environmental Studies (MES) degree in 2020, two years after her husband, Tahazzud Hossain (MES '18). They met and married in Bangladesh and had spent a year apart before Karim started her first semester at Dal.

"There were a couple of reasons behind my choice to study at Dal," says Farzana. "The first was finding suitable supervisors to do research in my area of interest. The second was getting scholarships from the Nova Scotia Government and Dalhousie University. Without those financial supports, it would not be possible for me to study at Dal."

The third reason was, of course, Tahazzud. "My beloved husband was studying MES at Dal at the time of my admission — wasn't that sweet?" she laughs.

"My favourite part of program was the graduate seminar where MES students presented their research projects with a discussion session at the end. I learned many things in that weekly seminar, and I also presented my thesis." She also enjoyed attending the graduate seminar with Tahazzud. "How lucky we were!"

Today, they live in Corner Brook, Newfoundland and Labrador, where Farzana is looking for an opportunity to use her skills and knowledge in the fields of coastal adaptation, climate change and disaster management, or to join her husband in working for the provincial government.

"I would like to give my heartfelt thanks and gratitude to Dr. Kate Sherren and Dr. Eric Rapaport for supervising my thesis," says Farzana.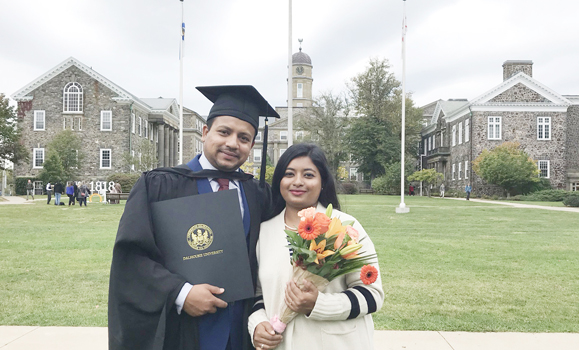 Farzana, right, with husband, Tahazzud during his Convocation.

Climate change in context

Her area of focus during her MES was on how second homes and coastal short-term rentals affect municipal planning and decision-making in the context of climate change.

This work built on Farzana's undergraduate degree in environmental science from Khulna University in Bangladesh, where her thesis contributed to an international research project studying water use conflicts and adaptation measures of a shared river by urban and peri-urban residents.

"Bangladesh being one of the most vulnerable countries in the world to climate change impacts, I was keen to learn more about natural disasters and how to manage their effects," adds Farzana. "I was admitted to the University of Dhaka and completed a master's degree in Disaster Management with a thesis on climate change adaptation and challenges to ensure the life and livelihood of low-income people depending on a wetland ecosystem."

At home in Corner Brook, Karim loves to read and take care of her indoor plants. "I also love cooking and follow YouTube to explore different types of spicy food items. If you like spice, it gives you the chance to enjoy many delicious foods, especially Asian!"

Although Farzana would have been "delighted" to cross the stage at her Dalhousie convocation, her dream is delayed for now and her class is planning a virtual celebration. "This will at least give me the enjoyment of meeting SRES friends and faculty members. I still hope that I will get the chance to wear a cap and gown in the future when the world comes back in normal. Stay safe, everyone!"