Like many organizations, the Scotia Festival of Music had a big decision to make in the midst of the COVID-19 pandemic. Instead of outright cancelling the chamber music festival, organizers decided to offer a virtual festival instead and came up with a fitting moniker: "Scotial Distancing 2020."



In its 41st year, the two-week festival brought together never-before-seen archival footage of past performances and new live performances from The Music Room — with the help of Fountain School alumni and faculty. The series had new performances from artists like concert pianist Peter Allen (a Fountain School instructor), bass-baritone Jon-Paul Decosse accompanied by pianist and festival Managing and Artistic Director Simon Docking, and archival performances from Philip Glass, Denise Djokic and Patricia Creighton.

Two recent grads from Dal's Fountain School of Performing Arts, Andrew Coll (BM '16) and Neven Prostran (MA '17), both work for the festival and coordinated the production of the livestreamed performances. When they reviewed archival footage, they quickly realized they could supplement live performances and have enough material for 14 nights of content.

The festival wraps up Sunday, June 7 with a 1991 recording of French composer Pierre Boulez's historic visit to Halifax to conduct Scotia Festival's Orchestral Gala. This final gala concert was part of a residency, which led The Globe and Mail to describe that year's festival as "the greatest music event in Canada's history."

Sharing performances from a distance

Andrew studied piano with festival director Simon Docking when he was a teenager. After studying piano performance at Dal he became a freelance filmmaker and videographer, going through the Film 5 development program at the Atlantic Filmmakers Cooperative as a writer/director: his short film Duet was a national finalist on CBC's Short Film Faceoff competition. Last year, he reconnected with Docking who suggested he come work at the festival part-time.

Neven works as a teacher, an arts administrator, audio/video technician and performer, among other jobs. His master's thesis was on film music and he's been interested in film and videography for almost a decade. "I think we are two sides of the same coin," he says of working with Andrew. "I'm a musician who loves videography, and he's a filmmaker who loves music."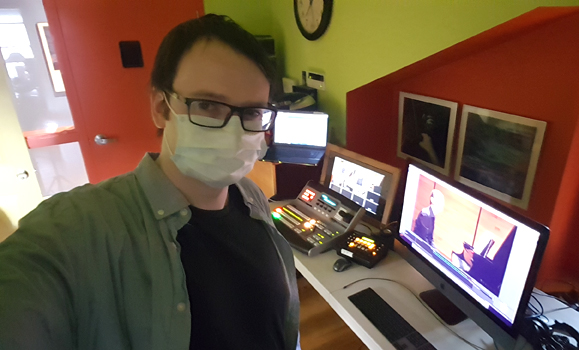 Andrew Coll at work livestreaming the Scotia Festival.

At Scotia Festival's Peggy Corkum Music Room concert hall, they are the "tech people," with Neven handling anything audio-related and Andrew handling video. They worked together to create a setup that balances multi-camera, broadcast-style video with high-quality audio — controlling cameras remotely with a joystick and switcher while maintaining physical distancing between the two of them.  

"Running livestreams with social distancing restrictions is a bit bizarre given that I'm working the soundboard in an entirely separate room from him, but we make it work," Neven explains. "What I love about working with him is that he shares my mindset that audio and video need to work in harmony and you always need to be cognizant of the needs of each facet. It's a balancing act, but when done right results in a beautiful product."

"None of us really knew how it was going to go or who was going to tune in," adds Andrew. "But we had that first broadcast with Peter Allen, we had had just over 500 people watching live at one time at the peak. So it was a great way to kick it off and get started."

Empty room but a worldwide audience

Allen, an associate professor in the Fountain School of Performing Arts, a concert pianist, composer, and conductor, delivered a piano performance via livestream, which was a first was in his 20+ years performing at Scotia Festival. He describes the livestream experience as "really pretty amazing."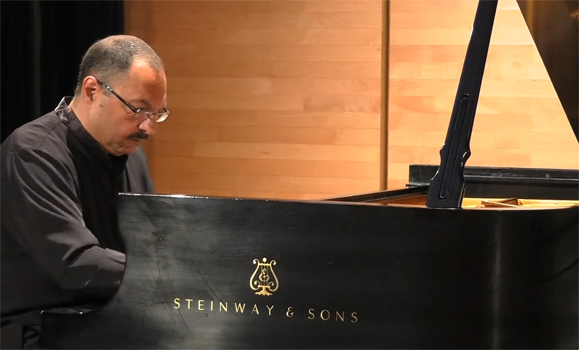 Peter Allen performing in the Music Room.
"They figured out the synchronization of the sound and the pictures – that was the tricky thing," Prof. Allen said. "But they basically solved the problem and it came across really well. I thought it was all very, very successful."

Though Prof. Allen says it was "kind of strange in a way" to perform for only one audience member and camera operators. "I practice alone all the time, but you don't usually dress for performance when you practice. Then showing up and playing with all this equipment around with only one or two people in the hall does feel a little strange but actually the real excitement with doing something like this is that there's no second takes."

Prof. Allen has high praise for the festival's innovativeness in bringing the festival online. "This to me was just as good as any classical performance you see on TV. They nailed it all on the very first try. And if we were to do something like this again, what I find really exciting is that it could only get better and it's already at a great level. So I'm just so thrilled with what they did."

Scotia Festival of Music is working on equipping The Music Room with permanent live streaming gear so that they can be a resource in the future for the broader arts community to broadcast performances to the world.
Arts in a pandemic

Right now, in the midst of a global pandemic, livestream concerts are the only shows in town, and the pandemic's impacts on arts industries is vast.

"The film industry is already looking at ways to restart production as we speak, and I suspect they'll be back up and running in the next few months," Andrew says. "The way they go about production will be a little different, but audiences still have Netflix at home so people can still pay for and consume the [film] content at home.

"Music faces the more fundamental challenge where it's such a social experience going out to concerts, and people don't always consume it at home the same way that they do with movies or TV. I think musicians and presenters are going to need help and support in the short to medium term as we sort of figure out these new ways to bring music to people."

Neven sees more low-key and intimate performances. "I think there will be a more tangible connection with performers as they continue to broadcast live and engage with worldwide listeners in real time. In the long term, I think we will see a boom in the creative delivery of productions. Limitation is a catalyst for creativity so I wouldn't be surprised to see live streaming become a more integral part of performances and create more interactive concert experiences."