When Kristina Bookall left her home in Jamaica to attend Dalhousie, she was unaware that several years before her a relative had made a similar voyage.
"I later found out that my aunt, who moved to Canada, studied nursing at Dal," she says.

Kristina, who recently graduated from the Masters of Architecture program, says her Dal experience has helped prepare her for jumping into the field right away.
"Dal architecture keeps it realistic," she says. "It also allows you to be a significant contributor to the field just after graduating."
A coastal experience

Kristina spent a summer in Cape Breton as a part of the Coastal Studio team, a research project at Dal that embeds students in different coastal communities around rural Nova Scotia with a focus on the development of innovative design and construction techniques that marry new technologies with traditional methods and materials.
"That was by far one of the best experiences," she says.
Not only did she find the landscapes "absolutely stunning," she says she also got the chance to get to know her classmates better as they all lived together over the summer.

For Kristina, architecture is an amalgamation of her artistic interests. "I do a lot of artistic design, and illustration and architecture bring all those interests into one thing," she says.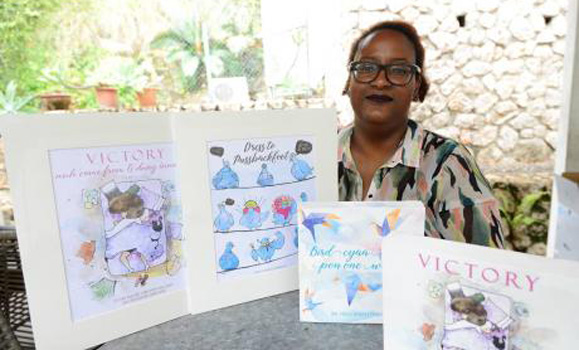 Before coming to Dal, she worked as a graphic designer for the British Broadcasting Commission.

"I studied production-design for film and television in the United Kingdom and went on to work for the BBC," she says. Kristina has contributed to several TV commercials and miniseries, like Dancing on the Edge, Family Tree, and Hunted.
Adjusting and adapting

Despite having studied and worked in the UK, Kristina still had to adjust to her new life in Canada. "I had to get used to Canadian culture and the Canadian architecture student culture, which is another animal itself. Also, I was implanted into an existing class, which was tricky to navigate because being the new kid is never fun."
She says she also started out her program as "a minority in every sense of the word," but that there's been a lot of more diversity developing in that area over the past few years.
Kristina says she also worked to overcome challenges that came with holding down a job while studying.  
"Working while in school was another struggle. Architecture school is intense and requires a lot of work, and the quality has to be to a certain standard to maintain good grades," she says.
Now that she's done her degree, Kristina says she plans to spend some more time gaining experience in Canada before eventually returning home.

"My immediate plan for the future is to get through quarantine and further my architecture experience here in Canada and when the weather gets too cold, fly back to Jamaica."