In early 2019, Catherine Charlton wrote an essay for one of her Dalhousie courses exploring the long-lasting impact of the deadly 1958 mining disaster on the town of Springhill, Nova Scotia.
Months later, that essay would be named by one of the most respected international language associations as a model paper for other students to follow.
The Modern Language Association (MLA), a scholarly organization that advocates for "the study and teaching of language and literature," first announced it was holding a contest in September of 2019 as a way to seek out the best research papers that demonstrated a good understanding of MLA formatting and style.
Catherine, a student at the University of King's College, submitted her essay for consideration after her Dal English professor Kathleen Cawsey told her and other students in a third-year class about the contest. She originally wrote the essay, titled "'Coal Is in My Blood': Public and Private Representations of Community Identity in Springhill, Nova Scotia," for a history course on Atlantic Canada.
A standout submission

"The topic of Springhill is close to my heart," she says. "My grandmother is a Springhiller and is fiercely proud to be the daughter of a coal miner. I knew she would be so pleased if the story of Springhill reached a wider audience."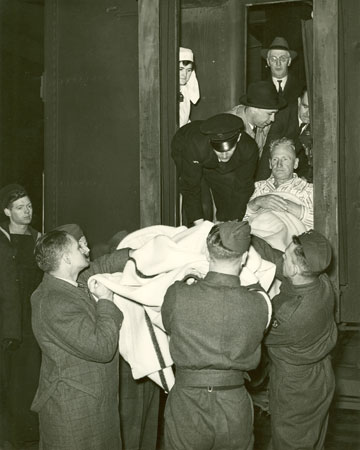 Catherine's essay was one of five selected from hundreds of submissions for reproduction on The MLA Style Center, an online, public reference portal with style resources. She received a certification of publication from the MLA as well as a $50 gift certificate to a bookstore.
Catherine says she's grateful to Katherine Crooks, the instructor in the history course, and Dr. Cawsey for directing her down the path and leading her to this success.
As Catherine explains in her essay, the mines in Springhill were notorious for being dangerous and "there were only three years in the mines' history in which they claimed no victims." The 1958 disaster claimed the lives of 75 people and left another 99 trapped but later rescued.
Above: Miner being removed on a stretcher from pithead to waiting ambulance. (Roy Tidman/Halifax Chronicle & Daily Star/St. John Ambulance/Nova Scotia Archives)
Style and substance

She says she is thrilled that more people would have the chance to learn about Springhill as well as MLA style thanks to her essay.
"Though the mines have long since closed, Springhill's identity is still that of a coal-mining town, and this identity is forged on the remembrance of heroism and heritage."
When asked about why she wanted to write about this specific topic, Catherine said that she had grown up hearing about the history from her grandmother and wanted to know more about it.
"I wanted to learn more about the event both to satisfy my own curiosity and to discover an event which has been so formative in her life," she said.