Dalhousie's Black Student Advising Centre (BSAC) celebrated its 30th anniversary Monday by kicking off African Heritage Month with music, food, and inspiring messages from members of the African Nova Scotian community.

Bookended by music from the Halifax-based group, The Colors of Africa, the evening also featured performances by Dalhousie students Lyris Daye and Erianna Willis-Smith, a "History of BSAC" video presentation by assitant professor Barb Hamilton-Hinch, and a keynote speech by NASA engineer K. Renee Horton.

Oluronke Taiwo, BSAC's black student advisor, attributed the success of this year's event to months of hard work and planning, as well as the collaborative efforts of many members of the BSAC community and donors.

"Seeing the reaction of the students and hearing wonderful feedback by the attendees made me want to cry. The speaker was very empowering, and the performances were powerful and entertaining," says Taiwo. "I am very grateful that all the work that was put into the event by so many people was worth it."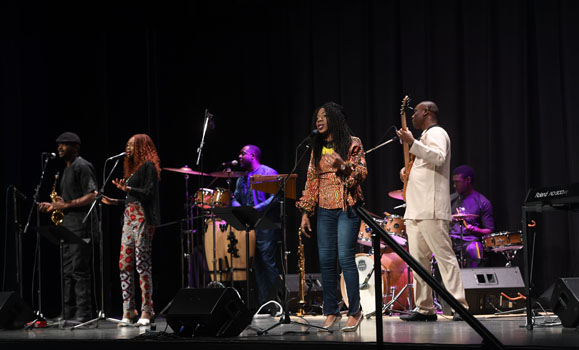 The breaking of barriers

For the past 30 years, BSAC has provided educational and personal support for African Nova Scotian students from the diaspora at Dalhousie and the University of King's College. The Centre was born out of a 1989 report entitled "Breaking Barriers: Report of the Task Force on Access for Black and Native People", which served to address and redress the systemic barriers faced by Indigenous Black and Native learners in accessing academia as a result of years of intergenerational social, economic, racial, and political marginalization.
For this occasion, Taiwo wanted to highlight a person who serves as an example of success and empowerment for African Nova Scotian students, so she asked Dr. Horton, who is space launch system quality engineer at NASA's Michoud Assembly Facility, to present.

"For me, it was important for Dr. Horton to talk at the 30th anniversary because the purpose of celebrating the event is to demonstrate how far we have gone in trying to break the barriers that set us apart from the white privilege, which in most cases have made many black students want to give up," says Taiwo.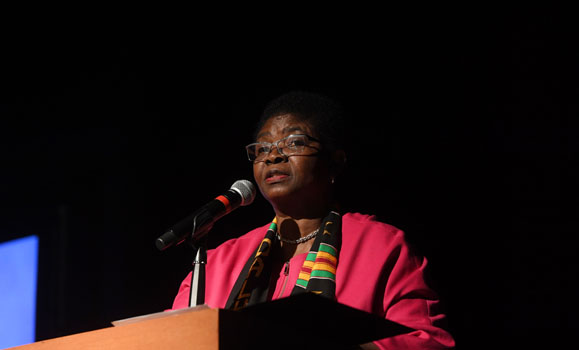 Oluronke Taiwo
A story of perseverance

In addition to her work in mechanical engineering, Dr. Horton is a mother of three, the founder of the non-profit mentorship organization "Unapologetically Being Inc.", the president of the National Society of Black Physicists, and author of the "Dr. H Explores the Universe" children's books.

However, the road to success was difficult for Dr. Horton, who faced numerous obstacles in her career that included racism, homelessness, and a hearing impairment. It was hard work, perseverance, and a steadfast belief in her abilities that helped Dr. Horton overcome these barriers to become the person she is today.

"I woke up one morning and I said that I was no longer apologizing for being who I am. That I was black, I was gifted, and I was amazing," said Horton. "And it was no longer my business that you had a problem with it."

The evening culminated in an impassioned presentation from Dr. Horton, who called for self-belief and empowerment that expands beyond the scope of African Heritage Month.

"Your black excellence does not leave just because there are 28 or 29 days in the month," said Horton. "The power that black history will bring you today will forever be with you. You too can be black history."