The cast and directing team of Dalhousie's third-year production, Ephemera: A Devised Theatre Creation, take an insightful and unapologetic look into Canada's contemporary theatre scene.
Dubbing themselves "Canada's least favourite breakfast club," these actors are well aware of how the public is gauging progressive culture today, with some in older generations somewhat confused or disagreeing at issues very close to the heart of Generation Z.
A time crunch comes to fruition

"Devised theatre" is a form of creation in which the cast and crew create a new play out of their own ideas and experiences in the rehearsal room, instead of starting with a pre-determined script.
As the springboard for this project, director Mathew Thomas Walker gave the group two articles about an artist who had disrupted a theatre company's live performance. Olivier Choinière, a Quebecois playwright, took a small audience wearing headsets into another theatrical show, while speaking his full criticism of the show to them in real time, and the term "theatre hacking" was coined.
The script for Ephemera was created from the written responses of Dalhousie's third year acting students to the articles.
"It's been a really wild experience devising this way with such a short rehearsal period," muses actor Emma Brown, "because after our two weeks of creating, we had less than a week to block the show (all the while the script was still being edited) and then we started tech, with changes still being made to the script."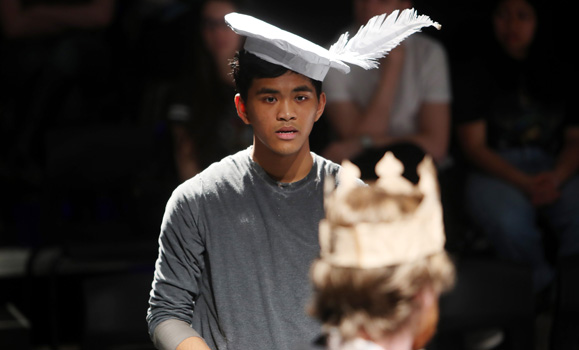 Aquila Wibisono
As the cast shares their story of a tasteless production of Hamlet that drew them together, a light is shone on what theatre has evolved into: ever-increasing budgets, pyrotechnics being a must-have, and a social media presence being the only thing that really matters. The cast brings up issues of race and culture being mishandled and blatantly ignored in modern productions, young actors' time not being respected, the notion that young actors will work for nothing, and abuse of power from directing teams.
The cast's focus has been addressing issues they believe should be highlighted in theatre. In doing this they pave the way for themselves as well as future actors.
"We are willing to self-advocate, and look after ourselves and look after each other," says actor Kirsten Claussner. "I hope we bring this sense of community forward into theatre. We also really focus on truthful storytelling. My class puts a lot of thought into their characters and into their work."
Doing well by doing good

This stripped-down, zero-waste production reminds the audience what is at the root of great theatre: a talented cast, a hard-working crew and a story that needs to be told. During the land acknowledgement in the show's introduction, the performers ask the audience to think of the waste we have left behind on these lands.
To create this project, the cast were given strict restraints such as a limited number of props and lights. Purses, dresses, and glasses are all hand made. What is more, the team defined the term "ephemera" as something written or printed on paper that is meant to have a limited use, such as a pamphlet or receipt or ticket to a show. These small pieces of paper hold memories and places in time which the cast thoughtfully reflects upon.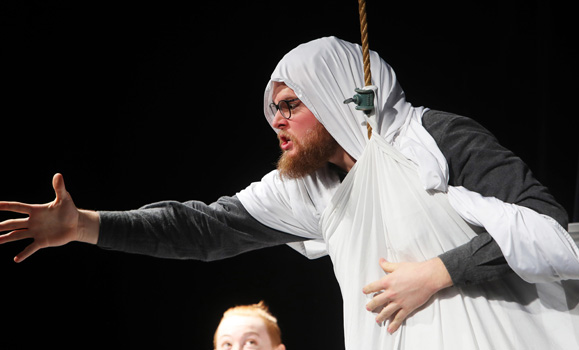 Christian Ludwig Hansen

In this production, the team deemed all paper ephemera and used it with care. Any waste paper they accumulated had to be re-used, and in the show as whole, paper is used skillfully and artistically by Samantha Baljet (costume design) and MacKenzie Cornfield (set/ lighting/ prop design).
A big effect with small tools

The cast and crew have found ingenious ways to give a big experience with very little tools. The set design, by Cornfield, makes everyday objects into integral pieces of storytelling. The use of shadows is reminiscent of Dalhousie's Orlando (performed two years ago and also directed by Matt Walker), making a large effect with modest tools. This design element helps in making comical characters even more ridiculous by exaggerating physical features and shifting the audience's perspective.
Set design meets acting when in portions of the show the location of the scene is described to the audience in the dark. The play may be staged in a black box theatre, but the description of lavish surroundings give context to the plot and rich details for the imagination.
Music is used as punctuation and mood setting throughout the performance with only a violin (Kerry Regan) and saxophone (Taylor MacGillivary). Scoring everything from falling pudding cups to clown horns, to tense scenes, the music offers an effective way to transport us into the reality the actors have created.
Creation makes closeness

Through this process the cast has become even more of a close-knit ensemble.
"I think it has really strengthened our bond with one another," says Claussner. "When Matt worked with our class he realized we had this really strong nurturing environment that had been created. He referred to it as 'positive competition', where we raise the bar to each other and push each other to go further, but it's never something negative. We want to take this journey to improve as a group."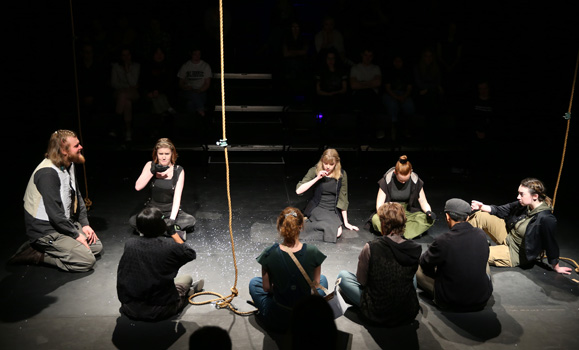 Clockwise from right: Emma Brown, Aquila Wibisono, Ryan Nielsen, Ella MacDonald, Moneesha Bakshi, Christian Ludwig Hansen, Giulia Wilson, Kirsten Claussner, Molly Redden.
All the participants in this process have risen to the challenge that has been put in front of them and have evolved as actors in the process.
"It's been an interesting challenge as an actor," says Brown. "In some ways it's been easier, because we're all sort of playing fictionalized versions of ourselves. It's been quite difficult to get this show from our brains to the stage in such a short rehearsal period, but I'm so proud of what we've accomplished."
One zero-waste production may seem small, but it is the first step to building a movement. One act of justice may start a tidal wave. Ephemera is a story of the importance of action, and the necessity of being thoughtful about ourselves and our effect on the world. "Ephemera" has no meaning unless the owner gives it some. Ponder what you assign meaning to, and be inspired to create change with that meaning with the cast of Dalhousie's Ephemera.
Ephemera runs from February 4-8 in the Dalhousie Arts Centre's David Mack. Murray Studio, with nightly performances at 7:30 p.m. and a sensory friendly performance at 2 p.m. on Saturday. Tickets are available from the Dalhousie Arts Centre box office.