For Chemistry Professor Alison Thompson, the question of access is front-and-centre in her philosophy of teaching and learning.

"Access is a lot more than, once you're in the classroom, whether you can read or see or hear the professor talking and are able to take part in those activities," she explains. "There are huge sectors of our population who haven't even been able to get to the door, to see what's inside."

"That's very dear to my heart — exposing young people to the sorts of opportunities and careers they might aspire to."

It's a sentiment that drives her work with SuperNOVA at Dalhousie, the not-for-profit initiative that provides youth across Atlantic Canada and beyond with fun, hands-on learning experiences in science, engineering, technology and mathematics (STEM). This sentiment guides her own teaching, too, providing resources to her students through technology and helping develop inspire engaging work books that have been adopted by other universities.

It's for these reasons, among others, that Dr. Thompson is the most recent recipient of the Anne Marie MacKinnon Educational Leadership Award. Presented by the Association of Atlantic Universities (AAU), the award recognizes a sustained commitment over an extended period to the improvement of university teaching and learning, within a recipient's own institution and often more broadly.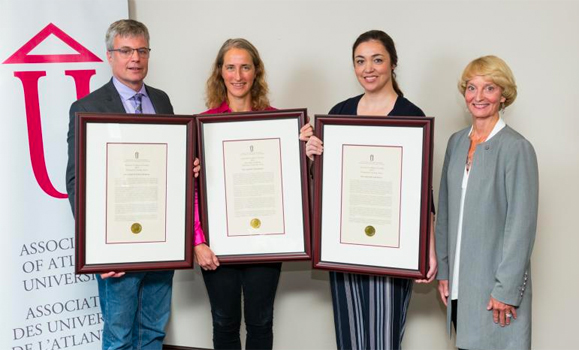 Dr. Thompson (second from left) with fellow AAU award winners Martin Wielemaker (UNB) and Amanada DiPaolo (St. Thoms), as well as Mary Bluechardt, president and vice-chancellor of MSVU.

In its citation, the AAU credits Dr. Thompson with demonstrating, "unwavering commitment to enhancing education at Dalhousie and beyond." She is the second Dal professor in the past three years to receive the honour; Earth Sciences' Anne-Marie Ryan was the award's 2017 recipient.

Honouring important initiatives


Dr. Thompson received her award at a ceremony in the fall.

"It's always really humbling to receive an award because there's lots of fabulous educational leaders out there, and I don't think I'm any more special than anyone else, to be honest," says Dr. Thompson. "I think what an award like this lets me do is think about all the people who've helped me along the way… it gives me a moment to think about that, something that in the everyday, things can get too busy to really reflect on."

"And I see it, really, as being less about me, and more about the initiatives I've been involved in. It's really about honouring those initiatives."

The award reflects her initiatives in outreach, in her own teaching and in the chemistry community. With SuperNOVA, for example, where she serves as the organization's chair, she's helped support continued expansion into a group that brings year-round, hands-on STEM programming to more than 16,000 youth annually in five provinces — 40 per cent of them being rural, low-income, new-immigration, African Canadian, Indigenous or hospitalized youth.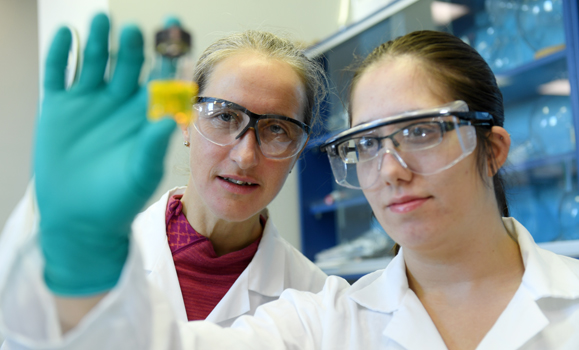 "When you think about access, there are entire groups who aren't even really being reached," she says. "That's what SuperNOVA tries to do — reach youth in areas typically underserved by organizations coming through to deliver science or expose them to careers in STEM."

With regards to her own teaching, Dr. Thompson is an eager collaborator, keen to work with colleagues when it comes to facilitating classroom and lab experiences that enhance students' experiences. Her work with online learning tools (videos, tablets, etc.) led to a collaboration with colleagues to create the award-winning Concepts in Chemistry platform for first-year chemistry classes. And within the Chemistry field, she's worked hard to make various processes more diverse and inclusive, from accreditation to evaluations for research funding.

Dr. Thompson has been recognized previously with the 2018 Dalhousie Alumni Association Award of Excellence in Teaching — Dal's top teaching award — as well as Dal's Award for Excellence in Graduate Supervision. Other previous awards include the 2015 Chemistry Professor of the Year Award and a 2008 Dalhousie Innovation Award.

Pushing forward

Dr. Thompson continues to spark the types of conversations that drove the initiatives recognized by her award — for example, ensuring the research lab is as inclusive as the classroom.

"The individuals who are, frankly, allowed to do research in our university system in Canada are those who are successful at the undergraduate level," she explains. "So if we're not getting diversity at the undergraduate level, we're not getting it in our research. And then we're not seeing a diversity of ideas at the research table — the different journeys people would bring to the research lab."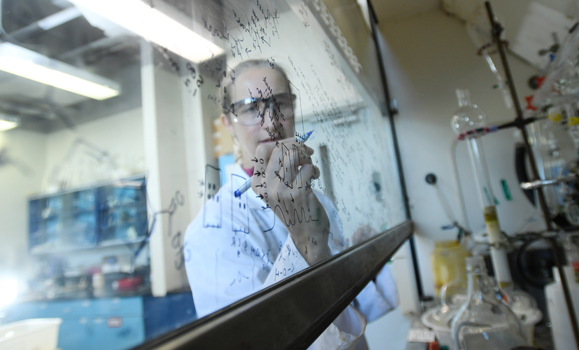 Another topic that is important to her is advocating for improved child care and other services for parents and families at Dalhousie and other universities.

"Educational leadership needs to recognize that, access wise, many people are unable to access further education because they have childcare responsibilities," she says. "We are excluding those individuals if quality childcare is unavailable, inaccessible or unaffordable."

When asked to reflect on what unites the various strands recognized by her AAU word, she says they speak to the ways in which increasing access and involving more people at the table makes everyone more successful.

"All of my successes have been obtained by working with other people. I believe working together, we can do it better."