With an interest in the rehabilitation properties of cannabis, Alex Buckley, turned to the Faculty of Agriculture's Plant Science program.

Dal AC was the closest university to his hometown of Saint John NB that offered a program of that nature, so it was a natural choice for him.

"When I received a tour of the school, saw how beautiful it was and how friendly the people were, I knew immediately that it was the place for me," he says.

Alex completed his Bachelor of Business Administration through UNBSJ as well as his Bachelor of Science in Plant Science through the Agricultural Campus.  Immediately after graduating, Alex began the position of Lead IPM (Integrated Pest Management) at the state of the art AtlantiCann Medical Inc. facility located in Lower Sackville, NS The facility is managed by the prestigious cannabis company, MJardin which originated in Denver, Colorado when cannabis was first legalized in that state.

Bringing expertise to campus

This past summer, Alex left his position with MJardin to assist in the development and launch of a cannabis management course offered through Extended Learning on the Dalhousie Agricultural Campus.

"I was very excited to hear that Dalhousie was creating a cannabis course," said Alex. "This was the school that fostered my plant knowledge and passion. Having the opportunity to use my experience to give that back to future students that are like me has been pretty amazing."

The course, Cannabis Production and Management, is an online course designed to help students prepare for entering a mid-upper level cannabis production position.

Offered for the first time this fall by the Faculty of Agriculture's Extended Learning unit, in collaboration with the Department of Plant, Food, and Environmental Sciences, the non-credit course will run for 12 weeks online and has space for up to 30 students.

"Extended Learning is excited to be delivering the cannabis production and management course this fall," said Extended Learning Manager Tracy Kittilsen.  "This up and coming industry is creating new jobs for our local economy and we are happy to say we have worked directly with the cannabis industry to develop a course that will help those pursuing cannabis careers."

The course will cover critical aspects of the cannabis industry, botany, crop management, regulations and quality assurance, harvesting, processing and more. Students in the course will develop skills and knowledge that will prepare them for mid to upper-level production jobs in commercial growing facilities.

A close collaboration

The Dalhousie team has worked closely with industry to develop the course, drawing on expertise from horticulturalists, researchers and commercial producers. Course content was developed by Georgia Lewis, Alex Buckley and Daniel Gillis, all recent Dalhousie Faculty of Agriculture graduates working in the cannabis industry in Canada.

Alex will also serve as primary instructor for the course, with guest instruction to be provided by Dalhousie faculty members as well as cannabis industry experts. Students will work through eight online modules from October 28, 2019 to January 24, 2020.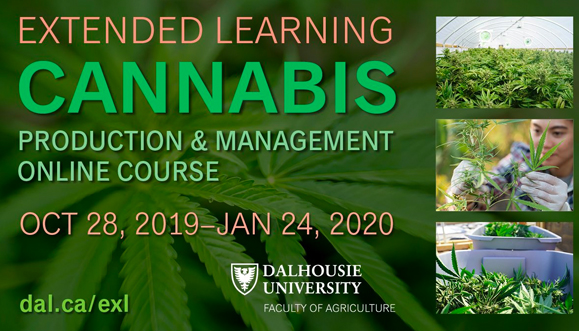 For more information visit dal.ca/exl