Although the concept of sheep-milk ice cream may sound foreign to most of us, Faculty of Agriculture student Erica Sullivan and alumnus Meghan Spares spent their summer discovering an appetite for just such a treat.

Meghan (Class of '01) and her husband Aaron Spares are first-generation farmers operating the only sheep dairy in Nova Scotia. Their farm, Bazel's Place, in Avondale, Hants Co., specializes in milking sheep — in fact, they host the largest flock of purebred British Milksheep in North America.

The milk produced is mainly sold to Blue Harbour Cheese in Halifax, with some also going to All Lathered-Up Soap Company in Windsor. This year they are milking 60 ewes.

"Our breed is really quite special," Meghan explains. "The British Milksheep was developed in the 1980s to provide crossing sires for commercial flocks to improve prolificacy without the burden of orphan lambs."

The breed produces enough milk to raise multiple lambs, which makes them suitable dairy sheep.

A hands-on learning experience

Erica, who is taking her Diploma in Business Management, spent 12 weeks at Bazel's Place this summer looking at developing and marketing sheep milk ice-cream.  Erica's placement is thanks to the RBC Agricultural Internship Program, which aims to empower Canadian youth with the job experience, networking opportunities and skills development to enhance their chance of career success after graduation.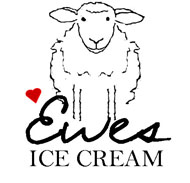 "I knew Meghan through the sheep industry as my dad shears her sheep," explained Erica. "Meghan had the idea for sheep milk ice-cream, which I thought was a great idea for her to pursue as many people are lactose intolerant or simply cannot have dairy."

"Having Erica this summer was a life saver," said Meghan. "Juggling all the tasks of running the farm and caring for toddlers is a challenge and when I started the milking season, I genuinely wasn't sure how I would manage it all.  I was very grateful to learn about the internship program, it was a straight forward program with quick response.  Erica was a true asset on the farm."

Sheep milk is much richer in nutrients than goats or cows' milk which makes it a very tasty option. Sheep milk, late in the season, is also very rich.

"I worked on developing the flock and flock management," explained Erica. "I did research on sheep nutrition and looking into breeding for better udder confirmation and a higher milk average."

New opportunities

It's been a big year for Bazel's Place with a goal to bring Ewe's Ice Cream to market.  

"Erica helped to navigate the regulatory requirements for labelling, permits and developing standard operating procedures," said Meghan.

Erica, from Newport, NS believes Ewe's Ice Cream will be a great option.

"It's very unique and so many people have an interest in being very healthy," she added. "People who are actively going to Farmers Markets are looking for fresh food and healthy local options. Ewe's Ice Cream is something new and exciting people haven't tried."

Ewe's Ice Cream will be available at local events starting with the Honey Harvest Festival September 14th followed by the Avondale Garlic Fest September 21st and North Along the Shore Jamboree the following Saturday.