This article is part of a series focusing on the grads of the Dalhousie Class of 2019. Spring Convocation kicked off May 10 in Truro, with Halifax ceremonies from May 27 to June 1. Read all our profiles here, and for more information visit the Convocation website.
Overcoming a language gap and redefining herself along the way, Qianhan Le is now set to graduate from Dal's Faculty of Agriculture, thanks to a joint academic program offered through Dal and the Fujian Agriculture and Forestry University (FAFU) in Fujian Province, China.

"It was very attractive to me to have a different study experience in Canada," Qianhan says.

The joint academic program offers FAFU students the opportunity to study abroad at Dal AC. During their first two years at FAFU, students participate in English as a Second Language (ESL), science, arts, and agricultural courses. Some of these courses are bilingual and taught by FAFU professors as well as Faculty of Agriculture professors.

The remaining two years of their studies take place at Dal AC. Students who complete the program will earn a Bachelor of Science (Agriculture) degree from Dalhousie Faculty of Agriculture and be eligible to become a professional agrologist with the PAg designation through the Agricultural Institute of Canada.

"This program provided me with the opportunity to experience different cultures, meet different people, and most importantly, redefine myself," Qianhan says. "The most challenging part for me is to remember some terminology that I have never known before. Sometimes, I still felt confused even when the term was translated into Chinese."

An environmental lens

Born and raised in Zhejiang Province, China, Qianhan always had an interest in bettering the environment and was drawn to Dal AC's Integrated Environmental Management program. She was interested in studying abroad and experiencing Canadian culture and had always been interested in environmental management.

"I know people who have knowledge in the area of environmental science or resource management are more needed by current society because we are facing a lot of environmental problems," Qianhan says. "I was always interested in environmental management and thinking about what I could contribute to making a difference in our environment."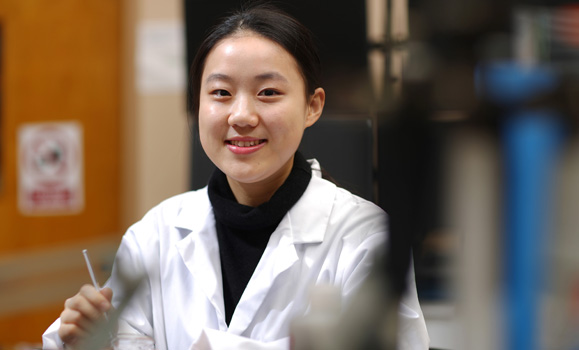 Qianhan is now set to graduate on May 10 with a Bachelor of Science (Agriculture) in Integrated Environmental Management (IEM). The IEM program offers students training in green science and technology. Students learn about technology, energy, water and waste and gain the skills and experience to create immediate sustainable solutions and address national and global resource management and food production needs.

"My favorite part about this program is having a comprehensive exposure to the core areas of environmental management and necessary concepts," Qianhan explains.

Hands-on experience

Near the completion of her degree, Qianhan was required to complete an honours research project. She worked with Gordon Price, associate professor (Innovative Waste Management Research program) and Faculty graduate coordinator, to evaluate the effect of a starch-based biopolymer and a synthetic polymer on solid-liquid separation of dairy cow manure. Qianhan, who is also a lab research assistant in Dr. Price's lab, explored how to manage cow manure with lower energy consumption and environmental impacts at a lower cost to dairy farmers.

"Working on this project I got to know the basic processes of developing a research project, and I also learned that conducting research is not an easy task!" Qianhan smiles. "It requires a lot of trial and errors and requires you to have a very strong mind to overcome all kinds of uncertainties."

With her passion for the environment, Qianhan hopes to one day become an environmental consultant.

"My goal is to apply my sound professional knowledge of these fields in order to aid the promotion of more environmentally responsible business and government practices," Qianhan says. "The program provided me with a comprehensive exposure to the core areas of environmental management. It was certainly worth it!"