This article is part of a series focusing on the grads of the Dalhousie Class of 2019. Spring Convocation kicked off May 10 in Truro, with Halifax ceremonies from May 27 to June 1. Read all our profiles here, and for more information visit the Convocation website.
Growing up in Paqtnkek Mi'kmaw Nation outside of Antigonish, Kalolin Sullivan is the first Indigenous student to graduate from Dal's Faculty of Agriculture with a diploma in civil engineering.

"I value coming from an Indigenous community," Kalolin says. "There is little representation within the field of engineering and I am extremely proud to be the first Indigenous student to graduate from [the] program."

Reflecting on her academic journey, Kalolin knows now that she chose the right path. Despite some hesitancy in the beginning, the soon-to-be graduate of the two-year program is certain her career choice was meant to be.

"I was not always interested in engineering," Kalolin admits. "My interests dabbled all over the place. I considered fashion design, architecture, psychology and other programs. People tell you to do what you enjoy and after thinking about what it was I enjoyed, I figured out that I had a passion for building and creating things."

Kalolin was previously enrolled in a different program on Dal's Halifax campuses, but felt from the beginning that something wasn't quite right for her. Upon further reflection of the program and her personal interests, she decided to make the switch to study civil engineering at Dal AC.

"Once I decided engineering was the path for me, there was nothing that was going to stop me from reaching my goal," Kalolin says.

Bringing together creativity and mathematics

Civil engineering is the professional engineering discipline that deals with the design, construction, and maintenance of the physical and naturally built environment. This includes public works such as roads, bridges, canals, dams, airports, structural components of buildings, and much more. After completion of the diploma program at Dal AC, engineering students have the option to complete an additional three years of studies in Halifax to earn a Bachelor of Engineering degree.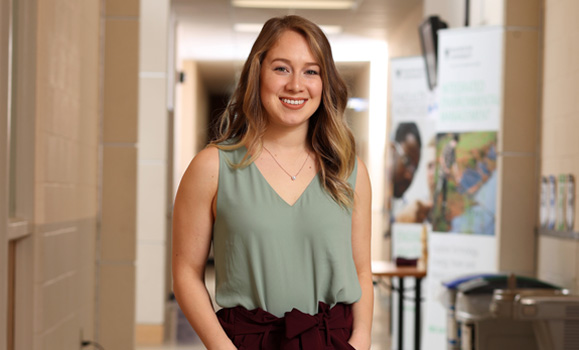 "Civil engineering enables creativity and mathematics to come together in the creation process," Kalolin explains. "My plan is to direct my studies towards structural engineering. I am very interested in combining environmental aspects within the structural aspects of building."

In addition to her engineering studies, Kalolin is the co-president of the Engineering Society at Dal AC. As co-president, Kalolin helps to organize meetings and events for members of the society. They host regular meetings, attend conferences hosted by other schools which are often organized by the Canadian Federation Engineering Society, coordinate society clothing orders, and host society events.

"Our society executives have put in a lot of effort to improve the Engineering Society," Kalolin says. "We put in a lot of effort to create a better dynamic and an improved transition for next year's society. It is in our interest to assure that we have a smooth turnover for next year's society so that the society can continue to grow."

Getting involved

Despite the additional responsibility of being co-president of the Engineering Society, Kalolin has no regrets about getting involved on campus. By staying busy with her studies and extracurricular activities, Kalolin finds it easier to stay on task. Being involved with the Engineering Society has also been an incredible learning experience for her. She explains that attending conferences through the Engineering Society has taught her many valuable skills that she might not have otherwise learned.

"Attending conferences has exposed me to the process of constitution writing, motion writing, and the ways other schools run their societies," Kalolin explains. "I have not involved myself in extracurricular activities at school for a very long time and being a part of the society has reminded me how much I enjoyed it. This society has given me a sense of motivation and purpose on campus."

Next year, Kalolin will attend Dalhousie University in Halifax where she will complete her Bachelor of Engineering degree. She's excited to gain hands-on work experience in her in field and plans to continue to be involved on campus. "I want to continue to take on leadership roles and be a beneficial member of the society."

As Kalolin looks to her next chapter at Dalhousie, she admits she senses a feeling of completion. Despite her uncertainly in the beginning, Kalolin is now positive that studying civil engineering at Dal AC was the path for her, a path that was certainly meant to be.

"I did not expect to enjoy the Dal AC campus as much as I have," Kalolin admits with a smile. "My engineering class is like my second family and I cannot wait to gain new experiences at the Sexton Campus. As exhausting as studying engineering is, I have never felt like I have belonged anywhere else more in my life.

"I felt so motivated and driven to get there and now that I am here, I know this is where I was meant to be."