Classical music gets a bad rap. Some people might dismiss it as "boring," or "dusty", and the thought of spending two hours listening to classical music is enough to make a lot of people run for the proverbial hills.

What we consider "classical music" was created in an era where people didn't have constant unlimited access to thousands of songs at the click of a button the way we do today. Music was a fleeting, ethereal experience that could only be heard by being in the room where it happened.

The Fountain School's Concerto Night — a sold-out event year after year — is an invitation for modern audiences to leave behind a world of incessant stimuli for a short while, and to understand music in an old, new way. Classical music is not meant to be merely heard, and recordings capture but a shadow, an echo of what the music is really all about.
The performer's task is to bring music to life, and the performers are precisely what make Concerto Night (held this year on Thursday, Feb. 14) such a special concert. For the student soloists who have been selected this year, it's an opportunity they've worked extraordinarily hard for.

Practice, practice, practice

"Preparing for Concerto Night means many hours of practice time and lessons months in advance, getting your piece performance-ready by October for auditions," says soloist Jacob MacDonald, who has been selected to perform two solos: one on the cello, and another on the piano. Vocalist Alexandra Thackray says she's "been working on [her] piece almost every day" throughout the academic year.

Dalhousie Symphony Orchestra conductor Leonardo Perez says that he has been "extremely impressed with the high level of playing from the students here at the Fountain School". He is "amazed at the talent of the young artists performing on this concert, who are performing incredibly difficult music in the most mature and artistic way."

"It is so exciting and inspiring to see these young musicians, the soloists as well as the musicians of the orchestra, performing so brilliantly, with such energy and passion," says Associate Director of Productions Jérôme Blais.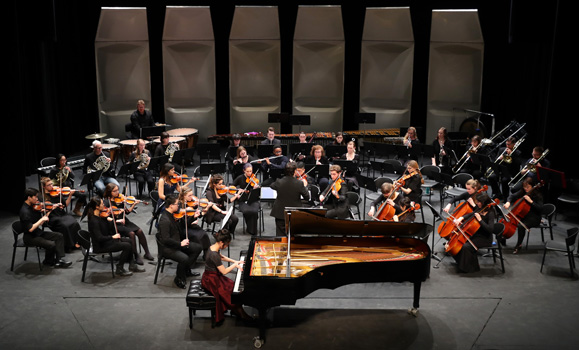 Jade Ley, first year Piano student
Perez adds that "the students in the orchestra have worked very hard to prepare a lot of difficult music in a very short period of time in support of their colleagues."

A unique opportunity

Concerto Night is not only a chance for members of the Halifax community to hear familiar works performed by talented up-and-coming musicians; it's also an opportunity to hear brand-new music.

Every year, an original composition by an FSPA composition is premiered at Concerto Night. This year, Jessica MacIsaac's "No (Man's) Lan(d)" has been selected. Blais describes it as "a lyrical and engaging meditation on cinema, especially that of a particular director. I'll let the readers decrypt the pun in the title to find out who it is," he jokes.

"What I was aiming to do with my Concerto Night piece was to do my own take on film music by "scoring" the overture for my own imaginary film," says MacIsaac. "The whole title is my idea for the plot and action of what I wanted to hear from the piece. I imagined an apocalypse-esque situation, the fallout from it, with a glimmer of hope and renewal at the end."
MacDonald believes Concerto Night is "one of the shows that display the most musical talent and variety in the Fountain School's season. With over ten different soloists from the instrumental and voice programs, it is a unique opportunity to showcase a variety of musical styles."

"Traditionally, concerto competitions at a university may have one or two winners perform an entire work with the orchestra, as part of the symphony's regular programming," says Perez. "Concerto Night, on the other hand, gives many more talented students the opportunity to perform with a full symphony orchestra, which is a rare opportunity that creates excitement and inspires the students."

Fond farewells

Nearly half of the students performing solos in Concerto Night this year are graduating. For them, this is the last high-profile performance they will do with the Fountain School — and each of these students is going out with a bang in their own way. This year's Concerto Night features a series of pieces described by Perez as "masterworks," and each piece is masterfully performed by both the soloists and the orchestra.

Thackray, who recently played the extravagant astrologist Siroco in the Fountain School's production of L'Etoile, is excited to bring her studies at the Fountain School to a close by performing with the Dalhousie Symphony Orchestra. In her own words, "nothing beats performing with the orchestra as a final farewell to your friends and colleagues." Also graduating this year are soloists Zach Levin, Ruusu-Maria Brousseau, Julia MacVicar, Rianna Robinson, and Patrick McIntosh.

The soloists who perform on Concerto Night individually select the pieces they wish to audition with. As such, the audience is treated to a wide variety of classical music pieces which span centuries, and each of which challenges the notion that classical music is "boring". Perez is certain that "everyone who comes will be wowed by the amazing things happening at the Fountain School!" Hopefully, in addition to being "wowed," some audience members will leave the Dunn Theatre with a newfound love for classical music.