When it comes to making good diagnoses, being able to see more details with more clarity counts for a lot. The ability to see in three dimensions rather than two is also a considerable advantage.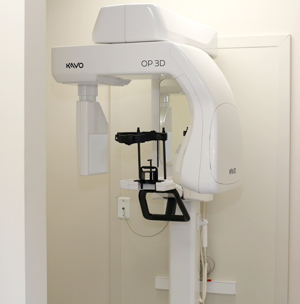 That is what the new cone beam computed tomography (CBCT) scanner, a recent gift to the Faculty of Dentistry from Nobel Biocare, makes possible. Dentistry students are now learning how to use this highly precise, state-of-the-art technology as part of their studies and patients requiring implants or oral surgery are benefiting from accurate diagnoses and treatment planning.

"This new technology makes it possible to see the jaws, teeth, and bones in 3D, unlike regular dental X-rays, and allows you to make diagnoses more easily and accurately," says Dr. Curtis Gregoire, an assistant professor in oral maxillofacial sciences in the Faculty of Dentistry.

"The data the scanner collects can also be used to fabricate surgical guides, based on virtual treatment plans for implants and orthognathic surgery. You can see the patient's anatomy in three dimensions, which allows for more accurate surgical planning and better outcomes."

New educational opportunities for students

There are just 29 CBCT scanners in the province, chiefly in specialists' offices, although some general practitioners use scanners for their implant work. There has been a CBCT scanner at the Victoria General Hospital for the past three years.

In the Faculty of Dentistry, the curriculum has already been changed to reflect the addition of the new equipment. Current dentistry students are receiving instruction in radiology physics and biology, interpretation of scans, and reporting.

"These scans give you a lot more information than normal dental radiographs," says Dr. Gregoire. "It's not just a single perspective. It's similar technology to a CAT scan, but for the mouth and jaws, with a lot of information to analyse and interpret. It's important knowledge for our students to have and also for them to understand the indications and limitations of this relatively new technology."

Although CBCT scanning is not a core topic for the students' dental training, it is offering both the students and the dental clinic several important benefits, including better diagnosis and treatment, particularly for implants, less morbidity, and fewer complications. It is of great benefit to most disciplines of dentistry.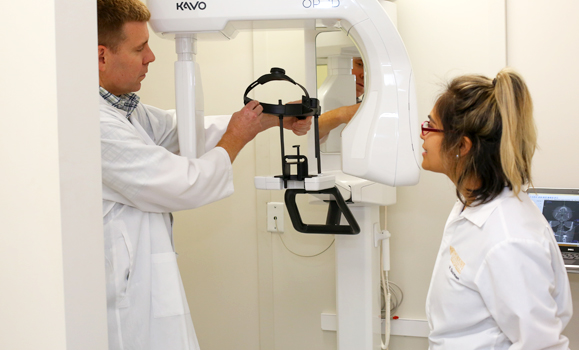 "It's pretty exciting to have the scanner here. Previously, we would have had to send patients to the Victoria General Hospital for these scans," says Dr. Gregoire. "Now the images are available to us on our laptops."

Standards and safety

The scanners use a substantially higher dose of radiation compared to traditional dental X-rays. If operated correctly, they are very safe. But as the use of the scanners continues to grow, so has the need for policies regulating their use. Dal's Faculty of Dentistry has already created a set of policies.

Dr. Martin Gillis, registrar of the Provincial Dental Board of Nova Scotia (PDBNS), says that the board's CBCT committee is currently working on a set of guidelines, which he expects will roll out in 2019. Other currently available guidelines, such as those created by the Royal College of Dental Surgeons of Ontario and the Dalhousie Faculty of Dentistry, are being considered as models for PDBNS in areas such as professional requirements, education, and continued competency.

"We want to be sure there is standardization in how dentists operate CBCT scanners and that there are policies and guidelines that cover patient care and public safety." says Dr. Gillis. "In 2016-17, we carried out an inspection of all radiography and CBCT machines in Nova Scotia. All CBCT machines passed the inspection.

For the moment, there are no training requirements for scanner users. But be ready to see things change when provincial guidelines are introduced.