The first year of university can catch you off guard, if you're not careful. Spend a few too many nights hitting the town instead of hitting the books and you might find yourself on the path to academic dismissal.
Commerce students Sam Brown and Josh Dias know this story all too well. But thanks to the Refining Your Learning Skills for Academically Dismissed Students program, they're back in class with a renewed focus.
Both Josh and Sam came to Dal from Toronto with a desire to get away and experience something different. They enrolled in the Commerce Co-op program because business runs in their families and they'd heard good things about the mandatory co-op.
"One of my dad's clients went to Dal and he was telling my dad about the program and he said Dal was a great school," Sam explains. "I also really liked the idea of the co-op so I can get some working experience."
Though they came to university with good intentions, they soon began spending more time on their adventure in a new town and less time in class. Once they'd lost focus, they found it was hard to get motivated. By the end of the year, they were dealing with academic dismissal.
Second chance

Academic dismissal is the required withdrawal from a program due to unsatisfactory academic performance. Students need to re-apply to the university after 12 months to return to their academic studies. Success in the Refining Your Learning Skills for Academically Dismissed Students program might assist students in their application for a waiver of academic dismissal, so they wouldn't have to sit out the full year.
The Refining program is rigorous, running from 9 a.m. sharp until 12 noon for ten days over a two-week period with a three-hour written assignment every day and some afternoon appointments, but Josh and Sam were motivated to take on the challenge.
"When I found out I'd been dismissed, I felt terrible," recalls Josh. "I love Dalhousie. I'm having the time of my life. Even though I didn't do well in the first year, I could tell that I'd learned so much and I wanted to continue learning. I didn't want to take a year off."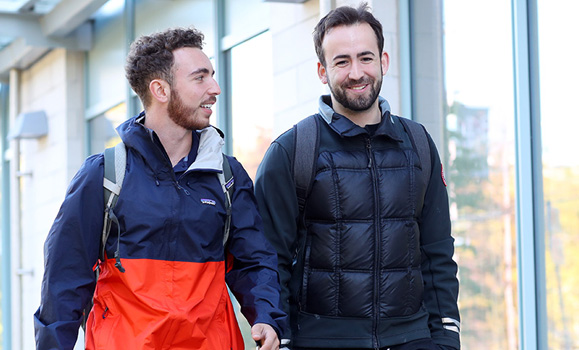 "I wasn't ready to admit defeat," Sam says. "I just wanted to do anything I could to get back into school and prove that I can do it."
Thanks to their hard work in the program, Sam and Josh were granted the waiver and were able to return to classes in September. They both agree the Refining program was well worth the commitment and effort.
"The first day I walked in head down like 'I do not want to be here'," admits Josh. "After the first couple days I was actually eager to get to class and keep going at it. I learned time management skills, how to write a schedule and how to stick to it every day."
Among the key pieces they took away from the program were their dream boards, which feature pictures, quotes and other motivational items to help them stay focused.
"Every time I think I'm not going to do it, I just look at the dream board," Sam says. "One, it's a reminder of the course and two, it's a reminder of what we can achieve if we work hard."
Positive action — and positive support

Working hard is exactly what they plan to do. It's been about a month since they've been back in class and they're starting to see results from the changes they're making.
"I've gotten some marks back and I've already seen a difference," Josh says. "It feels nice when you work toward something and you can see it's actually helping."
"This year is a lot different," Sam admits. "My grades went from something I didn't want to look at to something I have up on my computer all the time. So much of what I've learned has been helping me. In my room I have my schedule written out, I have my studying time after class, everything planned. Even my room is always so tidy now and that helps me have a tidy mindset. And last year, I was just eating ramen every day but now I'm actually cooking meals and eating good food. And I'm getting more sleep. It makes a difference."
Of course, they don't have to do it alone. One of the things the Refining program taught them was the importance of using the resources that are available to them. From academic advising to office hours, Sam and Josh have learned that when they ask for help, it's available.
As Sam says, "There are so many resources at this university and we pay for them so why not use them?"
Josh agrees: "It's stuff I always knew I had at my disposal but in the Refining program I realized that if I use those things it will help me a lot.
"If anybody goes down the same road that we went down, no matter how crushing it feels to get dismissed, there's always people to help. I remember one Muhammad Ali quote we used in class: 'You don't lose when you get knocked down, you lose if you stay down.' You need to get back up again if you get knocked down."
Reason to celebrate

Just because they've got a renewed focus on their coursework doesn't mean they've become all work and no fun. Josh says it's just a matter of what he prioritizes. "I'm not going to go out until I've finished the stuff on my to-do list. Our primary reason to be here is to go to school."
In Sam's opinion, things are actually better. "I honestly think it's more fun this year because we don't go out worrying about what we have to do — we already have it all done!"
And that's a good reason to celebrate.