It's tough to miss the hypnotic sound of drumming as it reverberates across Dal's Studley Campus each October as part of the university's Mawio'mi.

And as in past years, those beckoned by the beat to Dal's ninth-annual powwow next Thursday (October 11) will discover food, music and dancing.
Dalhousie Mawio'mi
Thursday, October 11
11 a.m. feast, 12 p.m. grand entry
Studley Quad (rain location: SUB McInnes Room)
But event organizer Michele Graveline, Dal's Indigenous student advisor, says she is also excited for attendees to come out to see the work of some of the many talented Indigenous artists and entrepreneurs invited in as vendors for this year's event.
Links to the past

Graveline's enthusiasm stems not only from an appreciation of the work itself but also from an understanding of the historical significance of inviting Indigneous vendors to Halifax — an act in keeping with the Peace and Friendship Treaty signed between the Mi'kmaq people and the governor of Nova Scotia in 1752.
    
"Reading that into a modern-day context, the vendors become really important," she says, referencing a clause in the Treaty that specifies Mi'kmaq people are to be given "free liberty" to bring items for sale to Halifax and other locations across Nova Scotia.

For Graveline, it's through these links to the past that we can come to better understand critical issues such as reconciliation and Indigenization today.

"We use language like 'We are all Treaty People' as part of our official land acknowledgement, but what do those terms really mean for the average person on campus?" she says.

This year's Mawio'mi is meant to give people room to think about just that.

In Mi'kmaq culture, a Mawio'mi is a spiritual occasion that marks a coming together of community in celebration and healing. Dal's Mawio'mi was first started in 2010 by a group of Indigenous students and has played an important role over the years in raising awareness about Indigenous culture at the university, which sits on unceded Mi'kmaq territory.

About a dozen vendors from across the Mi'kmaq territory (encompassing primarily Nova Scotia, New Brunswick and P.E.I) will be on site this year to showcase and sell their wares, including visual artists, beadwork artists, jewelers, clothiers, textile artists, and nature-based products like essential oils.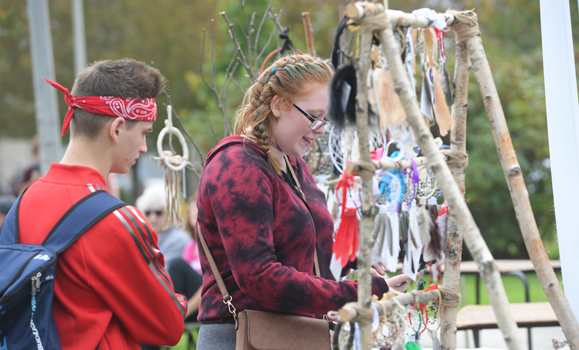 As the event has grown over the years, so too have the types of vendors. This year, a new organization called Reclaiming Our Roots will have a table. The group aims to reconnect urban Indigenous youth with meaningful land-based knowledge rooted in Mi'kmaq values.

"We have been working on this for a few months now using our own knowledge and connections," says group co-founder Chenise Hache, who has a background in Indigenous youth support in Nova Scotia. "Now, Dal has given us an opportunity to open it up to a broader community."

She and other co-founder James Doucette hope to network and promote the group's hunting and fishing workshops to Indigenous students at Dal, while also gaining insights into how to refine the project moving forward.

Mi'kmaq values will also be on display later in the day during the Grand Entry parade, which will feature male and female dancers in regalia, Elders, a veteran and other significant community members. It will be followed by an afternoon of music, dancing and drumming on the quad.  
Growing enthusiasm

The turnout was so high for last year's Mawio'mi that Graveline has ordered an additional 100 food servings this year in an effort to ensure there's enough for all who want to join the feast, which happens just prior to the afternoon activities.

Graveline, who used to bring junior and high school students to the event when she worked as an Aboriginal support worker with the Halifax Regional School Board, says she's thrilled to see the Mawio'mi continue to grow year after year.

And the bigger the turnout, the greater the opportunity to strike up important new dialogues about those bigger priorities such as reconciliation through connections with vendors and more.

"In these times of reconciliation, we want people to consider questions about buying Indigenous wares," says Graveline, noting that some may see it as an act of reconciliation and others may ponder how they can wear an item in a respectful way.

It's exactly these kinds of deeper considerations Graveline hopes this year's Mawio'mi will foster more of.   

Next Thursday also marks the launch of the Gord Downie & Chanie Wenjack Legacy Space at Dalhousie at the Killam Memorial Library from 9:30 to 10:30 a.m. The Mawio'mi follows immediately after with vendors set up by 10:30, a feast at 11 and the Grand Entry at noon. Mawio'mi rain location: McInnes Room.