Members of the Dal community sported pink last Tuesday (September 25) as the university celebrated its ninth annual "Pink Day."
Inspired by the popular Pink Shirt Day anti-bullying campaign, Dal's Pink Day event celebrates the importance of respect within the Dal community.
"It's wonderful to host Pink Day at Dalhousie," said Dal President Richard Florizone, speaking at the Studley Campus BBQ at noon. "It talks about respect and belonging — something that's obviously important to all of us."
The free BBQ was provided by the Dalhousie University Club, and the event featured a performance by the All Nations Drum Group, a blessing from Elder Geri Musqua-LeBlanc and remarks from Dalhousie Student Union President Aaron Prosper.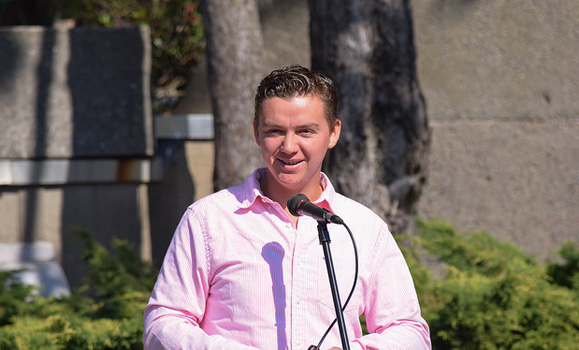 "Anyone who knows me, or watches what I wear, knows that pink is my favourite colour," said Prosper, noting he'd worn a pink shirt the day previous as well. He discussed how, in his home community of Eskasoni, their version of Pink Day is called "Nitap," and celebrates friendship.
"Treat this like Nitap Day, like we do back home, to be a friend to one another," he said.
Through the day, the Dal community was encouraged to share acts of kindness on social media with the hashtag #DalBeKind. Pink Day events were held on all four Dalhousie campuses, with the Agricultural, Sexton and Carleton campuses turning out in strong numbers for cupcakes in the morning — so much so that all of the cupcakes went quickly!
Congratulations to Jill Robertson, the winner of the $50 Gas Card and Car Safety Kit courtesy of Johnson Insurance.  Johnson is the preferred Home and Car Insurance provider for Dalhousie University Faculty and Staff.  For more information visit:  http://dalhousie.johnson.ca/