Lauren Delaney, has had her sights set on law school for quite some time, so she's excited to be starting her Law degree this year.
As she tells it, "When I was young I said, 'I'm going to be a lawyer.' And people told me, 'You're going to change your mind.' And I told them, 'I am not going to change my mind!'"
Her determination to prove the naysayers wrong got her through her first year of university. Then, she had an opportunity to get a more tangible feel for law and knew she'd been right all along.
"Dal offers an undergrad Intro to Law course and I took that and I did really well in it and I really enjoyed it," she says. "I knew I wanted to do Law but that was a nice confirmation."
A natural fit

Before she earned early acceptance into Dal's Schulich School of Law, Lauren was completing a degree in Sociology & Social Anthropology (SoSA) with a minor in Law, Justice and Society. She didn't have to finish the BA but decided to anyways, taking summer courses to get it done.
"The first little bit was hectic, I took five courses over the summer, which is a whole semester, really. But I was already so far in: I'd done three quarters of the degree! I had to finish."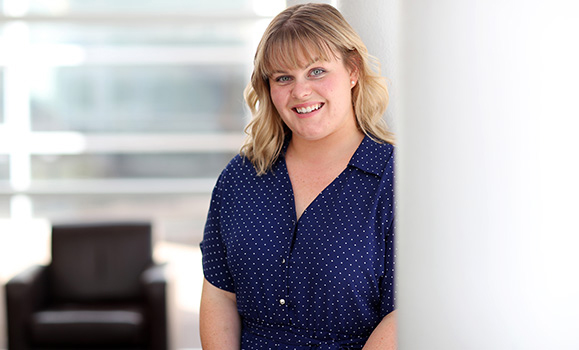 As an undergrad, Lauren didn't declare her major right away — she wanted a chance to discover which program was the right fit to keep her interested and help her reach her goals.
"I knew I wanted to get to Law, so I took my time deciding on my undergrad major. SoSA was really the way to go," she recalls. "The courses I was interested in related to crime and justice. It was a natural fit more than a choice I really made."
She says the most valuable take away from her time in the program is the way it broadened her perspective.
"It's not the content and it's not one particular class but over time you eventually see the way that you think completely shift," she says. "That kind of everyday change to your thinking and the way you look at the world, that was my favourite part."
More than just a job

Lauren worked a few jobs during undergrad. She found having a job on campus was a great way to get to know the university and meet new people.
"I'm the first person in my family to go to university," she says. "I really had no idea how to navigate the school so I took these little positions with Dal. They paid well and the time commitment was good for students. I encourage anybody who's feeling a little lost in the community to apply for jobs through the Dal career portal."
Eventually, Lauren began to look outside of Dal for work that would contribute to her goals and career plans. She was encouraged by her success, in spite of the disheartening things she'd heard from others.
"One thing I want to get across, is that you'll hear in your undergrad that you're not going to be able to do anything with just a Sociology degree. Everybody will tell you that you need to get a graduate degree, or something, and I want to say that is wrong!" she declares.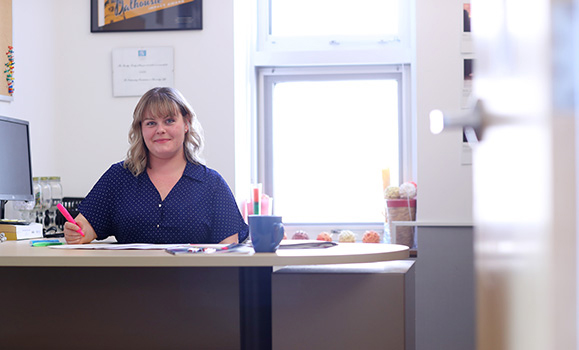 "A couple summers ago, I went home and got a job working with the Pictou County Centre for Sexual Health and then I came back to Dal and got a similar position here, kind of like a peer counsellor role," she says. "And then, when I went back the next summer, just with those two experiences and three quarters of a Bachelor's degree in Sociology, I got a position with the Pictou County Women's Resource and Sexual Assault Centre and it wasn't just a student position.
"You really need to apply for these jobs even if it doesn't feel like it's targeted at you — just try it and see what you can get."
The driving factor

As she starts her first year at the School of Law, Lauren thinks having a defined goal was the key to her success in the first few years of university.
"University is a lot of work and you have to accept that but you need to have something you're working towards," she says. "If you don't know exactly, that's fine but if you come in and say, 'I'm just going to get a degree', it's going to be really hard to focus and get yourself to do the work. You need a driving factor, something that you really, really want, that you can focus on and you can work towards."
For Lauren, that something is a chance to make a difference in a world where people feel increasingly helpless.
"It's the one thing in life that I do feel super passionate about. I'm putting myself in a position where I know that eventually I'm going to be able to do something or make some kind of impact along the line instead of just not being able to do anything. I'm really grateful for that opportunity and that's what I'm excited for."