Different, not less.

Harvard educated Eustacia Grandin knew there was something different about her eldest daughter, Temple. At the tender age of two, her daughter did not speak. Balking at the idea of institutionalization, her mother sought out leading special-needs researchers with the hope of discovering an alternative.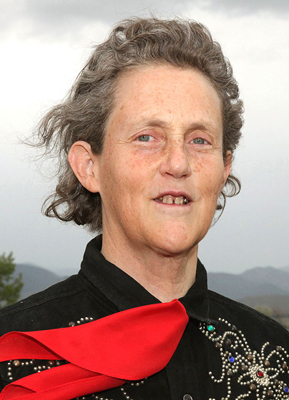 Intensive speech therapy, socialization and private schools all helped to accommodate Temple's needs and sensitives. Having not been diagnosed until later in life, Temple's mother surmised her daughter's symptoms were best explained by autism.  

Things began to change for Temple after meeting her mentor in high school science teacher William Carlock. It was he who encouraged her to build her "hug" box based on cattle squeeze chutes she witnessed after spending the summer on her aunt's cattle ranch. The squeeze machine helped calm the animals prior to receiving veterinary treatment and enabled Temple to deal with her sensory overload.  

This was the beginning of her burgeoning career as an animal scientist providing her with purpose and direction.

After graduation, Grandin went on to complete her bachelor's, masters and doctoral degrees becoming one of the world's most famous animal scientists and the world's most recognized person with autism.

Dr. Grandin, an accomplished author, wrote Different Not Less to help those with Autism and Asperger's discover their hidden talents and has become a passionate advocate for the autism community.

Dr. Grandin visits the Agricultural Campus Thursday, September 27 as part of Dal's Belong Forum series, which has brought several internationally respected of change-makers and trailblazers to campus as part of Dal's 200th anniversary Year of Belonging.

Here are some facts to know about Dr. Grandin ahead of her forum in the Alumni Theatre:

One teacher made a difference
Dr. Grandin has become one of the most powerful voices in modern science. Mentoring by Carlock, the high school science teacher, motivated Temple to study and pursue a career as a scientist and livestock equipment designer.

"He didn't see any of the labels, just the underlying talents. Even the principal had doubts about my getting through tech school. But Mr. Carlock believed in building what was within the student. He channeled my fixations into constructive projects. He didn't try to draw me into his world but came instead into my world," writes Dr. Grandin in one of her many books.

Today, Dr. Grandin has generated worldwide media exposure for the livestock industry and in particular on issues relating to animal care. She has appeared on television shows such as 20/20, 48 hours, CNN Larry King Live, 60 Minutes and has been featured in People Magazine, the New York Times, Forbes, U.S. News and World Report and Time magazine. She was named one of Time Magazine's 100 Most Influential people and HBO has made a movie about her life starring Claire Danes.

Thinking in pictures
"Words are like a second language to me. I translate both spoken and written words into full-color movies, complete with sound, which run like a VCR tape in my head." Temple Grandin

Dr. Grandin's ability to think in pictures has been the catalyst for her exceptional career. A gifted animal scientist, she is one of the world's leaders in the design of livestock-handling facilities. She has designed such facilities now used in several countries around the world, including Canada, Europe, Mexico, Australia, New Zealand and the United States. Half of the cattle in handled in the U.S. are now handled in facilities she has designed. She is also a consultant for major fast-food brands such as Burger King, McDonald's, Wendy's and more.  

Amazing advocacy
In a 2010 TED talk titled "The World Needs All Kinds of Minds," Dr. Grandin makes the case that the world needs people on the autism spectrum. That is, people who are visual thinkers, pattern thinkers, and verbal thinkers.

The talk, viewed nearly 5 million times to date, is just one of the many substantial successes Dr. Grandin has had in helping raise awareness about autism.

One of the first high-profile individuals to publicly share their personal experience of autism, Dr. Grandin has produced many best-selling books on the topic, including The Way I See It: A Personal Look at Autism and Asperger's; The Autistic Brain: Thinking Across the Spectrum; Unwritten Rules of Social Relationships; Animals Make Us Human; Animals in Translation; Thinking in Pictures; and Emergence: Labeled Autistic.

Dr. Grandin is a past member of the board of directors of the Autism Society of America. She lectures to parents and teachers throughout the U.S. on her experiences with autism and regularly appears in media on the topic.

She will also be the featured keynote speaker at the Atlantic Abilities Conference taking place in Halifax this September 27-28.

An accomplished scholar
Following her Ph.D. research on the effect of environmental enrichment on the behavior of pigs, she has published several hundred industry publications, book chapters and technical papers on animal handling as well as 73 refereed journal articles and more than a dozen books. Her book, Animals in Translation, was a New York Times best seller and her book Livestock Handling and Transport, now has a fourth edition which was published in 2014.

A variety of Dr. Grandin's books will be available for sale and signing by Dr. Grandin after her Belong Forum.

Educating for change
Dr. Grandin is a professor of animal science at Colorado State University. She obtained her B.A. at Franklin Pierce College in 1970. Five years later, she earned her M.S. in Animal Science at Arizona State University for her work on the behavior of cattle in different squeeze chutes.

She was awarded her Ph.D. in Animal Science from the University of Illinois in 1989. She maintains a limited number of graduate students and conducts research that assists in developing systems for animal handling and, in particular, with the reduction of stress and losses at the packing plant.  

Registration for Temple Grandin's Belong Forum is full. If you would like to add your name to the waitlist, you can do so on Eventbrite. On September 27, you will be able to watch the event livestream online.