Perhaps you've posed for a selfie in front of Dal's eye-catching 1818-2018 sculpture on Studley Quad (if not, it's easy to find). Or maybe you've spotted — or even sported — one of Dal's comfy 200th-anniversary hoodies from the bookstore (highly recommended).

Whatever the case, you don't have to look far to find reminders that this is a special year to be part of the Dalhousie community.

"A 200th anniversary is a rare milestone among Canadian universities, and we're excited to invite everyone to share in the celebration with us this fall," says Catherine Bagnell Styles, Dal's assistant vice-president of communications and marketing and lead on Dal 200.

Whether you're a new or returning student, faculty or staff, alumni or member of the broader community, there are plenty of inspiring and engaging events and activities lined up for the next few months.

You can find out more about Dal 200 and upcoming events at several pop-up celebrations planned for later this month: in Truro on Monday, September 17 (12:00-1:30 in the new Student Learning Commons); on Sexton Campus Tuesday, September 18 (11-12:30 on the Sexton Field); on Carleton Campus Tuesday, September 18 (1:30-3 on the Carleton Quad); and on Studley Campus Thursday, September 20 (11-3 as part of the Society and Volunteer Expo on Studley Quad).

In the meantime, here's a snapshot of what's to come:
September

One of the busiest months in Dal's 200th calendar, September has it all: marquee speakers, major conferences, alumni gatherings, a 200th-themed Homecoming celebration, community-focused events, and more.

Senator Murray Sinclair's visit to campus this week relaunched the Belong Forum series — a yearlong public-lecture series featuring internationally respected thinkers, trailblazers and change-makers sharing their unique perspectives on diversity and inclusion. Later in the month, the series continues on Dal's Agricultural Campus in Truro on September 27 with world-renowned animal scientist and autism advocate Temple Grandin.

As with any milestone, Dal's 200th also provides an opportunity to pause, reflect and thank those who have made it all possible — including Dal's strong alumni community. Dal 200 continues its Coast-to-Coast tour this month, with visits to Saint John, Charlottetown, St. John's, and Truro. These events, like those in western and central Canada earlier this year, will provide a chance to celebrate Dal's bicentennial and pay homage to the impact and influence of Dal alumni.

And from September 27-30, Dal welcomes alumni and friends back to campus for the first Homecoming of its third century — a special celebration that will include faculty gatherings, musical performances, the 5th annual President's Fun Run/Walk, Tigers and Rams games. This year's celebration also includes Ignite: Dal's Third Century, a marquee dinner event centred on exploring the horizons of opportunity and global impact leading us into the next century.

Health experts and health enthusiasts alike have a lot to look forward to in September. A cross-faculty gathering planned as part of Dal's 200th celebrations, the Healthy Living, Healthy Life Conference (Sept. 19-21) will showcase collaborative approaches to health research, practice and community innovations. The conference will be followed by an inspiring community workout with international fitness expert and motivational speaker Shaun T on September 22. The following week, students, faculty, alumni and others are invited to the grand re-opening and naming of the Faculty of Dentistry's renovated clinic, a special Dentistry homecoming celebration dinner, and much more.

Other notable events on the Dal 200 calendar this month include a Faculty of Science bicentennial lecture with world-renowned Dal battery researcher Jeff Dahn, readings from Dal-linked authors at Halifax's Word on the Street conference, and a Canada in 2050 conference hosted by the Department of Economics.
October

Two Belong Forums planned for October promise to leave a lasting impression.

Take the guest of honour at the Oct. 16 forum, Angela Y. Davis. A long-time academic and author, Dr. Davis first gained prominence in the 1960s as a leader of the U.S. civil-rights movement — a role she continues to play to this day as an advocate for U.S. prison abolishment. Her forum will also serve as the launch for the Viola Desmond Legacy Lecture Series, which is a four-year series celebrating diversity and inclusiveness. The series takes its name from Viola Desmond, the African Nova Scotian businesswoman who fought systemic racism and, in 2018, was enshrined on Canada's $10 bill.

And for its final Belong Forum of the year, Dal welcomes Canadian disability activist and former Paralympian Rick Hansen on Oct. 25. Best known as the "Man in Motion," Hansen has dedicated his life to changing attitudes and removing barriers for people with disabilities. He'll discuss ideas for creating an inclusive world where people with disabilities are able to live to their full potential.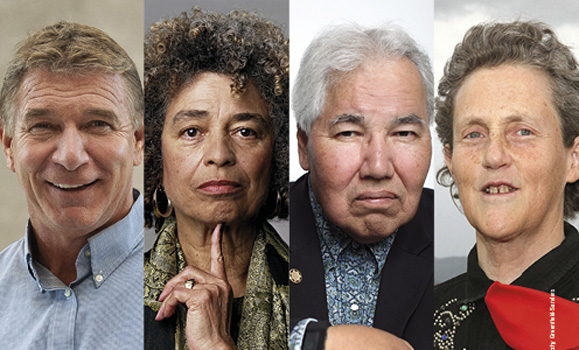 (L-R: Belong Forum speakers Rick Hansen, Anglea Davis, Murray Sinclair and Temple Grandin)

Read more: Dal News coverage of past Belong Forums with Buffy Sainte-Marie, Mark Tewksbury and Craig Steven Wilder
Dal will also host a grand opening of its revitalized downtown campus on October 10. One of several major capital projects to reach completion during the 200th, the $64-million IDEA Project has revitalized the campus, turning it into a hub of collaborative learning, design and innovation. Anchored by two new academic facilities, the campus sets a new standard for engineering, architecture and planning education, empowering students and researchers alike to make a lasting impact on our world.
November

On November 5, Dal welcomes some of the world's greatest minds in ocean science and space exploration to campus for The Great Debate — a fun and engaging conversation inspired by the question "What is the next frontier: space or the ocean?"  

Dal alumna and former astronaut Kathryn Sullivan (PhD'78), who became the first American woman to walk in space, will join forces with Canadian astrophysicist Christian Marois on the team representing space. Mark Abbott, president and director of the Woods Hole Oceanographic Institute, German marine biologist Antje Boetius and Dal's own Boris Worm join forces on the ocean side.  

Well-known author, speaker and TV science broadcaster Jay Ingram of Daily Planet fame will serve as emcee. Registration for this free event opens Oct. 9.

Faculty, staff, students, residents, alumni and partners affiliated with Dal's Faculty of Medicine are invited to a special dinner event Nov. 3 as the faculty marks a milestone of its own: 150 years of history and impact.  

Dal will once again participate in Halifax's annual Parade of Lights, this time with a Dal 200 theme in mind.

A pair of conferences, one for women in computing and another focused on student leadership, round out the month's activities.
December

While the calendar year reaches its end in December, the Dal 200 spirit is sure to continue even into the 201st year. Planning is underway for an event to conclude Dal's bicentennial year celebrations and set the stage for the third century ahead. Stay tuned for more details.

For more information on Dal 200 or to find a full listing of upcoming events, visit dal200.ca