When Wura Eyitayo-Oyesode decided to pursue her interest in international tax law, her search led her across the Atlantic Ocean to Dalhousie Law Professor Kim Brooks.
"Her interest is in tax justice in the context of tax treaties between developed and developing countries, and I read some of her articles and I just saw the passion in her work," Wura recalls. "So I emailed her and told her I have interest in international taxation and I want to come for graduate work. And she said, 'Write your research proposal, let me see and then apply to Dal.' I did, and I got admitted."
For Wura, coming to Dal meant a new city, a new country and a new continent.
Going the distance

Wura completed her Law degree at the University of Lagos in Nigeria, a few hours' drive from her hometown of Lanlate. Though she got a job at a law firm when she graduated, she really wanted to do more research. It surprised everyone that the opportunity she was looking for was in Halifax.
"My parents were shocked because they thought I would go to the UK because most people go to the UK or go to the US. Not too many people go to Canada. But I told them, I found someone who is interested in this and I would love to work with her."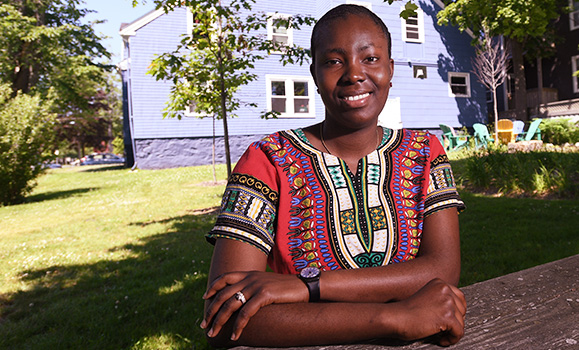 Getting all the paperwork in order was a bit of a challenge because Nigeria doesn't have a visa office and the applications have to go through Ghana — but Wura persisted. After a rescheduling flights a couple times, she finally landed in Nova Scotia and was amazed by what she found.
"The people surprised me the most," she admits. "I'd never travelled outside of Nigeria, it's the first time I'd actually left the country so I was shocked. I was shocked by the people how they behaved and how kind and good they were."
Warm welcome

While starting over in a new country has its challenges — for Wura, winter is one of them — she has received lots of support. From donated clothing to friendship, Wura was welcomed and encouraged by the Black Student Advising Centre, the International Centre, her church community and her friend, Wendy McGregor.
"I am very grateful. When you come from your country to somewhere you have never been, somewhere your parents have never been, you're scared, you don't know what to expect, you don't know how it's going to be. But I'm very confident here. I'm very happy here. I love it here."
She was also fortunate to get funding for her studies including the George Caines Scholarship, the FGS scholarship and Law's James Dunn scholarship.
Meaningful research

Though she was on her own in new surroundings, Wura didn't waste any time digging into her studies. She completed her Master of Laws within the year and followed it up immediately with admission to the PhD program. She says the timeline was challenging but she just kept her eyes on the goal.
Her master's thesis focused on profit shifting by multinational corporations. That led to an article in which she reviewed Canada's Country by Country Reporting Rules, which are aimed at eliminating base erosion and profit shifting in Canada to look for loopholes that might defeat the intention of the lawmaker.
"I found some gaps in the laws and made some recommendations on how to improve on the law so the multinational corporations would effectively pay their fair share of taxes in Canada."
Now that she's working on her PhD, Wura is exploring how developing countries can use international tax coordination to ensure the sustainable revenue required to improve the lives of their citizens.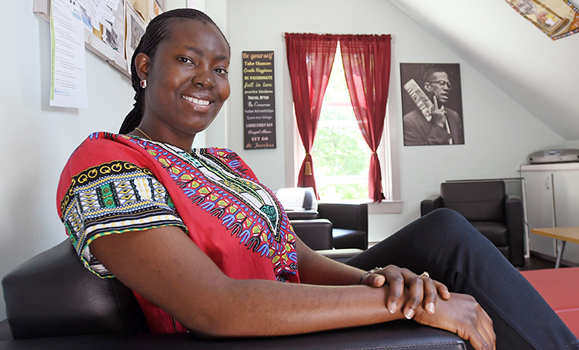 "Eventually, I see myself as a policy person, like a reform consultant. I would like to work with different countries in the future — I'd like to work with the United Nations. I can tell them, I've done the research and here's what to do to help these people."
Good advice

Though it's hard to believe she has time for it, Wura is also quite involved in her community beyond the classroom. She is currently working at the Black Student Advising Centre as a project coordinator and will be volunteering as a peer tutor for the upcoming academic year. In addition to that, Wura volunteers at her church and at the Halifax Infirmary.
"I've received so much help so it brings me joy to also give help to other people. It's something we all have to do. That's what gives meaning to our life. I'm happy to volunteer and help in any way I can."