Editor's note: This article was originally published in February when Senator Murray Sinclair's Belong Forum was scheduled for March. The forum will now take place on Wednesday, September 5. Registration is required. To register, please visit dal200.ca.   
Canadian Senator Murray Sinclair has devoted his life to bringing positive change to Indigenous peoples across the country.

He will visit Dal this coming September to share some of these experiences, and his unique perspectives on diversity and inclusion as part of the Belong Forum series happening throughout Dal's 200th anniversary year.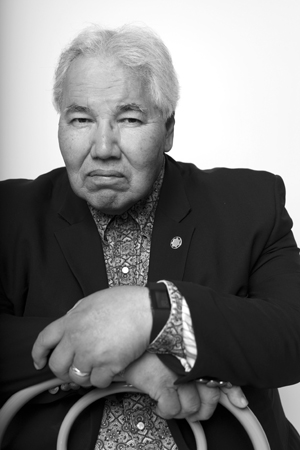 Senator Sinclair (LLD'11) began his legal career in Manitoba in 1980 with a focus on civil and criminal litigation, Aboriginal law and human rights. He made history less than a decade later when he became the province's first, and Canada's second, Aboriginal judge.

With a legacy of expertise in advocating for Indigenous rights, Sinclair is a natural fit for the Belong Forum series, which will see several internationally respected of change-makers and trailblazers come to campus as part of Dal's Year of Belonging initiative.

Inspired by the question "What would it take to create a world where we all feel like we truly belong?" the forums are designed to expand and elevate discussions around diversity and inclusion at Dal and in the broader community.

Each forum features a 30-minute talk, followed by a 30-minute question-and-answer period, moderated by a journalist from the CBC — Dal's broadcast sponsor for the Year of Belonging.
Senator Sinclair's forum will take place on Wednesday, September 5 in the Dalhousie Arts Centre's Rebecca Cohn Auditorium. Admission is free, but registration is required. To regiser, visit dal200.ca.

Here are some facts to know about Sinclair ahead of his forum in the Rebecca Cohn Auditorium:
He was a tireless leader for the Truth and Reconciliation Commission

In 2009, Sinclair took on the role of chair of the Truth and Reconciliation Commission (TRC) that was established two years earlier to help chronicle the painful history of residential schools in Canada. Although he turned the position down when the commission first launched, as he worried it would be too emotionally difficult, he eventually took it on when asked a second time. Sinclair went above and beyond in his dedication to the project, participating in hundreds of hearings across the country and managing a multi-million dollar fundraising campaign that provided support for TRC activities and enabled survivors to travel to TRC events. The commission's six-volume 2015 report revealed systemic abuse of children by the schools and laid out dozens of recommendations to the federal government on how to foster reconciliation between Indigenous peoples, Christian churches involved, and the federal government.

He was once mistaken for a defendant

During one of Sinclair's early cases as a lawyer in Manitoba, he was mistaken by a judge as the defendant and questioned about the charges. The incident sparked a passion in the young litigator for advocating on behalf of Indigenous peoples, many of whom he felt were being wrongfully charged by police to fill quotas. Sinclair's advocacy led to job offers, including two separate propositions for the position of judge, but he declined both early on to continue work for the Manitoba Human Rights Commission, the Manitoba Métis Federation and the Assembly of Manitoba Chiefs legal aid.

He was driven from the beginning

Raised in the north Winnipeg area of Selkirk, Sinclair was driven from a young age. While enrolled in school, he skipped two full grade levels and during his final high school year was named athlete of the year and valedictorian for Selkirk Collegiate in 1968. He was also celebrated during his second year of law school at the University of Manitoba, winning the A.J. Christie Prize in Civil Litigation, given to students who achieve the highest standing in the introduction to Advocacy course.

He helped reshape Manitoba's justice system
Manitoba's premier appointed Sinclair as a co-commissioner of the Aboriginal Justice Inquiry, set up in the late 1980s in the wake of two incidents involving the murder of Indigenous individuals. These incidents were seen by many as illustrations of how the province's justice system was failing Indigenous people in Manitoba, The inquiry's 1991 report confirmed this, and made more than 300 recommendations to reform the Manitoba government. Many still refer to the inquiry as a turning point for the treatment of Indigenous peoples in Canada.

He tried to retire but then the Senate called
Members of Manitoba's Indigenous community nominated Sinclair to an appointment in Canada's Senate not long after he retired from his legal career. Although he had intended to withdraw from public life, he accepted the appointment and has been active on a number of standing committees devoted to Aboriginal issues, fisheries and oceans, legal and constitutional issues, and more. In a statement issued after his appointment, Sinclair expressed hope for a "new era" of relations with Indigenous peoples in Canada. "I approach this appointment with hope for the future, and remain committed to reconciliation between indigenous and non-indigenous people, something I believe in my heart is possible," he said.
You can register for Senator Murray Sinclair's Belong Forum on September 5 now.