Temperatures in Halifax rose well into the mid-30s last Thursday, but the atmosphere inside Sexton Gym was even more sweltering as action heated up during the 28th annual Engineering Robot Competition.

Dozens of robot enthusiasts and spectators packed into the space to watch this year's competition, which, as in years past, pitted teams of undergraduate engineering students against each other to test the navigation abilities of robots they designed as part of a summer-class project.

Third-years Saad Alhadlaq, Taha Take, and Hassan Al Sawadi (below, left to right) were among nearly 100 students to take part in last week's battle. While this was their first time ever designing a purpose-built robot (which they named 'S4N1C' after an Internet joke), the team was in great shape by noon having won the first two rounds of the day.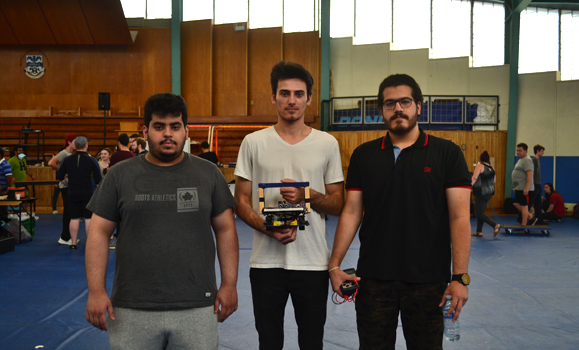 But getting to this point wasn't easy, they explained.

"It takes a lot of time and a lot of all-nighters," said Saad.

"There's a lot of testing," says Taha. "Anything that you change, you have to make sure it doesn't affect any other things."

Each team is provided with a generic kit at the start of the term that they use to design and construct their robot.
A complicated task

The objective of the competition: to design a robot that has the most success navigating a course with potential barriers. A metal perimeter on the course and sensors at different junctures along the way serve as guides for the robots, which move on their own using digital communications and programming.

"These things are running autonomously, so there's no remote controls or anything involved," said Mark Leblanc, lead technologist in the Department of Electrical and Computer Engineering and an advisor to students on the project.

"It's a pretty complicated task, so the students who've done a good job deserve props. There's a lot going on there," he added.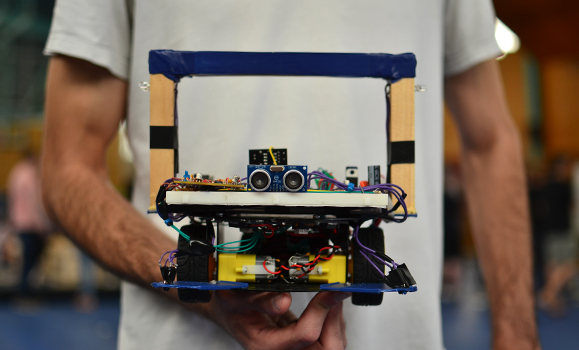 Even with the promising start, worries began to bubble up with the S4N1C team as afternoon competition loomed.

"Overtesting is my biggest fear," said Saad, explaining that the components provided to teams for the competition are meant more for as short-term, prototyping materials than long-term solutions.

Luckily for the team, none of their components malfunctioned and their robot emerged on top with the most points in the competition.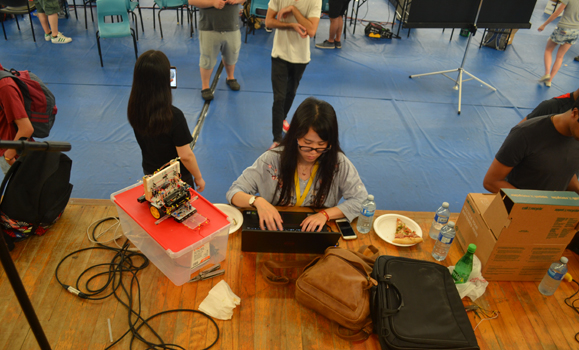 A student makes adjustments during a break from competition.