It's a four-decade tradition — a summer celebration with spirit to spare.

Each year, Dal's Agricultural Campus opens its doors to its community for a day of exploration, discovery and fun. Community Day features wagon rides, games, hands-on research experiments and — of course — a chance to meet some of the sheep, cattle and other creatures who call campus home.

Last year, due to construction on campus, the Faculty of Agriculture brought Community Day into the community, holding it in Truro's Civic Square. This year, not even last month's fire at the Cox Institute can stop Community Day from making its grand return to campus on Thursday, July 19 from 10 a.m. until 2 p.m.
More info: Community Day website

"There is a resilience born of agriculture that is hard to describe, explained Dean David Gray.  "We have suffered a set back with the recent fire in Cox Institute but we will persevere and we will continue to move forward.

"Our Community day is a tradition that will take place on the Agricultural Campus, rain or shine as we put our best foot forward and open our doors to the community that continues to support us."

Some of the exhibits that typically take place in Cox will be moving under a big tent in front of the Cumming Building, which will feature a plant giveaway (200 specimens!) and a bee display from the Faculty's entomology crew.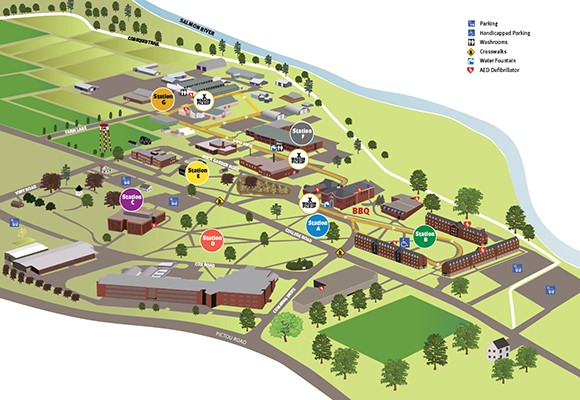 The iconic tractor-pulled wagon will be available to take guests all over campus — from the livestock barns to the beautiful campus gardens — with many exhibits featuring the great work of Faculty of Agriculture researchers, faculty, students and staff. There will also be performances from the Truro Concert Band and Mi'kmaq drum group Iron Tide.

As for food, there will be an on-site BBQ hosted by Chartwell's as well as complimentary ice cream treats. And for kids, there's face painting, a teddy bear clinic and the famous "Bubble Barn" run by Dal Agriculture's Engineering team.

It all gets underway on Thursday, July 19 starting at 10 a.m. — rain or shine! Learn more at the Community Day website.

Transportation from Halifax

Are you a Dal staff member, faculty member or current student in Halifax who's never visited the Ag Campus before — or one eager for a return visit? Community Day is the ideal opportunity to explore Dal's Faculty of Agriculture in Truro.

There is free round-trip transportation available from Halifax to Truro. Contact Marketing Manager Mary-Eleanor Power (mfpower@dal.ca or 902-890-3433) to book your seat on the bus. Space is limited. This offer is only available to current staff members, faculty members and students of Dalhousie University.