Dalhousie Coast to Coast rolled on last week through central Canada. With events in Montreal, Ottawa and Toronto, it was a terrific celebration of Dal's 200th anniversary with hundreds of alumni joining the festivities.

Montreal was the first stop on the tour on June 5. An intimate gathering of alumni and friends, the event featured Dalhousie President and Vice-Chancellor Richard Florizone sharing some insights into Dal's 200-year history.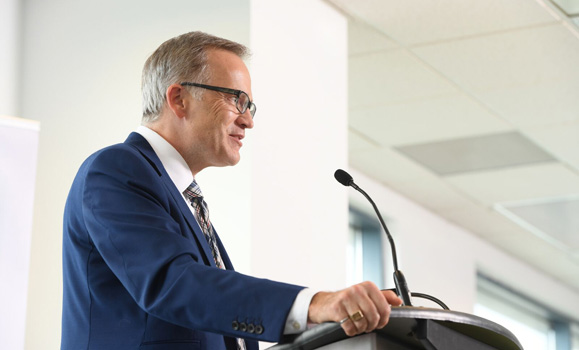 Dal President Richard Florizone in Montreal.

"The reason we've got to where we are today is because of the people," he said. "It's been a pleasure to meet alumni from across the university, from many disciplines and class years, who are helping us celebrate this milestone."

While Dalhousie Coast to Coast is a celebration of the university's bicentennial year, it also pays tribute to Dal alumni who are making a difference in communities across Canada. Matthew Pearce (BA'79) is one such person.

Speaking at the event, Pearce, who is president and CEO of The Old Brewery Mission, Quebec's largest resource for homeless men and women, touched on how his Dal experience has shaped his career.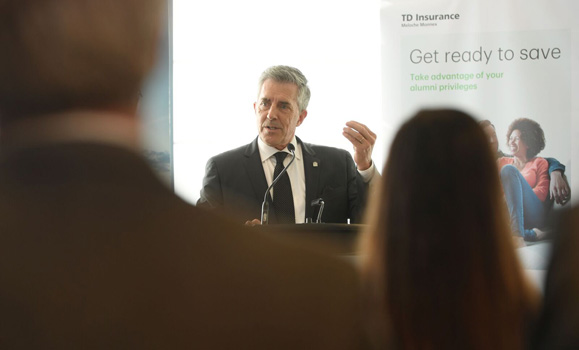 Dal alum Matthew Pearce speaking in Montreal.

"When I was at Dal, my generation was preoccupied with how the world around us was developing. And so, I set myself on a course to get involved with works that helped to build a bigger and better society."

Throughout his time with the Mission (an organization that dates back to 1889), he has not only changed public attitudes and perceptions about homelessness but has also transformed services enabling thousands of people to break the cycle of homelessness and reclaim their dignity.

Celebrating in the nation's capital

Following Montreal, it was on to the nation's capital for an event at the National Arts Centre. Dal spirit filled the room when Ottawa Mayor Jim Watson proclaimed June 6, 2018 as "Dalhousie Alumni Black and Gold Day" in the city.
Along with Dr. Florizone, alumni and friends had the pleasure of hearing from Senator Wanda Thomas Bernard (MSW'77) and Janice Ashworth (BSc'07, MES'12) who shared how their time at Dal influenced their careers.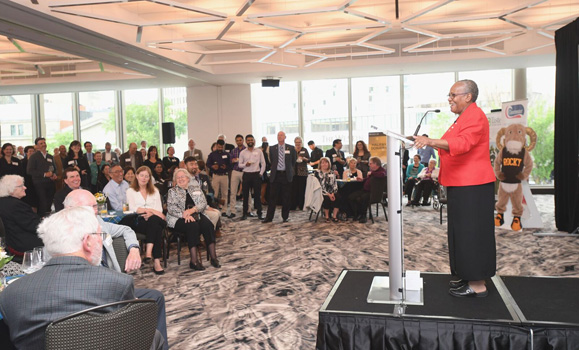 Senator Bernard speaks in Ottawa.
"My Dal degree isn't just what it's done for me, but what it has allowed me to do for others — in my community, nationally, internationally and in the Senate," said Senator Bernard. 

Gathering in Toronto

The central portion of Dalhousie Coast to Coast ended with a spirited event in Toronto on June 7 at the Design Exchange Building. A mix of alumni from class years spanning decades came out to celebrate their alma mater and their own role in Dal's history.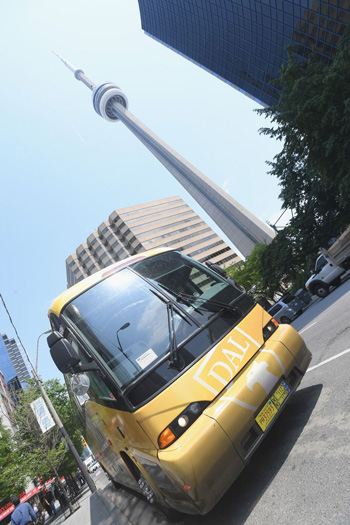 Halifax Mayor Mike Savage (BA'79) was in the city for the celebrations and spoke to Dal's future. "At 200 years, I think Dalhousie is just coming into its own. It continues to be a terrific economic driver and regional partner."
Computer scientists Ozge Yeloglu (MCS'07, PhD'13) and Sage Franch (BCS'16) also shared their own unique Dal experiences and the value of their Dal connection.

"I was back at Dal five days ago and the inspiration I got there was fresh in my heart," said Franch, who resides in Toronto. "When I walked into the Goldberg Computer Science building it was like going home. Dal really is my home and what has launched my career."

As the event came to a close, President Florizone expressed what he feels is the true spirit of Dalhousie Coast to Coast.

"You, our alumni, have helped us write our history and that's why we were inspired to celebrate across the country. It's been like a family reunion at each of the eight events. We look forward to celebrating Dalhousie Coast to Coast in Atlantic Canada in September."
Read more about some of our alumni who are making a difference in communities across the country: alumni.dal.ca/alumni200
Thank you to our sponsors, TD Insurance and Discover Halifax who are helping to make Dalhousie Coast to Coast possible, and to Taste of Nova Scotia who have been instrumental in bringing our east coast flavour and flair vision to life.
For more information on coast-to-coast events in Atlantic Canada, please visit: alumni.dal.ca/DalC2C. We hope you will celebrate with us in your city.