A new partnership with one of France's top-ranked post-secondary institutions offers Dal students with an interest in math, science and computer science an exciting new option for studying abroad.
Dal signed an agreement with Paris-based École Polytechnique in April to launch a new exchange program open to students in the faculties of Science and Computer Science.
École Polytechnique, well known for its math and engineering pedigree, was ranked the world's fourth-best small university in a 2017 Times Higher Education ranking (it has under 3,000 students) and counts three Nobel Prize winners, three French presidents and the CEOs of many major international companies among its alumni.
New internships and coursework

Set to launch next year, the exchange will give students the option of completing a research internship or undergraduate coursework. The latter will be available in French or a recently launched interdisciplinary English Bachelor program.
"École Polytechnique is one of the most prestigious and selective schools in France," says Alain Boutet, executive director of Dal's Office of International Relations.
"It's a really elite institution where the best students are going."
Dr. Boutet says the new partnership fits well within Dal's current international strategy, which targets, in part, increased student mobility to France and other European Union member countries.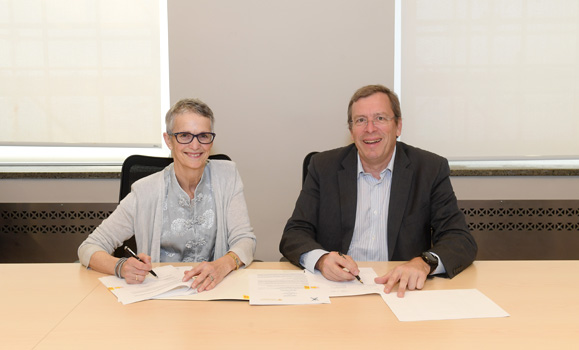 Dal Provost Carolyn Watters (left) signs the agreement with École Polytechnique Director of Education and Research Frank Pacard.
Dal is one of only three Canadian universities with which École Polytechnique proposed an exchange partnership. The University of Toronto also signed an agreement, while Polytechnique Montréal — the engineering faculty affiliated with the Université de Montréal — renewed an existing partnership with the school.
"It really speaks to the fact that our international reputation has grown in recent years," says Dr. Boutet, noting that Dal now has more than 300 partnership agreements with universities in 67 countries.
Connections for new opportunities

École Polytechnique was particularly drawn to Dal's strength in ocean science and computer science, which its students will be able to tap into now through the pact.
Physics professor Laurent Kreplak, the associate dean of research for Dal's Faculty of Science and coordinator of the new exchange at Dal, likens École Polytechnique to a French version of Boston's MIT (Massachusetts Institute of Technology).
"It's located in what France wants to be the French Silicon Valley," he said, noting the school's proximity to other universities and top-level research facilities.
When students decide to go, Dr. Kreplak will be the one to help them through the process and make sure they are prepared for the trip. He'll also work with students coming to Dal from École Polytechnique.
Dr. Kreplak, who grew up in Paris not far from École Polytechnique and spent some time working in a lab at the university as part of his mandatory French military service, has high praise for the institution.
"In terms of quality of the school, this is arguably the best engineering school in France," he says. "You really get top students, high-quality research labs all a stone's throw from Paris."
For more information on the exchange, please contact Laurent Kreplak at Kreplak@Dal.Ca