Students rely on a lot of different individuals as they make their way through university. And while teaching is, of course, at the heart of the student experience, the many other supports and services beyond the classroom have a critically important role to play as well.

Dal's Rosemary Gill Awards are the unversity's way of saying "thanks" each spring to members of faculty or staff who have provided outstanding service to students outside of teaching.

First established in 1995, the Rosemary Gill Awards are inspired by the memory of Dr. Rosemary Gill, a campus physician and director of Student Health Services at Dal who embodied this kind of exceptional commitment to meeting students' needs. This year's recipients were honoured last Tuesday at a ceremony in Sheriff Hall hosted by Dal Provost and Vice-President Academic Carolyn Watters.

Learn more about the 2018 recipients:

Sean Barrett
Professor and Director of Clinical Training, Department of Psychology and Neuroscience (cross-appointed to Department of Psychiatry)

When Sean Barrett took over as director of clinical training with the Department of Psychology in 2014, he had change on his mind for the program.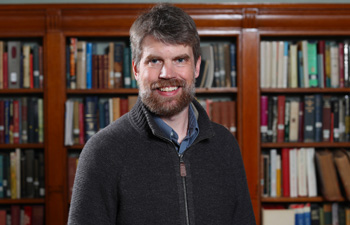 For starters, he initiated changes in the structure of the program to move away from an outdated co-op model with three other universities to a Dal-specific program that allowed for decisions impacting students to occur much more quickly.

He also spearheaded changes to program's curriculum to streamline it, ensuring students are even more ready for community-based clinical practice and to maintain work-life balance.

The results: since he took over the role, 100 per cent of students have been matched to internships, well above the typical 70 per cent match rate for similar programs in North America.

"Sean has been a tireless, but often behind the scenes, champion for the PhD students in our program," wrote one nominator. "[He] is passionate about ensuring students are included in program-related decision-making by holding formal consultation with them before any formal changes are made."

He held monthly "bites and gripes" event with students, a chance for students to discuss any issues, and half-hour meetings with first-year students at the end of the first term to find out how they were faring.

As one student wrote in a nomination letter, "He is clearly invested in the success of our program and in the success of our students. He is aware of students' individual needs and is able to help us get the most out of our degrees."

Dr. Barrett, a professor in the department since 2005, says he looked to his own past as a student for inspiration during his time as director of the clinical program.

"I always just think back to my own education and there were professors that really went above and beyond to give me the support that I needed in order to realize my ambitions," he says. "I always kept that in the back of my mind as inspiration, so when things would get a bit more challenging, I would think that even small things can make such a big difference for a student."

Michael Boutilier
Research Machinist, Department of Chemistry

Michael Boutilier joined Dal as a junior machinist in the Department of Chemistry in 2003 after nearly two decades working in the private sector, quickly advancing into the role of senior machinist.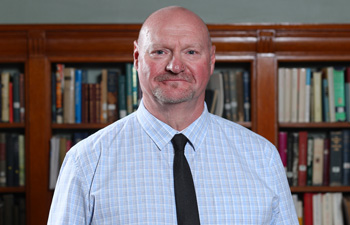 In that position, Boutilier carries out skilled, precision work in the construction, repair and installation of equipment used in the highly specialized research and teaching taking place in the department.

Faculty, staff and students alike describe Boutilier as an "indispensable" member of the Department of Chemistry team and praise his work ethic, efficiency and ingenuity when it comes to solving routine problems as well as novel and unconventional ones.

"When graduate students require a critical piece of equipment installed in their lab, or need a custom made part for a new experiment, Mike is normally one of the first people called upon to provide advice," wrote one nominator.

As another nominator wrote, no task is too big or too small for Boutilier. He has been known to run to the hardware store on his lunch breaks and even drops by the department on holidays or weekends to ensure everyone's research equipment is operating smoothly.

He even helps the department save research money through an inventory system of pieces of used equipment that he can then recycle and reuse.

"Mike has an unbridled enthusiasm and a willingness to do whatever it takes to ensure every single student succeeds in all their current endeavours," wrote staff members of the department in their nomination letter.

After 15 years at Dal, Boutilier says he still gets a thrill out of his job.  

"It's the enjoyment I get out of helping students," he says. "I see young students who are trying to make a difference in the world and if I can help them out it gives me a great sense of fulfillment."
Anneke Henderson
Instructor and Head of Wardrobe, Fountain School of Performing Arts

"Anneke really is the thread holding our Costume Studies program together."

That's how one student described Anneke Henderson, instructor and head of wardrobe in the Fountain School of Performing Arts, in a nomination letter submitted in support of her Rosemary Gill Award.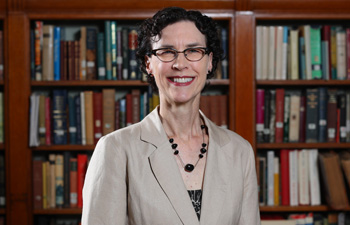 And it's easy to see why when parsing through some of the many other nominations submitted as well.

Since joining Dal in 2008, Prof. Henderson has developed a reputation as a "superb educator" who is extremely dedicated to the Costume Studies program and the success of its students. This year alone she has served as advisor to all the program's nine honours students due to staffing changes.

Prof. Henderson's commitment to students shines through in the open and personable approach she takes. As several nominators attest, she is always available to her students via email outside of regular hours when they have questions and will even drop by the studio on weekends when a simple email response won't do.

"Anneke never makes students feel bad about the extra time they take up in her life and actively encourages them to do these things because it improves their ability to learn," wrote one student.

She also works hard to provide a meaningful platform for students to showcase their work, organizing a year-end showcase event each year. This year, inspired by Dal's bicentennial anniversary, Prof. Henderson decided to expand the event to showcase the gowns of women worn between 1881 and 1886 — the years between when the first woman was admitted to Dal and when the first one graduated.

Prof. Henderson takes an active approach to introducing her students to the world outside Costume Studies by organizing events about the opportunities available to them after they finish their degree.  

Understanding the demanding nature of Costume Studies, she also actively advocates about self-maintenance and self-care for her students, even emailing them to remind them to take a break from work to sleep, eat, and even shower "when a reminder is needed."

"Anneke makes every student feel as though they have a personal relationship with her," wrote one nominator. "She is attentive to each students' individual needs and remembers little details about their lives that they tell her."

The Rosemary Gill Award is Prof. Henderson's second award this year. She also received the Dalhousie Student Union Teaching Award at the Impact Awards in March.

She says outstanding students deserve outstanding service and support.

"We have such a short amount of time together as the school year comes and go really quickly, and when I see how hard they are working and how determined they are to do well, it just feels like the least I can do is be there to support them," she says.

Lori Lawton
Graduate and Administration Secretary, Department of Oceanography

In the two years since joining Dal's Department of Oceanography as graduate and administration secretary, Lori Lawton has already made a big impact in the role.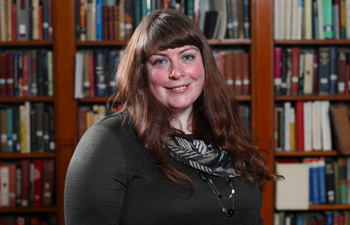 She has carried out a long overdue revamp of the Graduate Student Handbook, helped involve graduate students in the department's faculty hiring process, and provided support of the "highest caliber" for students.

As one long-time member of the department wrote in a nomination letter, "I don't see how a department so invested in graduate studies could thrive without someone like her."

Lawton's support for students begins well before they even arrive on campus and continues until their final thesis defence. In the early stages, she crafts bios about each incoming student to share with the department before they arrive and coordinates a student-buddy system that pairs each new student with a current one for peer-support purposes.

That catered care continues once students arrive at Dal. Lawton creates funding breakdown documents for each student, finds solutions for students in financially or academically desperate circumstances, and facilitates scholarship and other funding opportunities.

"Whether it is the small things, like sending reminders for deadlines and making sure everybody submits the right forms, or bigger issues, like organizing health insurance for research stays abroad, she really goes above and beyond," wrote one graduate student nominator.

Colleagues and others praise her welcoming attitude and her ability to answer any question almost immediately, which helps ensure the department's ability to attract the best applicants.

Lawton says she enjoys being able to work collaboratively with members of the department and the Faculty of Graduate Studies to help students.

"I love being in a role where you can try to help problem solve, and I like to work collaboratively with others to find solutions and make sure that students have what they need and are able to meet the requirements set out," she says.

Relatively new to the university, she says she was taken aback by her award.

"It was overwhelming. I certainly didn't expect it."