Dal's incoming vice-provost of student affairs has held a variety of roles throughout his career in higher education: in administration, in residence life, in leadership development, in campus athletics and in the classroom. But there's a phrase Ivan Joseph uses to describe himself that spans all of them: a teacher coach.

It's based on an insight shared with Dr. Joseph earlier in his career by one of his faculty mentors: that there are some coaches who happen to teach, but the best coaches are teachers who happen to coach.

"I've always considered myself an educator, first and foremost," explains Dr. Joseph. "I believe students value people who truly invest in them, and part of that is supporting the teaching that happens across campus — not only in the classroom but what happens in clubs, in student leadership, on the field… that co-curricular engagement."

The power of student engagement

Dr. Joseph, announced this week as the new vice-provost student affairs (effective August 1), comes to Dalhousie from Ryerson University where he is currently director of athletics. It's a role that encompasses a wide range of responsibilities: personnel, the athletic budget, strategic planning, fundraising, marketing, media contract negotiations, sports facilities and more.

But at its heart is supporting students, in a wide variety of ways — whether that's helping student athletes succeed, leading the development of a new strategic plan that's inspired record levels of student engagement, or initiating or managing a $100M facility revitalization to ensure better spaces for campus athletics and recreation.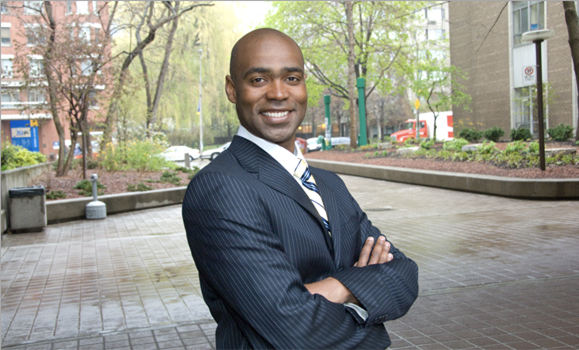 "I've always been a big believer in student engagement, and understanding the role the co-curricular experience plays in the academic experience and the development of students," says Dr. Joseph, who has worked in roles supporting students across all stages of the student-life cycle — from recruitment and orientation to academic success and alumni engagement.

A broad background

A former student union president with a PhD in Sport Psychology, Dr. Joseph's career in higher education has been diverse.
He's been a residence hall director and helped manage student leadership development at Graceland University. He's taught undergraduate courses in motor learning, dynamics of leadership and other subjects. He's been a celebrated soccer coach, leading the Graceland men's team to the National Association of Intercollegiate Athletics championship. He's an in-demand speaker on topics of leadership and self-confidence; on the latter, he's the author of a book (2017's You Got This: Mastering the Skill of Self-Confidence) and the presenter of a TEDx talk that's been watched more than 13 million times on YouTube.

Layered over all these experiences is his attention towards issues of diversity, inclusion and equity. In fact, his research for his master's degree in Higher Education Administration focused on the conditions that drive success for minorities in predominantly white university settings.

"It's no surprise that I wear my diversity on my skin," says Dr. Joseph, the son of Guyanese immigrants. "My job is to make sure that I don't look through a lens that creates biases, and to challenge others' biases that might be existing — using them as a teaching opportunity, if necessary, even if that pushes us into spaces that may be uncomfortable at first."

Excited by the opportunity

Now, he's headed to Dalhousie, citing the university's reputation, the opportunity to live in Halifax and the particulars of the vice-provost role as motivators for making his way out east. He expects his first months in the role to be based around "listening, listening and listening some more" as he meets with colleagues and, together with a new provost, charts out a course to continue Dal's work supporting student success.

"I'm excited by the opportunity in the role of vice-provost, which is to really build on student engagement and ensure an exceptional student experience that complements the academic experience," he says.