Dalhousie Coast to Coast festivities began on April 21 in Western Canada. As part of Dal's bicentennial anniversary, Coast to Coast is bringing 200th celebrations to alumni across the country where 97,000 Dal alumni live, work and play.

From Vancouver to Winnipeg

Celebrations got underway in Vancouver at The Permanent. An event steeped in Maritime flavour and flair (a theme that will be carried through all 12 coast-to-coast events), Dalhousie President and Vice-Chancellor Richard Florizone began the evening by acknowledging the incredible impact alumni have had on the university over the last two centuries.

"Dalhousie has grown from that 'little college by the sea' to become a national university, and the leading research university in Atlantic Canada," he said. "We've been able to reach this incredible milestone because of our people. Most importantly, our alumni who represent the very fabric of what Dalhousie is today."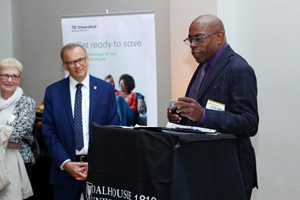 Left: Lesra Martin (LLB'97) captured the crowd at the Vancouver Coast to Coast event.

Dr. Christy Sutherland (MD'08) and Lesra Martin (LLB'97) are two such alumni who spoke at the event. They shared their own Dal experiences and the ways in which it has influenced their careers in health care and law, respectively.

"Dalhousie didn't let me down, and because each and every one of you is here tonight, I believe it hasn't let you down either," Martin said at the event. "We are now part of history — a university steeped in tradition. Go back, touch the walls, talk to the administrative staff of your faculty…I have no doubt you will feel like you are going home."

Read more: Learn more about Dal alumni making a difference in their communities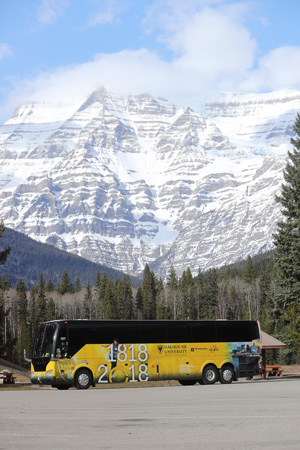 Right: The Dalhousie Coast to Coast bus made a stop in stunning Jasper, AB on its way from Vancouver to Edmonton.

Following Vancouver, the coast-to-coast bus travelled to Alberta for festivities at the beautiful Muttart Conservatory Centre in Edmonton and then it was on to Calgary for a lovely evening at Studio Bell with alumni and friends coming together to celebrate their alma mater.

Next it was on to Saskatoon for an evening at The Glen at Crossmount. Speaking at the event in his home province of Saskatchewan, Dr. Florizone commented on the Dal spirit that was palpable at each event. "This whole tour has felt like a family reunion. It's been wonderful to connect with alumni and friends across the country."

The Western portion of Dalhousie Coast to Coast ended on Friday, April 27 in Winnipeg at the Canadian Museum for Human Rights. And like the other Western events, alumni from many faculties, donors, family members, and friends joined together to celebrate Dal's first 200 years and what's to come in the third century.

Celebrating alumni impact

And if there was a theme that emerged at each event it was this – Dalhousie alumni are making extraordinary contributions to their communities and helping to build a better world. As the bus travels across Canada, Dal's alumni team will continue to share the stories of the Coast to Coast guest speakers and alumni in communities along the way who are doing just that.

Like Robert Johnson (BSc'94, MD'98), a trailblazer in medicine, advocating for and serving rural areas and communities with significant Indigenous populations. Or Ashley Salvador (BA'17), who founded YEGarden Suites, a non-profit initiative that provides information and resources to Edmonton residents who want to build affordable housing to accommodate anyone who needs it.

Coast to Coast rolls on

Dalhousie Coast to Coast will continue in June with events on June 5 in Montreal, June 6 in Ottawa and June 7 in Toronto, with Atlantic Canada events to follow in September. For more information and to register, please visit: alumni.dal.ca/DalC2C. We hope you will celebrate with us in your city.

View more event photos on the Dal Alumni Facebook and Instagram pages.