At Dal's Faculty of Agriculture, barley is more than just a grain. It symbolizes excellence in academics, leadership, research and innovation. It's an emblem of hands-on learning, new friendships and partnerships. It represents the beautiful Agricultural Campus in Truro.

So as Dalhousie celebrates its 200th year, the Faculty of Agriculture is unveiling a new symbolic barley addition to its campus - the Barley Arch.

The Barley Arch is a 10-foot tall arch that will frame the entrance to the Alumni Gardens, just off of the MacRae Library parking lot. The arch, which mirrors the design of the ever-popular Barley Ring (the Agricultural Campus's official ring), was unveiled with a celebratory ceremony Thursday afternoon and is a gift to campus from the Agricultural Campus Alumni Association.

Community contributions

"The Barley Arch is symbolic on so many different fronts, especially this year – our 200th anniversary," explains Dean David Gray. "The shape of the arch mimics the sunrise in our 200th logo while the leaves of barley represent the integrity and commitment of what it means to be an Aggie.

"Having sold our 1000th ring this year, the tradition continues to grow as will the Faculty of Agriculture as we proudly enter the dawn of our third century together with the broader Dalhousie community."

Audrie-Jo McConkey, chair of the Agricultural Campus Alumni Association, says it was important for the association to contribute to Dal's 200th anniversary in a way that would resonate with the Ag Campus community.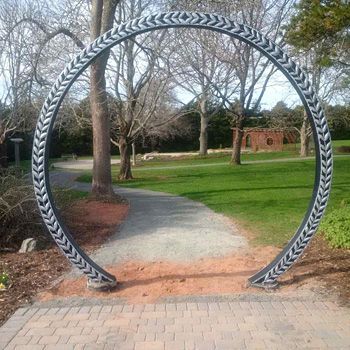 "The construction of a barley arch is so fitting," she says. "Most evident, it mirrors our Barley Ring, but it also has a similar shape to the Dal 200th logo. The location of the new arch means it will be viewed and enjoyed by students, staff, alumni and visitors to campus. The Alumni Association is so proud to support this exciting project."

The Dalhousie Agricultural Students' Association (DASA) is also contributing to the new arch. Traditionally, DASA presents a gift to campus in the name of the graduating class. This year, that contribution has gone toward supporting the design, construction and installation of the Barley Arch.

"The Class of 2018 is honored to be a part of the Barley Arch project," says Mollie Pickard, Class of 2018 life president. "It is exciting to contribute to this symbolic new piece of campus that will be enjoyed by students, faculty and staff for years to come."

A custom-made structure

The significant addition to campus has been custom-made by Ruben Irons, an artist blacksmith from Pictou, N.S. who has been creating and sculpting for over 20 years. Ruben also constructed the arch framing the main entrance to the Alumni Gardens, a generous gift from the Class of '54 in 2009.

As Irons has been adding the finishing touches to the arch this week, he reflects on the design and construction of the barley arch, which was no simple task.

"Once the project was proposed the first step is letting it roll around in my head for a while, imagining different ideas," Irons explains.

Once Irons had an idea for the design, he met with Darwin Carr, botanical garden manager and Alisha Johnson, alumni relations officer, to pitch the idea and coordinate the finer details. Once the design was agreed upon, Irons headed back to the shop and gathered materials, lit the forge and picked up his tools.

"I cut out all the leaves and pieces for the arch first," he says. "I then hammer all the leaves hot on the anvil. Once everything is forged I weld it all together and grind it smooth. The last step is having it all sandblasted and painted."

In total, Ruben spent approximately 150 hours working on the barley arch. He says the most challenging part was imagining the arch in its place to ensure it felt natural from different vantage points.

"I also had to figure out how to honour the design of the Barley Ring without copying every detail," he says. "This was such a rewarding process for me from start to finish."