To win an Olympic gold medal is to reach the pinnacle of one's sport. But to then use that success as a platform for change — that's something truly special.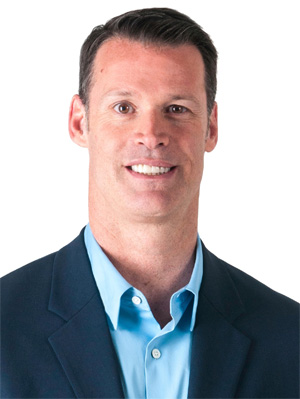 That's the story of swimmer Mark Tewksbury, who captured the imagination of Canadians coast-to-coast with his gold-medal victory in the 100-metre backstroke at the 1992 Barcelona Olympic Games, and then, subsequently, opened minds and challenged discrimination as the first openly gay Canadian Olympic athlete.
A respected trailblazer for LGBTQ+ athletes and athletes in general, in addition to a renowned activist, educator and writer, Tewksbury is the next speaker in Dal's Belong Forum series — part of the university's Year of Belonging for its 200th anniversary year.
Tewksbury's forum takes place on Thursday, May 17 — the International Day Against Homophobia, Transphobia and Biphobia — in the Spatz Theatre at Citadel High School in Halifax (1855 Trollope St) at 1 p.m. In addition to his talk and Q&A, Tewksbury will receive an honorary degree from Dalhousie at the event.
Tickets for Tewksbury's Belong Forum are free, but registration is required. RSVP at dal200.ca. Registration for other forums featuring Senator Murray Sinclair, Temple Grandin and Angela Davis will open over the summer.
Inspired by the question "What would it take to create a world where we all feel like we truly belong?" the forums are designed to expand and elevate discussions around diversity and inclusion at Dal and in the broader community. Each features a 30-minute talk, followed by a question-and-answer period moderated by a journalist from the CBC — Dal's broadcast sponsor for the Year of Belonging.
If you're not familiar with Tewksbury's story, here are five facts to know ahead of his May 17 Belong Forum:
His Olympic victory was a moment of national pride
Canada sent 295 competitors to the 1992 Summer Olympic Games in Barcelona, Spain. There were seven gold-medal wins for Canada that year — but none resonated with the visceral impact of Tewksbury's victory in the 100m backstroke.
Although ranked as one of the top backstrokers in the world, and having won a silver medal at the 1988 Summer Olympics in the team relay event, Tewksbury had struggled to keep pace with the sport's very best heading into 1992.Most expected the Americans — led by world record-holder Jeff Rouse — to own the podium. In the thrilling minute-long race, Tewksbury had to play catch-up to Rouse twice: at the start and at the turn. But with less than a metre to go, Tewksbury pulled ahead, finishing with the gold medal — Canada's first of the 1992 games — and an Olympic record time of 53.98 seconds.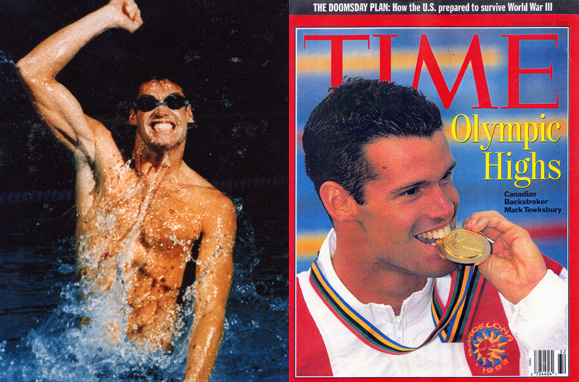 Backed by a near-iconic call by the CBC announcers — "OLYMPIC RECORD! THE DREAM LIVES!" — the image of Tewksbury's in-pool celebration was a defining moment of that Olympic year. He was named Canadian Athlete of the Year for 1992, and even appeared on the cover of the Canadian edition of Time magazine.
His success as a swimmer was hardly out-of-nowhere
There are no overnight successes in amateur athletics, and Tewksbury is no exception. Born in Calgary, Tewksbury's family moved to Texas when he was young, and he first began swimming as a way to escape the Texan heat. At age seven his family returned to Calgary, but Tewksbury kept swimming, joining the Cascade Swim Club and starting to take competition seriously. He made the national team at age 17 and took part in his first international competition under the coaching of Deryk Snelling; in a flash, his world ranking in the 100m backstroke went from 54 to 4.
Only a year later, in 1986, Tewksbury competed at the Commonwealth Games in Edinburgh, where he received two gold medals — one for his 100-metre backstroke and another for the 4x100 medley relay. In 1987, he won a gold medal as well as two silver medals during the Pan-Pacific Games, ranking second in the world. Three years later, in 1990, Tewksbury received a double gold medal win at the Commonwealth Games, and in 1991 he earned a silver medals at the World Aquatic Championship and the Pan Pacific Championships.
At home, Tewksbury won 21 national championships (11 individual and 10 relays) through his career and was recognized four times as Swimming Canada's male swimmer of the year. He's a member of the Canadian Olympic Hall of Fame, the Canadian Sports Hall of Fame, and the prestigious International Swimming Hall of Fame.
His struggles post-Olympics inspired him to come out as Canada's first openly gay athlete
When he won his gold medal, few knew that Tewksbury was gay — not even his family. At the time, being openly gay as an athlete was near unheard of. "Keeping up the image of Canada's boy next door, while feeling a lot like the girl next door wasn't very easy," he would later write in his book, Inside Out: Straight Talk from a Gay Jock.
In 1993, Tewksbury talked about his experiences on a CBC Radio series "The Last Closet" about homophobia in sports — but, fearful of repercussions and impacts on his career, he did so anonymously. As he embarked on his post-swimming career with a number of high-profile endorsement deals and working as an athlete representative with the International Olympic Committee, he found it harder and harder to hide his true self.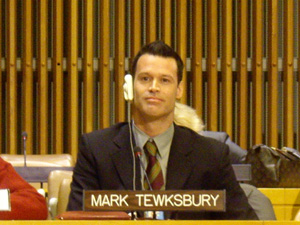 In 1998, he lost a six-figure deal as a motivational speaker for a financial institution. The reason: he was "too openly gay," he was told. That same year, he made the decision to come out officially — becoming the first major Canadian athlete to do so. Following that trailblazing decision, Tewksbury has made LGBTQ+ advocacy front-and-centre in his speaking and advocacy efforts, working to change minds and inspire generations of young athletes. He has addressed the United Nations on the decriminalization of homosexuality, and is a board member of the Gay and Lesbian Athletics Foundation.
His efforts to improve sport go well beyond LGBTQ+ advocacy
Tewksbury has never lost sight of the positive role that sports can play in people's lives.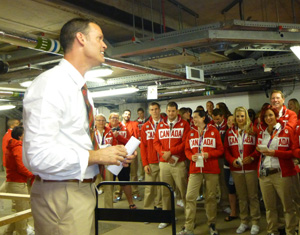 That's why, in 1999, he co-founded OATH (Olympic Advocates Together Honorably) an independent movement devoted to fighting for the rights of both athletes and clean Olympic sporting through ethical practices. He spoke truth to power in his role within the International Olympic Committee, openly challenging corruption within the organization, and has remained a prominent voice for Canada's Olympians. He would also go on to become co-president of the organizing committee for the first World Out Games that took place in Montreal during the summer of 2006. The games allow anyone to participate regardless of their sexual orientation and celebrates sports, culture and human rights.
A decade later in 2016,Tewksbury and Debbie Muir co-founded The Great Traits, an online platform focused on helping people in competitive, performance-driven environments. And his most recent appointment is as chair of Special Olympics Canada.
He's a popular TV personality and author
In 1993, Tewksbury released his first book: Visions of Excellence, a motivational memoir in which he shares how a positive outlook on life and goals can work to one's advantage. He would later write two more books: 2006's Inside Out: Straight Talk from a Gay Jock, and 2008's The Great Traits of Champions: Fundamentals for Achievers, Leaders, and Legacy Leavers, together with Debbie Muir.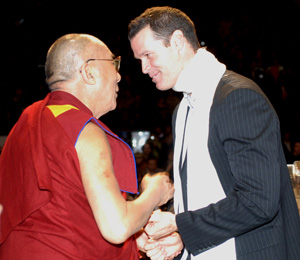 He's also been a familiar fixture on Canadian television. He's hosted shows like How It's Made on the Discovery Channel, was a regular contributor on CTV's Canada A.M. and was involved with primetime Olympic coverage at multiple Olympic Games. He was also master of ceremonies for the Dalai Lama's Canadian appearances in 2007 and 2009.
Dal 200 Belong Forum: Register for Mark Tewksbury's "Year of Belonging" talk