Almost 50 years after the height of Nova Scotian advocacy group Black United Front, the Black Student Advising Centre at Dal hosted a panel on the topic of unity from a modern perspective: pan-Africanism.
The event, titled "Why Black Unity? Pan-Africanism, Dalhousie, and the World," was held last Monday night in the Student Union Building as part of the university's African Heritage Month activities.
Moderated by Tiffany Gordon, a PhD student in the department of Philosophy, the panel drew in a crowd of more than 70 people eager to hear two unique perspectives on the topic.
Philosophy professor Chike Jeffers and Isaac Saney, a History professor and director of Dal's Transition Year Program, articulated their views on the pan-African movement and why it is still so relevant today.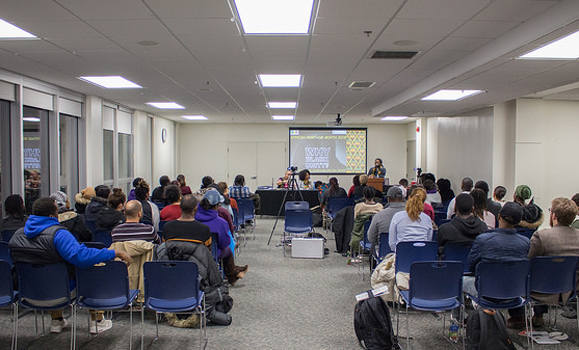 The idea of political union in Africa has been around for decades. Thought leaders like Marcus Garvey and Henry Sylvester shaped pan-African movement as it is known today, but the idea of Black unity can be traced back to the 18th century.
"When we talk about slavery, we think about the brutality," explained Dr. Saney, "but what is also important is that Africans waged a constant war against it. They may not have consciously articulated a pan-African view, but it forged a common identity."
Dr. Jeffers agreed, stating, "What unifies black identity is not a biological essence but a particular history."
Relevance today


History has been shaped by imperialism, and Dr. Jeffers believes that has caused an unnatural division of Black culture. He argues that pan-Africanism should be a way to transcend that division.
Many people disagree, believing that differences should not be downplayed, and that fighting racism means rejecting homogenization. But Dr. Jeffers remains convinced that pan-Africanism is still relevant and something that all people of African descent should support. "Are we diverse? Yes, but that diversity is a strength of our common cultural identity rather than a sign that we have no common identity," said Dr. Jeffers.
To celebrate that vibrant culture, the event featured African music group Drummers from Home. The group consists of performers from different countries and of different ages that have come together for one thing: their love of Africa.
Students Fola Akpan, Rita Ugbebor, Aaliyah Lahai, Ashley Tucker-McIntosh were also recognized at the event for their contributions to the Black community, each receiving a Nora Kelly Bursary presented by former Lieutenant Governor of Nova Scotia Mayann Francis.
For Oluronke Taiwo, Dalhousie's Black Student Advisor, the event itself was an example of the kind of unity that happens when Nova Scotia's diverse Black population gathers together.
"Even though we are all different, we are still one people," she said.
For information about other upcoming African Heritage Month events and activities, please visit the Human Rights and Equity Services website.