After months of hard work and anticipation, several superb student soloists join the Dalhousie Symphony Orchestra (DSO) to perform a selection of history's most enduring and entertaining concerti and arias for an adoring crowd.  

DSO director Peter Allen calls the evening of music "…a 'greatest hits' of the greatest instruments and the greatest pieces ever written."

Touted by the Fountain School of Performing Arts as their most popular concert of the year, Concerto Night is a "celebratory" show in which student soloists audition to perform movements from works by composers ranging from Mozart to Prokofiev.

Allen believes that for the students, "The chance to play with an orchestra is huge… it's such a rush." In further demonstration of the musicians' talent, a number of students will be playing one instrument with the orchestra and another for their solo.

"These [students] are so proficient. It's amazing, playing two instruments at such a high level."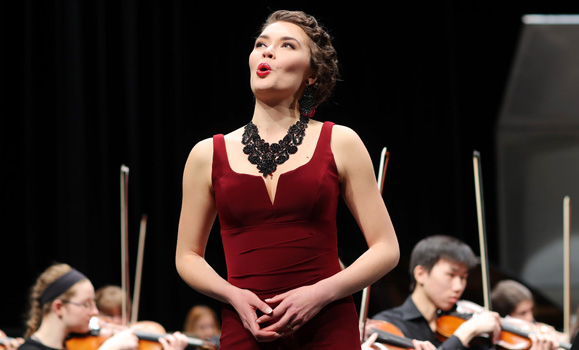 Ruusu-Maaria Brousseau performs at Concerto Night rehearsal.

A once-in-a-lifetime opportunity

Each year there is also the chance to hear original work by composition students, chosen and performed by the orchestra, and this year's selected work is Rhapsody by Packer Woo.

Heavily inspired by Japanese video game music, Woo says that his "style is influenced as much by classical composers such as Debussy, Ravel, and Leonard Bernstein, as [it is] by more contemporary styles like jazz and 'math rock.'"

Associate professor of composition Jérôme Blais says that "all of [Packer Woo's] apparently divergent influences come together in his music in a very engaging way. His piece is extremely rhythmical and colourful."  

Concerto Night promises to be a chance for students to astonish the audience while performing music new and old, in a once-in-a-lifetime setting, backed by a symphony of their friends and colleagues.

A special connection

Jacob MacDonald, one of the soloists, has a unique relationship to Sergei Rachmaninoff's first piano concerto, which the Russian composer wrote 127 years ago.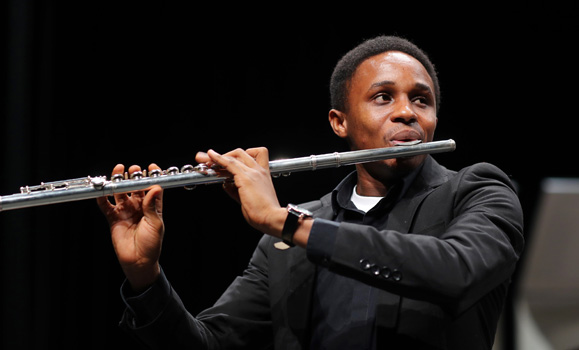 Obo-Oluwa Sobukolaat Concerto Night rehearsal.

"He actually wrote this piece when he was eighteen, when he was still studying. [It's] really cool because I was the same age as him when I started learning it…" MacDonald posits. The prolific Romantic pianist was studying at the Moscow Conservatory when he wrote his jovial Concerto in F Minor, which MacDonald thinks "has a lot of youthful energy [and] emotions … that I can sync with."

MacDonald is also excited about the opportunity to perform in the dual roles of Principal Cellist and Solo Pianist. "Trying to balance practising two instruments is a little tough [but] it's neat to be able to use both of them in a concert like this.  It's a very different dynamic and I enjoy it very much!"  

This is MacDonald's second Concerto Night performance, and he hopes to return for a third time next year to watch his friends and colleagues illuminate the stage. 

Honorary awards

Each year the Fountain School presents the Djokic Family Prize for Excellence in Performance and the Georg-Tintner Award.  

The former award made its début last year, established by long time music faculty members Lynn Stodola (piano) and Philippe Djokic (violin) to celebrate the student with the best audition.  

The latter, longstanding prize honours the late Georg Tintner, a composer and conductor from Vienna who fled Europe in 1938 to escape Nazi persecution. In 1987, after a number of years working in Australia and New Zealand, Tintner ended up in Halifax, where he became the longtime director of Symphony Nova Scotia. Famous for his work with Bruckner's pieces, Tintner's selfless passion for orchestral music influenced many around the world and in Nova Scotia, including Peter Allen who recalls him as being "a strong musician" whose legacy will live on in this community for years to come.

Delicious music

Solo vocalist Lucas Hernandes Nascimento believes that, "singing with accompaniment is a gift. With an orchestra it's a whole different experience. It's like you're being hugged by sound." According to Nascimento, his aria (Puccini's Recondita armonia) is "everything a tenor wants. It goes right to the goods in the register… It has beautiful legato lines, it's delicious to sing."

All of the performers are very excited not only to perform, but also to listen and support their friends from their tight-knit music community. "It's a great array of some of the best works in the classical repertoire. It's the last time that [a lot of us] get to be on stage together, so it is very special." says Nascimento.

By contrast, first-year Pianist Andrew Son is looking forward to playing Prokofiev's "percussive" Concerto No 1 in his first ever Concerto Night, which he claims is a great chance to "work with your colleagues and do the best that you can."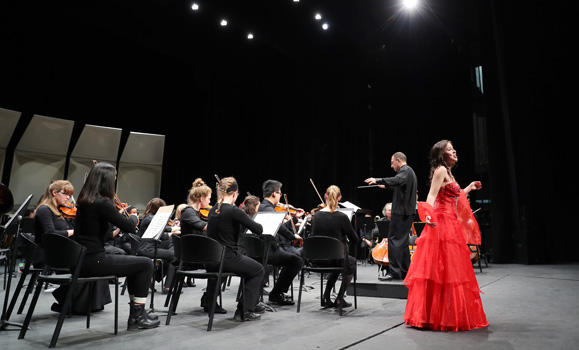 Rachel Taylor sings at Concerto Night rehearsal.
Concertmaster and violinist Sonia Hellenbrand is also incredibly proud of the work that has gone into Concerto Night. Despite the added responsibility, Sonia has enjoyed the experience of being "in the middle" of each of the twelve concerti and arias.

It is with good reason that Dalhousie advertises Concerto Night as a surefire sell-out year after year. Peter Allen says that, "It is so intimate performing in the Dunn, the live music is right there."

Allen encourages students and those unable to get tickets to the sold-out concert to consider attending the dress rehearsal on Tuesday, Feb. 13 at 7:00 pm where they can hear the concert for free and "see behind the scenes." Concerto Night is a reliably memorable and magical night of musical performance where the greatest hits from classical music hit the stage and come vividly to life.