In the digital age, hate is easier to find than ever, worming its way into every corner of our lives through laptops, smartphones, and other technologies.

Social media presents a new challenge, but hatred itself is hardly new. In his talk "Countering Hate in the Digital Age," as part of the annual Shaar Shalom Lecture, Stephen D. Smith discussed the way the power of human testimonies can combat hate in the global community.

"Hate is not a digital problem," said Dr. Smith at the event held last Wednesday (January 17) in the Potter Auditorium. "Hate exists on social media channels because people put it there."

The Shaar Shalom Lecture is an annual event established by the Shaar Shalom Synagogue and Dal's Faculty of Arts and Social Sciences as a way to explore the broad themes of tolerance, multiculturalism, and diversity.
Confronting hate

Dr. Smith is the Finci-Viterbi Executive Director of the Shoah Foundation, a University of Southern California organization created by director Steven Spielberg following the filming of Schindler's List as a way to help Holocaust survivors tell their story. The foundation's mission is to create empathy, respect and understanding through testimony.

"It's not about fighting against something, but developing a defense against this evil," said Dr. Smith, who also holds the UNESCO chair on Genocide Education, founded the UK Holocaust Centre, and co-founded the Aegis Trust for the prevention of crimes against humanity and genocide.

Hate, unfortunately, is universal, and the Shoah Foundation features a visual history archive that includes testimonies from 62 countries, in 41 languages. Through these testimonies, the foundation tries to navigate this hate, and, Dr. Smith considers, "what are these people telling us about what it means to be human beings?"

Raising awareness

Dr. Smith has expanded his research beyond the Holocaust and continues to collect testimonies from those suffering from hatred and genocide in our time. He recently spent time in a refugee camp in Bangladesh, speaking with people escaping the Rohingya genocide.

The refugees had a desire to share their stories in order to raise awareness and bring justice. For these refugees, said Dr. Smith, "it's an urgent need to tell their story because it is life and death, literally."

When we hear about a conflict in the media, it has already become a global event. In reality, Dr. Smith explained, the issue is highly localized: genocide can be broken down into a series of very small actions. In order to make sure these small actions never escalate to the global scale, Dr. Smith says we need to start at the beginning — the classroom.

Progress through education

Part of the Shoah Foundation's mission to overcome hate is developing safe, evaluated curriculum resources for younger learners.

"The priority is learners 10 years and younger," said Dr. Smith, "where the attitudes come and the values are developed."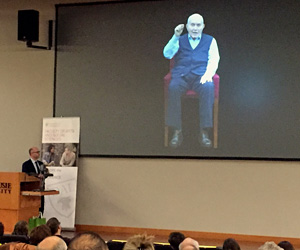 The foundation's digital archive is part of the growing field of digital humanities. As technology expands, the testimonies take on a different form — including the use of historical virtual reality. Dr. Smith demonstrated the use of a hologram testimony, which allows the viewer to get an even closer understanding of the survivor and his or her story.

Dr. Smith and the Shoah Foundation are committed to treating each testimony with the same ethics, and dignity as the next.

"A big part of countering hate is trying to overcome fear," said Dr. Smith, "as fear is the root of the hate that divides us."