For third-year Acting student Maeghan Taverner, voice courses are one of the best parts of the Theatre program. She's amazed how much the classes have changed her technique.

"I had no idea before I came into this program how much your voice and breathing can affect every part of your performance," she says. "It's like learning about Maeghan all over again."

The courses focus on freeing or releasing the voice to improve the power behind the sound — an important part of her training as an actor and a perfect metaphor for the impact Maeghan wants to make in the world.

The challenge of belonging

Though Maeghan seems quite at home as she walks around the Dalhousie Arts Centre, she talks about struggling to figure out where she belongs.

"When I eventually did come out, it was a bit of a challenge to get to where I am identifying now but I feel as if I'm in a really good headspace."

She says that's not true of everyone who identifies with the LGBTQ2SIA+ community. "I still notice that people don't know where to go when they have an issue. The reliance on labels gets in the way of being able to ask questions and figure things out."

Maeghan doesn't dismiss the progress that's been made but she thinks it's going to take a bit more to create an environment where people with non-conforming identities feel safe to be themselves. "You want to see that you're actively being represented not just given the option of "other," she says. "We don't want to be seen as an other; we want to be seen as who we are!"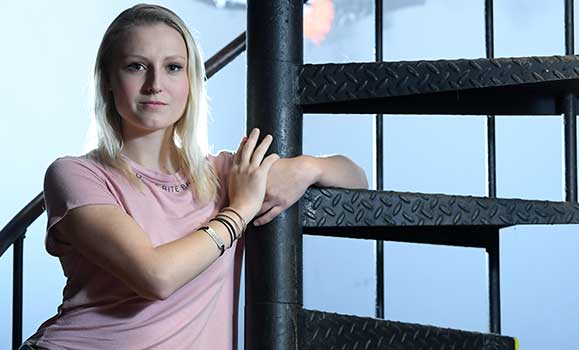 Beyond expectation

In other words, while she's okay with the role of defying expectations, Maeghan would rather just get rid of expectations altogether.

"We need to be more proactive about saying and asking about pronouns to teach people not to make assumptions. Imagine if faculty could take the lead by saying their own pronouns when they introduce themselves," she suggests. "It would be amazing because it means we're not going to be assuming people's gender, we're not going to be assuming anything about them."

Maeghan explored a similar idea through a research project in one of her sociology classes. As she describes it, she was curious about the role faculty representation could play in supporting LGBTQ2SIA+ students.

"I did a quick survey that showed students would feel safer if they knew there was a representative percentile of staff and faculty on campus who are queer because it opens up the door. You have someone you can go and talk to who has experienced things during their lifetime that you might be facing now."

Improving representation

Her vision extends beyond campus. When she speaks of the film and theatre world she's about to enter, Maeghan talks of opportunity.

For example, she's excited that women's voices are coming to the forefront in what has been a male-dominated industry and hopes to take that further. "It's inspiring to see those women who are standing up for what's right. If this can keep going it's going to make it so much better for all the other women who are just entering the industry."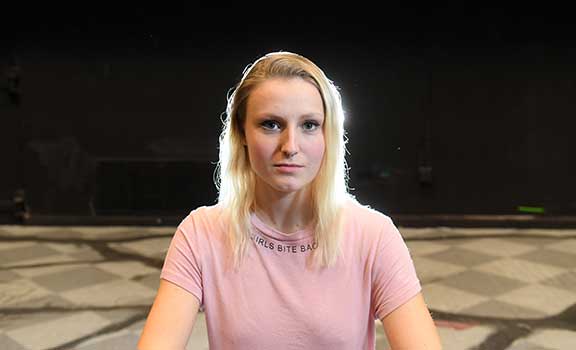 She also hopes to see improvement in LGBTQ2SIA+ representation within film and theatre — with a focus on quality, not just quantity.

"Women are so oversexualized in the media so there's still this taboo around women who identify as queer, or it's hypersexualized," she says. "That's not the representation we want or need. We're trying to break free of assumptions and that makes it much more difficult. We're getting our voices out but we're still not being heard."

Immersed in the experience

For now, Maeghan is focused on getting everything she can from her time at Dal's Fountain School of Performing Arts. She's looking forward to taking part in The Piper, written by Colleen Murphy and directed by Pamela Halstead. She's teaching Musical Theatre and Highland dance with DalDance. And she's enjoying a recurring role as cohost of Dal This Week. "That's been so much fun," she says of the weekly feature on Dal's social media channels.
Maeghan is also excited about the possibilities that await her after graduation. "There's a lot of success that comes out of this program and they have a lot of connections and access to opportunities, which was one of the draws for me to this program."