Dr. Ronald Stewart's list of remarkable accolades and honours are numerous but they belie the unassuming personality of this compassionate and gentle man whose roster of formidable accomplishments speaks more to character than personal acclaim.
This spirit of kindness and generosity was demonstrated earlier this fall, when he pledged $1.3 million to Dalhousie Medical Research Foundation (DMRF). The funds will establish the Ronald Stewart Symposium in Emergency Medical Services Research and provide seed funding for a Chair in Emergency Medical Services Research.
"Everything we do for citizens in this system depends on research, at one time or another," says Dr. Stewart. "To see the advances in drugs, equipment, and technology over the last 20 years is astounding; to imagine what will happen in just five more years is exciting. Examining what we do, what we are researching, what changes we are making means we can improve and, in some cases, make a real difference in people's lives."
Making a difference

If you were looking for a theme to sum up Dr. Stewart's education and career, "making a real difference in people's lives" certainly fit the bill.
He's been an esteemed physician, politician, Officer of the Order of Canada, Member of the Order of Nova Scotia, Honorary Life Member of the Executive Council of Nova Scotia and Nova Scotia Minister of Health. Before all that, his beginnings were humble, growing up in a small mining town on Cape Breton. Looking back, he remembers fondly his first realization of the impact that a fundraising organization like Dalhousie Medical Research Foundation can have.
"I recall visiting my 90-plus year-old mum in Cape Breton shortly after I came back to Dalhousie," recalls Dr. Stewart. "She was stuffing an envelope with cash she had saved for 'The Molly Appeal,' and I realized I had to pay attention to any movement penetrating that deeply into the community. I thought DMRF's Molly Appeal annual campaign was one of the most effective fundraising efforts in years."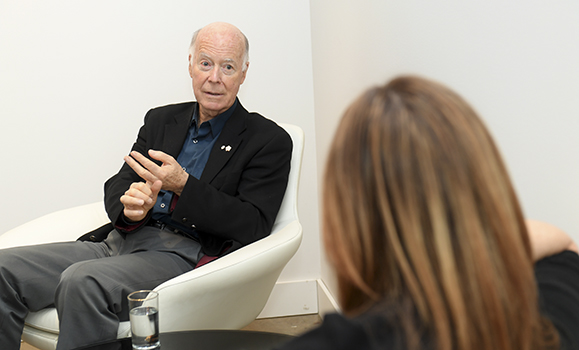 So began Dr. Stewart's philanthropic relationship to medical research through DMRF.
A proud Dalhousie medical school alumnus, Dr. Stewart practised medicine throughout Canada and indeed, the world, in communities both central and remote. His career took him from village family practice along the north coast of Cape Breton to Los Angeles emergency departments, from teaching to politics. His many other contributions included campaigning to ban antipersonnel landmines, tobacco control and fostering international medical education programs. Despite such exciting travels and outstanding achievements, Dr. Stewart made his way back to Nova Scotia and eventually, back to Dalhousie.
"Dalhousie gave me the foundation on which I could build a life and career," states Dr. Stewart.  "I remember being surprised that the people at U.S.C (University of Southern California) actually knew about Dal and that it had the reputation of training people who knew how to take care of people."
A life of leadership

To that, Dr. Stewart most certainly aspires. A leader in health system reform, Dr. Stewart established the widely recognized current Emergency Health Services (EHS) system in Nova Scotia and a major expansion of home care services. In keeping with this commitment to emergency health care excellence, The Ronald Stewart Symposium in Emergency Medicine Research was created, a three-day conference that brings together EHS workers for advanced learning, collaboration, and celebration. A portion of Dr. Stewart's $1.3 million pledge to DMRF will be used to ensure the implementation of this symposium every five years.
This year's symposium, held in October in Halifax, was named "Celebration 20-50," paying tribute to two significant EHS anniversaries. The first is the 50-year anniversary of the "Flying Squad" of Belfast, Ireland, a mobile coronary care team that created a revolutionary emergency health care model in 1967 by demonstrating the life-saving effectiveness of fast and efficient response for heart attack victims. The second is the 20-year anniversary of the refurbishment of Nova Scotia's Emergency Health Services system — led by Dr. Stewart — using the example set by the "Flying Squad."
The symposium invited paramedics, first responders and their colleagues in the health professions to join local, national, and international guest speakers and presenters. Special guests included the cardiologist from Belfast who in 1967 reported on the remarkable results of the "The Flying Squad," and the two physicians who, within a year, adapted the Belfast model, using paramedics, to the American health care environment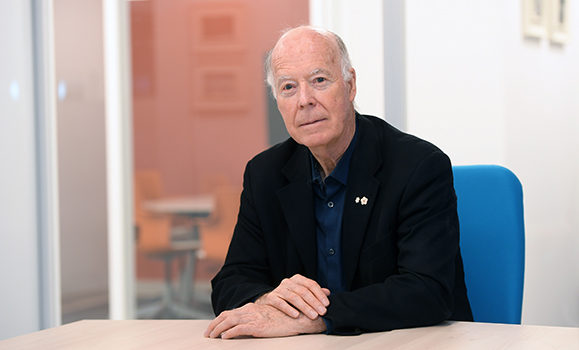 "The symposium was designed to bring paramedics, EHS nurses, physicians, EHS staff, researchers, the media and the public together to examine the evidence we have built up over the last five years, what current projects are being done, and what we should be doing in the next five years to advance the specialty," says Dr. Stewart. "Equally important is that the public, media and legislators know what is going on with this crucial element of the health system."
Furthering Dr. Stewart's belief in the importance of a dynamic and comprehensive emergency health services program is his pledge of seed funding to support a Chair in Emergency Medical Services Research.
"A $5 million investment means that sufficient funds could be endowed to support and engage a professor fulltime into a chair position that would lead a research program funded by the endowment," explains Dr. Stewart.  "It would help guarantee the quality of the EHS system in Nova Scotia by directing research towards that vital health-delivery system."
A catalyst for change

In this sense, Dr. Stewart's pledge acts as a catalyst for complementary funds to be raised to support research into a system that benefits all of us. Empowering EHS providers with up-to-date research and the means in which to share knowledge creates a structure that is efficient and effective, enabling crucial health service delivery in times of people's greatest need.
"I believe full-heartedly in the betterment of the EHS system and that's why I gave this gift," states Dr. Stewart.  "This research will better the health and wellness of our community, creating a program that will not only save the lives of people in our province, but infuse knowledge and best practices into our region and beyond."
In that sense, Dr. Stewart is furthering his legacy of humble compassion and care through a gift that will teach others and save lives.
For more information on how you can support a Chair in Emergency Medical Services Research, please contact Brian Thompson of DMRF at 902-494-4180 or brian.thompson@dal.ca