Fresh out of her master's degree, Vivian Howard took on a job teaching a required undergraduate English course at a Canadian university on the west coast. She describes it as the kind of class that nobody liked but everybody had to take.
Although aimed at helping students in various programs develop their writing skills via Shakespeare classics and modernist literature, the course instead often just left students feeling frustrated. Some had to take it several times just to pass and get their degree.
In short, it was a challenging course for a new teacher to take on.
"The experience teaching that course and having to engage students who were there almost against their will was actually good trial by fire," says Dr. Howard, now an associate professor in Dal's School of Information Management. "It made me think about ways to make the material relevant to the students."
Success through a mix of approaches

All these years later, keeping students engaged remains one of Dr. Howard's chief priorities in the classroom. Although she mostly teaches graduate students now, she says she still relies on strategies she developed teaching undergraduates.
She was honoured earlier this year for her work with students, receiving the Alumni Association Award of Excellence for Teaching — Dal's top teaching accolade.
Read more: Meet Dal's teaching award winners for 2017

While traditional lecture-style classes will always have a place in universities, she says using a mix of approaches has vastly improved learning outcomes in her own courses.
Simulations, role playing, learning stations, field trips, free writes and debates are just a handful of techniques she uses in her meticulously planned classes to create an engaging environment that stimulates students and encourages them to apply concepts in real-world scenarios.
"I think of it almost as a choreography," she says of her classes. "I have a certain amount of time where I'll be talking, but then I'll very quickly go into something that's student centred, where they are working with the ideas and applying them."
Multi-dimensional learning

At the heart of Dr. Howard's approach lies a commitment to multi-dimensional learning, a concept rooted in the idea that students gain more from a class when they learn not just from the teacher but from each other as well.
Uncovering details about each student's background, experiences and interests allows her to incorporate those into the learning process.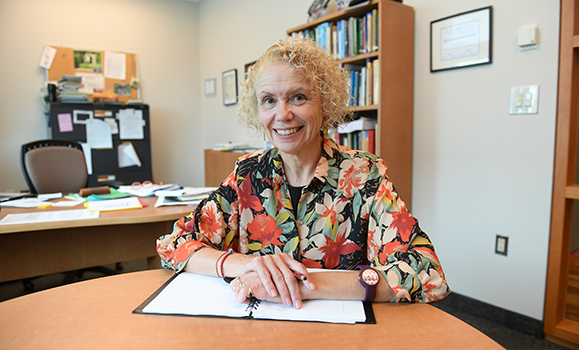 "They've had life experience, work experiences, and they can share ideas. They are great resources when it comes to helping their classmates understand and apply concepts," she says.
Creating a safe environment where students feel comfortable disagreeing with each other and expressing their opinions is also important, she says. "I think it really helps students feel that they are part of the class, that they aren't invisible."
Authentic conversations

That's certainly how recent Master of Library and Information Studies grad Alison Brown felt about her supervisor.
"From the beginning, I felt an authentic invitation to be part of the conversations in class and in the research conversation," says Brown, who took three courses with Dr. Howard over the course of her two-year degree.
Brown says, like other students, she appreciated Dr. Howard's approach of rooting class material and assignments in real-life situations. In one class, for instance, students had the option of performing a social-inclusion audit on a library system or other information-based organization — a task that had the added benefit of providing valuable feedback to participating entities.
"It was always rooted in things that we will be experiencing outside in the workforce," she says.
Brown says she was also impressed by Dr. Howard's commitment to preparing students for emerging trends in the field. She led the charge in advocating for the launch of a new course on community-led librarianship (and subsequently developed it) after noticing more and more libraries evolving toward that model.
And she consistently incorporates themes around cultural competence, equity and diversity into her classes by assigning a deeper range or readings and inviting guest speakers from different cultural backgrounds — something Brown feels is much-needed in the profession.   
Helping advance Indigenous Studies at Dal

Dr. Howard carries her skills in academic innovation and curriculum development into her other leadership work at Dal as well. When she was first hired by Dal full-time in 1999, she helped with the development of the Bachelor of Management program that launched that year.
But it was her involvement in a review of Dal's Transition-Year Program (TYP) several years ago that spurred what she calls one of the most rewarding projects she's been a part of: the launch of the Indigenous Studies minor in 2015.
Dr. Howard says she was unaware that Dal was lacking such a program until she was part of the TYP review. A discussion with that program's director at the time, Patti Doyle-Bedwell, sparked the idea for the minor, and they applied for academic innovation funding to get it off the ground.
"It was something that seemed so important and so necessary, and the time was just way past right for it to be offered," she says.
Continuous learning

Three decades into her teaching career, Dr. Howard says she feels much more willing to take risks in the classroom now than when she was a novice. She regularly seeks feedback from students throughout the term and always makes a point of offering different options for assignments in an effort to accommodate different learning styles.
And underlying Dr. Howard's openness to trying new things in the classroom lies her own deep desire to keep learning.
"I always feel that if I don't learn something out of a class, then I haven't had a good experience in that class."
Read more: Meet Dal's teaching award winners for 2017