What began as Laura Davidson's (BMgmt'10) quest to find a supportive network to help her stay committed to her health and fitness goals has turned into an entrepreneurial venture that has attracted thousands of users.
Davidson is the founder and CEO of WHISTLE, a social fitness app that connects individuals looking for workout partners.
"I found myself looking for a workout buddy who had similar interests and someone who would keep me accountable. It's much easier to work hard, stay motivated and achieve your goals if you feel supported by others," says Davidson.
From there the concept of WHISTLE was born. But as many entrepreneurs will attest, the concept is often the easiest part of a startup business.
From the ground up

Over the last two years Davidson has worked tirelessly to build WHISTLE. With more than 7,000 users, WHISTLE has certainly experienced incredible success… especially considering Davidson has been running it while maintaining her full-time job as an accountant.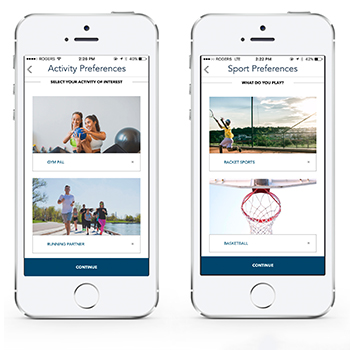 "Time and financial resources can be challenging, but it's so important to do things right with the resources you have, no matter how limited they may be," says Davidson.
"We are a very lean start-up and have been creative in finding ways to work with other facilities and partners, which has been great, but having capital to propel WHISTLE into the hands of consumers would make business much easier. All in all, it's part of the startup game and has made for some great business relationships."
Strong foundation

Davidson has two business partners who take care of the backend development of the app while she handles the idea generation and marketing. Ironically Davidson says during her undergraduate degree at Dal she much preferred finance and accounting to marketing and advertising.
"I actually found marketing challenging," she says with a laugh.  "WHISTLE has been my first crack at it, but my degree provided me the foundations of business and that's been invaluable. At the end of the day you need to understand a business model and how it should run."
Embodying the brand

Of course, in addition to persistence and hard work, you need to be passionate about the cause. And Davidson has no shortage of that.
"I believe in this product and I wanted it in my life," says Davidson. "Embodying the brand has been crucial to its success. I ran my first 10K with a friend I met through WHISTLE. Connecting with new people has pushed me outside my comfort zone to try new things I otherwise wouldn't have. WHISTLE is bringing a sense of community to the health and fitness world."
While 90 per cent of WHISTLE users are in Toronto, it's breaking into the market in Vancouver. (Davidson's ultimate goal is New York.) However, the app can be used anywhere in the world as long as people in the same area are looking to connect.
This summer WHISTLE experienced a 150 per cent growth, which Davidson says is attributed to building partnerships with others in the health and fitness community.
As for what the future holds, Davidson is focused on continued growth and inspiring others to tackle their own health goals. And with Davidson's tenacious work ethic and commitment to WHISTLE, there's no doubt she'll conquer both.
To follow Davidson on her fitness journey, view her personal blog My Sweat Story and Instagram @misslauradavidson.
For more alumni spotlights, visit Dalhousie's Alumni website.