Dalhousie's vibrant and diverse community is made up of thousands of faculty and staff who are committed to helping the university fulfils its mission of teaching and learning excellence; world-leading research and innovation; and service to our local, national and global communities.

On June 9, Dal held its annual Milestones Tea to honour the contributions of more than 60 faculty and staff with long service to the university. Employees from all faculties, departments and units re invited to come together to celebrate their 25, 35 and 45 years of service at the event, held in the Atrium of the Steele Ocean Sciences Building. Many employees bring their managers, supervisors or family members with them to help celebrate the special occasion.

Dal President Richard Florizone presents each recipient with a certificate and pin for their years of service at the university.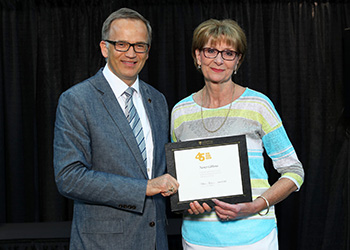 Nancy Gibbons, administrator in the Department of Psychology and Neuroscience, is one of just two recipients this year who marked an extraordinary milestone – 45 years of service at Dalhousie.

"I feel very fortunate to have worked at Dalhousie University for my entire career, and I am pleased that the university takes the opportunity to recognize the milestones that its staff members have achieved," says Gibbons.

"I will retire from the Department of Psychology and Neuroscience next month with 46 years of service, and have many positive memories to take with me."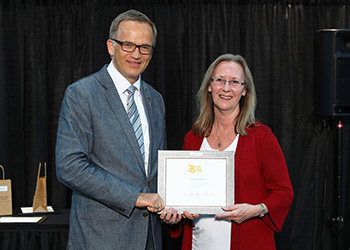 Martha Skerry, assistant manager of Payroll, and Cheryl Hubley- Kosey, professor in the Schools of Physiotherapy and Bioengineering, both celebrated 35 years of service.

"I'm so grateful to work at Dalhousie University, and to be recognized at such an event for my years of service is truly an honour," says Skerry. "After all these years, I still enjoy coming to work each day and being part of such a great team. It really makes all of the difference."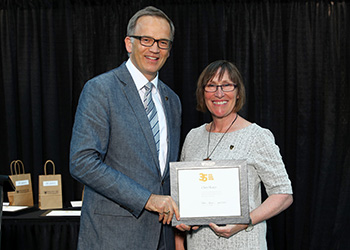 Dr. Hubley-Kosey reflected on her past 35 years and says meeting a new group of students each fall and helping them learn and conduct research to improve mobility for the many people with bone and joint disorders has been a remarkable experience.

"I have loved being a professor," says Dr. Hubley-Kosey. "Dalhousie has given me the opportunity to grow as an educator, researcher and to take on leadership roles and my career path has constantly evolved leading me down many new and exciting paths. For these opportunities I am very grateful."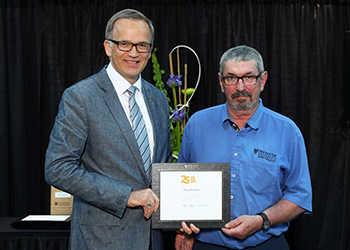 Floyd Boutilier, Facilities Management, has worked most of his 25-year career at the Dalplex and says it has become his home away from home.

"It's great that the university recognizes people," says Boutilier. "I worked in Residence, the CRC Building and then moved to Dalplex where I've been for the past 22 years. I enjoy working at Dalplex because I get to meet people and students from all walks of life."

If you recognize some of the names below as people working in your department, faculty or area, take the time to offer congratulations to them.

45-Year Honourees

Nancy Gibbons - Psychology and Neuroscience
Jean Hughes - Nursing

35-Year Honourees

Ruth Bleasdale - History
Peter Bodorik - Computer Science
Karen Chandler - Killam Library
Lesley Choyce - Transition Year Program
Monique Comeau - Economics
Michael Conrad - Dentistry - Dean's Office
Mo El-Hawary - Electrical & Computer Engineering
Susan Hagen - Killam Library
Darlene Hazel - Killam Library
Thomas Issekutz - Pediatrics
Norma Keeping - Earth Sciences
Cheryl Kozey - Physiotherapy
Gail LeBlanc - Design Services
Richard Livingston - Physiology & Biophysics
Patrick MacIsaac - Facilities Management
Michael Pegg - Process Engineering & Applied Science
Margaret Ridgway - Advancement
Jerome Singleton - Health & Human Performance
Darlene Van de Rijt- Earth Sciences
Luisa Vaughan - Pharmacology
Ann Vessey - Advancement
Teresa Walsh - Rowe School of Business
Martha Skerry - Payroll

25-Year Honourees

Floyd Boutilier- Facilities Management
James Boxall - Killam Library
Annette Brightman- Agriculture - Dean's Office
Stephen Cameron - Facilities Management
Terri-Lynn Collins - Dalplex
Charles Conrad - Academic Computing Services
Stephen Coughlan- Schulich School of Law
Roy Duncan - Microbiology & Immunology
Maria Elder - Mathematics & Statistics
Anne Falconer - Dalplex
Katherine Fierlbeck - Political Science
Douglas Fraser - Facilities Management
John Grantmyre - Urology
Robert Grimshaw - Obstetrics & Gynaecology
Frank Jackson - Facilities Management
Tracy Jollymore - Pharmacy
Elizabeth Kay-Raining Bird - Human Communication Disorders
George Kephart - Community Health & Epidemiology
Kelvin King - Pediatrics
Suzanne King - Psychology and Neuroscience
Cheryl Lord - Financial Services
Catherine MacGillivray - Student Affairs
Mary McNally - Dental Clinical Sciences
Pam Miller - Dental Clinic
Valerie Peck - History
Karen Poulsen - Financial Services
Tracy Powell - Political Science
Neale Ridgway - Pediatrics
Kenneth Rockwood - Medicine
Molly Ross - Schulich School of Law
Isaac Saney - Transition Year Program
Steven Slaunwhite - Facilities Management
Lesli Smith - Surgery
Cheryl Stewart - Economics
Michael Tilley - Housing & Conference Services
Julie Walker - Biology
Faith Wight Moffatt - Nursing
Pamela Wile - Financial Services
Maria Dlutek - Enterprise Application Services

This list was compiled by the President's Office and Human Resources in consultation with faculties and departments. Those guests who were invited but not able to attend the event will receive their certificate and long-service pin in campus mail. Anyone with questions about the event can contact the President's Office at (902) 494-3804.