The largest research grant in Canada last year. The university's 90th Rhodes Scholar. A plethora of new awards and honours for faculty. And Dal's biggest fundraising year ever.

Those were just some of the highlights cited by Dalhousie President Richard Florizone during his annual "year-in-review" sessions this past week.

"It's been a pretty successful year, on many different fronts," he said.

Titled Inspiration and Impact, the town halls are an opportunity for members of the Dal community to look back at the past academic year, hear about progress towards the priorities outlined in the university's Strategic Direction plan (also titled Inspiration and Impact), and ask questions of Dr. Florizone and other members of the university's senior administration team.

Sessions were held on Studley, Carleton and the Agricultural Campuses this week. A fourth will take place on Sexton Campus on Friday, June 23.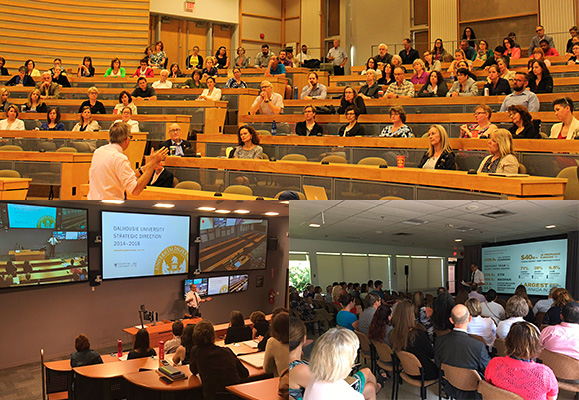 Here's a look at just a select few of the many highlights cited in the presentations thus far. (Want to see more? Attend the fourth session next week or watch it live on Facebook via Dal's Facebook Page.)

Academic leadership and research excellence

As in previous years, Dr. Florizone's presentation was structured around the five priority areas of the university's Strategic Direction, which was approved by Board and Senate in June 2014 following the 100 Days of Listening process: Teaching & Learning; Research; Service; Partnership & Reputation; and People, Infrastructure & Support. For each, Dr. Florizone presented quick highlights and achievements from the past year and shared updates around key metrics and milestones.

Under teaching & learning — "the foundation of our mission," as he put it — Dr. Florizone discussed the university's efforts to improve student retention from first- to second-year, a major priority identified out of the 100 Days of Listening. He also noted that Dal faculty continue to excel when it comes to major awards and honours, citing several examples.

"We're not the biggest university in the country, and yet in three of the last four years our faculty have won the NSERC Herzberg Medal," he said, referring to to battery researcher Jeff Dahn's recent win of what is considered Canada's top science prize. "That's a really powerful base to build on."

Likely Dal's biggest research story of the past year was the launch of the Ocean Frontier Institute — a $220-million project backed by $94 million from the Government of Canada. Not only was it the largest research grant in Dal's history, but it was the largest federal research grant in Canada last year. Like many achievements from the past year, it was built on robust partnerships across various sectors.

"Our challenge is this: how do we take that success in oceans — which has been interdisciplinary — putting those partnerships in place, and replicate that in other areas?" said Dr. Florizone, speaking at the Carelton Campus session. "What about health, or materials and clean tech? Society, governance and culture, our other priority research area? Emerging areas like ICT, energy and the environment and agriculture?"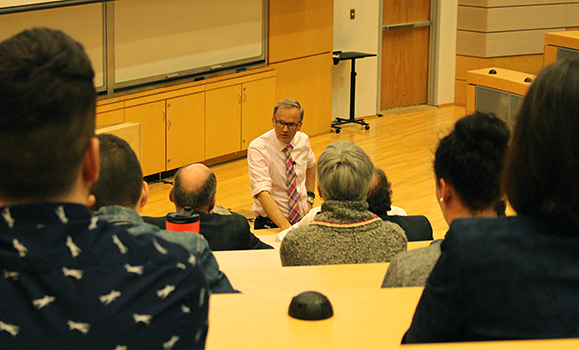 Forging new connections and new contributions

Under the service category, Dr. Florizone discussed student entrepreneurship, community clinics (Dentistry, Law, Social Work) and the growth in interest for work-integrated learning — the integration of educational/academic experience in workplace settings.

"In some of your disciplines, this is second nature," he said, citing health-related fields where work placements are built into the curriculum. "For other areas, what we're seeing is it's an area of increasing demand. It's something students and parents are really talking about a lot… [they're] looking for not just a world-class great education in the classroom, but those linkages that give them more practical experience, give them an edge, and that might lead to a future job."

At Dalhousie, more than 4,000 students took part in work-integrated learning last year, while even more (87 per cent of Dal's student population) took part in some sort of experiential learning opportunities — including co-op placements, which have grown by 18 per cent over the past three years.

The year-in-review sessions are also an opportunity for faculty, staff and others to ask questions for Dr. Florizone and the university's senior administration team. The questions asked across the first sessions covered a wide variety of topics: ensuring fulsome supports for international students, acquiring more funding for graduate students, mental health supports on campus, faculty renewal and more.

The power of partnership

Additionally, Dr. Florizone discussed several of the major campus renewal projects underway (including the Sexton Campus IDEA Project, the new fitness centre and others); some of Dal's sustainability achievements (such as Dal being named one of Canada's Greenest Employers); and ongoing efforts to better support diversity and inclusion, including improvements in Dal's employment equity numbers.

He also shared news that Dal's fundraising numbers last year were record-breaking: at over $66-million raised, Dalhousie's Office of Advancement brought in more in external donations to support teaching, research, infrastructure and other universities priorities than in any other year in Dal's history.

"Money matters — [it] allows us to fulfil our mission, and we celebrate that — but a greater reason this is important is it shows the confidence, interest and investment the external community is willing to make in all the work we're doing together," said Dr. Florizone.

That message of partnership is one he returned to at the conclusion of his presentation, thanking faculty, staff and others for their role in moving Dal's mission forward.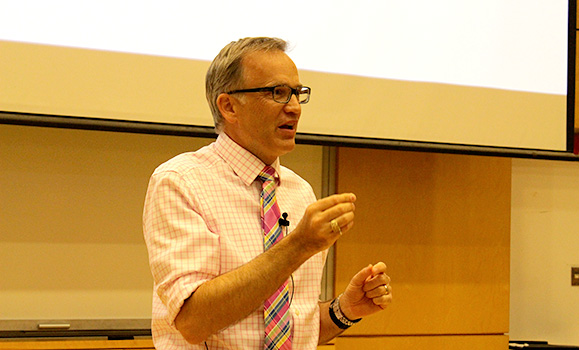 "If there's one central idea to my presidency, it's that nobody does anything alone, and that is as true for universities as it is for individuals. Whether it's helping our students, creating major research collaborations to tackle the world's toughest challenges, connecting with our communities, being a more diverse and welcoming campus, or even tackling our own capital and campus issues, the way we will succeed is through that partnership and engagement — not only with the outside world, but with each of you."

Miss the three sessions thus far? The fourth and final Inspiration and Impact: Our Year in Review session will take place Friday, June 23 at 10 a.m. in room B310 of Sexton Campus' B Building. The session will also be streamed via Facebook Live on Dalhousie University's Facebook Page.